The new year – the new decade – might be a week or two old now, but I'm still enjoying that blank slate, fresh start feel that comes with the early days of January.
I've got a new planner to keep myself organized with, a new notebook to write stories in, and of course, new travel plans to make.
If you've read these annual posts in recent years, you'll know that I'm a bit of a last-minute planner, and tend to start the year with no flights booked – even when I know where and when I'm going! – and this year is no exception. So, with an empty calendar just waiting to be filled, here are my travel plans for 2020, with a few wishlist locations thrown in for good measure, too.
Philadelphia, USA
This month marks five years of marriage for myself and Mr. Stories My Suitcase Could Tell, and we decided to treat ourselves to a quick weekend away to celebrate. We're not taking time off work, so we can't go too far, and eventually settled on Philadelphia, a city close to my heart, but one that neither of us has really explored together. The food scene has exploded there in recent years, so I'm excited for us to eat our way around the city for a day or two. (Philadelphia was actually on my wishlist for 2019, but it never came about – better late than never, I say!)
Outer Hebrides and Fife, Scotland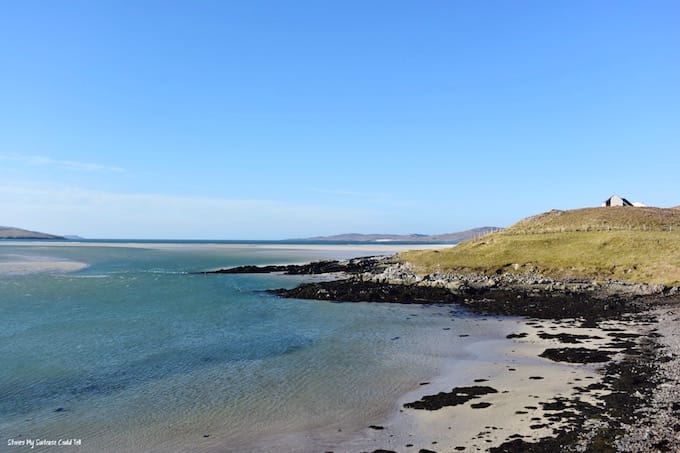 With my annual leave bumping up another six days this year, I'm squeezing in a second trip home to Scotland. In April, I'll be going back home to the Outer Hebrides to relax, catch up with family, and eat my weight in Stag Bread and Stornoway Black Pudding, before returning in October to Fife, for the wedding of one of my uni friends. My uni friends and I spent four wonderful years in St Andrews (I can't believe it's been ten years since we graduated!), and I can't wait for us all to get together again, just down the road from "the Bubble" for a special occasion in a beautiful location.
Ohio, USA
You may remember my friend Stephanie, the travel writer and photographer behind this Stories My Suitcase Could Tell video. Well, after getting engaged on top of Mount Kilimanjaro last year, she's getting married this summer in Ohio – so a trip to a brand new state is on the cards for me to celebrate her and her fiancé!
Seattle, USA
Although we haven't settled on a date (or even a season) yet, we know we want to visit Seattle again this year to spend time with Mr. Stories My Suitcase Could Tell's family. We had an absolutely wonderful week there last September (blog posts to come, I promise!), and it's a part of the world I want to see more of. In the meantime, I'll be dreaming of those mountains, lakes, and forests as I go about city life here in NYC…
China
Although this trip isn't booked yet, it's one we really hope to make happen. As of November, it will be 10 years since Mr. Stories My Suitcase Could Tell and I met in China, and we're hoping to go back not only to mark that milestone, but also to have a reunion with the friends we made there (and who we don't see nearly as often as we'd like).
One of our friends is currently based in Shenzhen, so assuming the political situation in Hong Kong doesn't get worse, we're looking at visiting Hong Kong, Shenzhen, and maybe Macao. (And if I'm honest, I'm also holding out for a potential visit to Shanghai, my favourite Chinese city, and home to the best dumplings I've ever had. I've been dreaming of those dumplings for the last 10 years!).
A new-to-me country
With all these travels in the works, it's unlikely I'll visit a new country in 2020 – but a travel blogger can dream! Whether it's a quick trip to a European city from Scotland (I did miss out on that 30th birthday trip to Dublin…), or a wee jaunt to the Caribbean (the region is just a quick direct flight from NYC), I'd love to mark the new decade with a visit to a new country. Watch this space!
More weekend and day trips
While this "dream" doesn't have a destination or a date, it's something I want to do more of in 2020. Some of my favourite travel memories from last year are of day trips to nearby towns or of quick weekend visits to other states.
Now that I work a 9-5 job as well as writing and freelancing on the side, I need to be more intentional about scheduling in time to explore, to make sure I'm not just working and doing the usual daily errands we all have to keep up with. I've always maintained that local travel can be just as rewarding and rejuvenating as far-flung adventures, and it's something I want to keep reminding myself of over the next 12 months, both here in New York City, and further afield.
And there you have it: my travel plans and dreams for 2020.
Of course, some of these plans will come to fruition, others won't, and adventures not even on my radar right now will crop up as the year goes on. I can't wait to see where the new year takes me – both literally and figuratively!
____________________
What are your travel plans (or dreams) for 2020? Where would you most like to visit this year? Let me know in the comments below – I'd love to hear from you!