Rudyard Kipling once said "When at Raffles, why not visit Singapore?"
The writer was a regular visitor at the original Raffles, along with the likes of Joseph Conrad and Somerset Maugham. At first glance the sentiment might seem ridiculous – why spend your precious holiday time in a hotel when there is a whole world out there to explore? But after enjoying the Raffles experience in Paris recently, I now understand Kipling completely. Le Royal Monceau, steps from the Champs-Elysées and Arc de Triomphe, is truly a destination in itself.
A Paris institution since the Twenties, it was in 2010 that Le Royal Monceau opened again after a two year absence, having been redesigned to the last detail by French architect Philippe Starck.  Earlier this year it was awarded 'Palace' status, which only a handful of luxury Paris hotels receive – five stars simply cannot do them justice.
The Raffles experience started as soon as we stepped inside the elegant, doormen-flanked entrance of 37 Avenue Hoch.
At reception – where there were more staff than guests, ensuring no-one waited a millisecond longer than necessary – we learned that our studio room had been upgraded to a suite. While our bags were whisked away as if by magic, Clement guided us to our sixth floor suite, informing us of all the hotel has to offer – in short, a lot.
There are two restaurants – La Cuisine and Il Carpaccio – each with a Michelin-star. Le Bar Long, hidden behind flowing curtains off the lobby, offers afternoon tea (complete with Pierre Hermé pastries), tapas in the evenings, and cocktails late into the night. On the lowest floor, the hotel spa – Spa My Blend by Clarins – provides the utmost in relaxation, including the largest indoor pool ever built in a luxury Paris hotel.
Then there is the art. Art is everywhere at Le Royal Monceau, not least in the Art Bookstore and 'Art District' Gallery. The Art Concierge can organise viewings throughout the city, and updates the hotel's cultural blog, Art for Breakfast. There's even Katara Cinema, the hotel's luxury theatre, which was opened by Steven Spielberg.
As if this wasn't enough to take in on the journey to the sixth floor, the sight of our suite was spectacular.
Windows stretched across the length of the room. Two wall-length mirrors housed hidden TV screens: one in front of a leather couch in the living area, the other opposite the most enormous bed I have ever laid eyes on. Cakes, fruit, and sparkling water were set on the table waiting to welcome us; I made myself comfortable and enjoyed a Pierre Hermé pastry with some chilled Evian.
The mirrored bathroom with the deep free-standing tub and shower large enough for four was stocked with Clarins beauty products, and the thickest, fluffiest towels and robes imaginable. Our dedicated dressing room and separate en-suite toilet were all glass and mirrors too, and even they were decked out with artistic touches – a mural on the door, a lobster sculpture on the wall.
A guitar was propped up in the corner; words were written on lampshades; a large Harry Gruyaert photograph sat near the bed. The desk was topped with a monochrome map of Paris, splashed with colourful words and arrows, as if scrawled on to help guests find the city's highlights. Art adorned almost every surface, all part of the extensive collection housed in the hotel.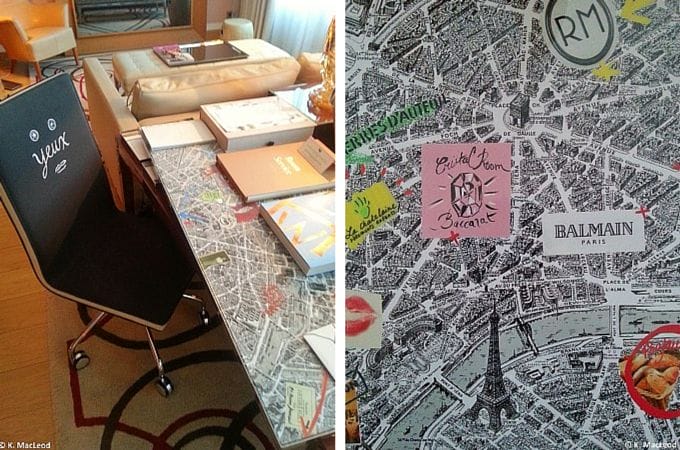 What really stood out at Le Royal Monceau was the service.
The guest's every need is not only met, but anticipated in advance. Our bed was 'turned down' at night, slippers laid out for the morning, and a hand-drawn weather forecast for the following day placed on top of the covers. A newspaper of our choice was delivered to the door each day before breakfast. The spa staff were both helpful and friendly, engaging in conversation, while on a particularly wet morning the doormen insisted I carry an umbrella.
Exceptional service, decadent decor, and luxurious in every way, Le Royal Monceau exceeded expectations.
Not only does Le Royal Monceau epitomise 'emotional luxury', it exudes elegance, all without ever trying too hard. When you have to drag yourself out the door to see one of the most beautiful cities in the world, you know you're staying somewhere special.
____________________
My stay at Le Royal Monceau was provided by Black Tomato for winning first prize in their travel writing competition, 'A Tale of Two Cities.'
You can find out how it happened on my blog, and read my story, 'From Tianjin to Tokyo,' here.