Wine bottles are arranged artfully on the far wall, letting light filter through lenses of red, rose, and white.  Splashes of colour cover the ceiling, a fresco by French artist Stéphane Calais.  Pierre Hermé croissants are clustered under sparkling chandeliers.  Wooden baskets of freshly-baked baguettes line the counter.  There are cheeses of various scents and softness; hams of every hue; sushi, salmon and sturgeon; even the option of an all-American platter of bacon, eggs and pancakes.
This is breakfast at La Cuisine, the Michelin star French restaurant at Le Royal Monceau-Raffles Paris.  With winter sunlight streaming through the doors that in summer are open to La Terasse, the outdoor terrace, this airy, art-infused room is the perfect wake-up call (if you haven't had one already from your butler, available on request).
Art is on show behind large tables overhung by giant ceiling lamps, where breakfast business meetings are taking place.  Sumptuous cream leather couches sit in the centre of the room, and smaller tables set in private alcoves line the area adjacent to La Terasse.
Of course, the service is spectacular, with our freshly squeezed orange juice being continuously topped up, and coffee created to suit your taste.  Faced with such a lavish buffet spread, decision-making is difficult, but the croissants, the dainty baguettes that twist into points at either end, and a heap of French hams find their way onto my plate on both mornings.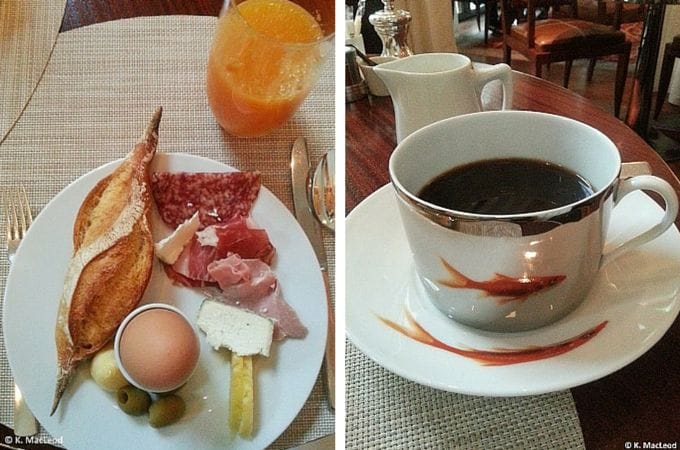 Dining here for dinner is equally impressive.  La Cuisine's contemporary-style Autumn Collection, created by Chef Hans Zahner in collaboration with Executive Chef Laurent André, makes the mouth water as you open the menu.  The "delicate dishes bursting with local flavours" include a choice of nineteen different starters and a tasting menu offering options 'From Near and Far', from the land and the sea.
How to decide? I ask the experts, and Maxime, our friendly and incredibly attentive waiter, explains what is on offer, happy to answer any questions.  On his recommendation, I opt for foie gras and partridge, complemented by black truffle vinaigrette and mini leeks.  The texture is interesting – a mixture of soft and meaty – and the flavour is intense; I savour every mouthful.  My mother picks the Presa Iberico: small pieces of pork cooked rare, glazed with cocoa and featuring just a hint of ginger and orange.  Without exaggeration, it is one of the most delicious morsels I have ever tasted.
Pan-sautéed beef fillet from Normandy (rare), on a bed of oxtail pickled in red wine, with Bordelaise-style sauce and potato wafers in a little basket on the side is my choice of main course.  It is incredible – the tender fillet is paired perfectly with the rich flavours of the pickled oxtail, and the potato wafers add a crisp note to the meal.
Dessert is the delicacy I have been waiting for, ever since I learned that 'the Picasso of Pastry', Pierre Hermé, is responsible for the sweet treats at Le Royal Monceau.  A 'wheel of fortune' style card allows you to mix and match ingredients for a personal millefeuilles, and while I am tempted, in the end I choose the plaisir sucré: dacquoise biscuit with crunchy hazelnuts, thin wafers of milk chocolate, milk chocolate ganache and milk chocolate chantilly.  A chocolate lovers dream, indeed.
To end the Michelin star meal there is the option of coffee and macarons, but – after three marvellous courses, wine, and a continuous flow of fresh bread and butter – I have to admit defeat in the face of one of the best meals I have eaten anywhere in the world.
Food is an integral part of any travel experience, and La Cuisine – whether for breakfast or an exceptional evening meal – is the perfect place to indulge in Paris.
____________________
My Michelin star meal and stay at Le Royal Monceau was provided by Black Tomato for winning first prize in their travel writing competition, 'A Tale of Two Cities.'
You can find out how it happened on my blog, and read my story, 'From Tianjin to Tokyo,' here.