Confession: I used to be a fussy eater.
I didn't even eat pasta (yes, you read that correctly).  Then I moved to China, and all that changed.   My options were adapt and eat, or go hungry.  Food is now one of my favourite aspects of exploring somewhere new (or a new side to somewhere familiar).  I've eaten snails in Paris, jellyfish in Japan, and roast goat in Kenya, so for my first trip to London in a long time, I knew food would be featuring heavily.
Enter London's Borough Market.
Everything I read told me to head there hungry, so I did.  In the maze of stalls and shops that shelter under London Bridge you'll find food of every flavour and provenance. Indian street food. Seafood from the south coast of England. Macarons made in homage to the pastry masters of Paris.  There were butchers and bakers, and I'm sure if I'd looked hard enough there might even have been a candle stick maker.
It's been this way for centuries.  Dating back to 1755, this is London's oldest fruit and veg market, but even before then, Borough was well known for its markets.  11th century traders gathered under London Bridge to hawk their wares, and by the 13th century they had been relocated to Borough High Street, where a food market has stood ever since.
Now, no matter what you choose to tickle your taste buds with, you'll hear the relentless rumble of trains overhead.  There's history in the beams that hold up the marketplace, and modernity in the buildings – the Shard in particular – that surround it.
As I strolled around the stalls, I treated myself to a chilled glass of Pimms topped with fruit (it seemed appropriate, given the summer sunshine) and sampled what the various vendors had to offer.  A piece of freshly baked bread here, soft and smooth Buffalo mozzarella there… In the end, I opted for a lunch that's hard to come by at home, and a food that I feasted on during my time in China: dumplings.  These were the Japanese version, gyoza, served fresh from the frying pan that was in the hands of a cheerful, round woman who called every customer 'darling'.
Borough Market has transformed from a local marketplace to a global one, with tourists, locals, and city workers all making the most of the meals on offer.  For visitors to the capital, it's in the perfect position, sitting a short walk away from Shakespeare's Globe, the Tate Modern, and St Paul's Cathedral, all of which I saw as I walked off my multicultural lunchtime meal by the Thames.
When it comes to Borough Market, make sure you go hungry, and discover it – past and present – one bite at a time.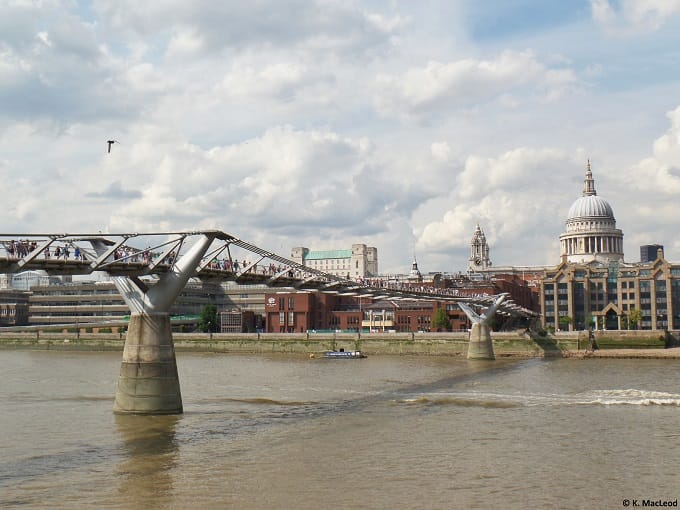 Borough Market is easily reached by foot from London Bridge train station.  Opening hours vary – click here for more details.