Bloggers Solo Mom Takes Flight, Kidventurous, The Voyage Vixens, and Adventurous Kate dish out advice.
In all honesty, I wasn't sure what to expect.  The 2015 Women In Travel Summit (WITS), held this year at the Revere Hotel in Boston, was my first experience of a travel blogging conference.  Prior to the Cosmo Blog Awards last October, I had never even met another blogger – what would sitting in a room of 300 of them be like? I was about to discover the answer.
From building your brand and selling your work, to the ins and outs of web development, nothing was left off the schedule for the weekend, organised by Wanderful (previously Go Girl Travel).  There were three strands of workshops, geared towards entrepreneurs, bloggers, and travellers, with titles like "How to Make Google Like You", "Decolonizing the Blogosphere", and "Building a Blog and a Career That Will Last."
Dina Yuen, an author, chef, and keynote speaker at the event, advised one blogger – who asked how she stays dedicated as a writer – to "zero in and forget about the financial aspect."  Catrice, the charismatic 'Boss Lady of Branding', told us to "find something that stirs your heart and soul. What tickles your soul? What would you do if you had to do it for free?"  What all the WITS speakers had in common, whether they were talking about branding or business, was their insistence on the importance of being true to yourself, in your travels, your business, and your day-to-day life. (Pretty sound advice, whatever industry you're in.)
Having fun at the photo booth!
The workshops were informative and helpful, but instead of the no-nonsense, business-only networking I had been anticipating, I found myself making friends. Laughing with Mel and Eileen over lobster rolls and nachos. Strolling with SanTara through Boston's charming Copely Square at sundown. Swapping Shanghai stories with Vy. Getting overexcited on learning that Leanna and Ashley had been to Lewis. Sharing travel tales with Chelsea and Katherine and Shannon and more women than I can possibly mention in one post.
We drank cider from Finger Lakes Wine country at the welcoming party at Boston's We Work office (and posed with props at the photo booth).  We ate Vietnamese food at the edge of Chinatown; stuffed ourselves with sandwiches near the South End at Flour, the city's trendy bakery chain; and indulged in lunch at Boston's famous Legal Seafoods (hearty helpings of good food were a bit of a theme for us during WITS).
This, for me, is what travel is all about: the people you meet.  At the Women In Travel Summit, I felt as if I had met my tribe, fellow women who love to travel and tell stories and take far too many photos of food before actually eating the stuff.  It was inspiring, supportive, and oh-so-much-fun.
So if you're wondering whether to attend the Women In Travel Summit next year (in sunny Irvine, California), or indeed any travel-related industry event, I'd say go for it.  If you're determined, it will be professionally productive, and if you're open to it, you'll find more than a few like-minded attendees alongside, ready to join you in eating, exploring, and photographing your way around a new city.  I did, and it was one of the best things I've done this year: roll on #WITS16!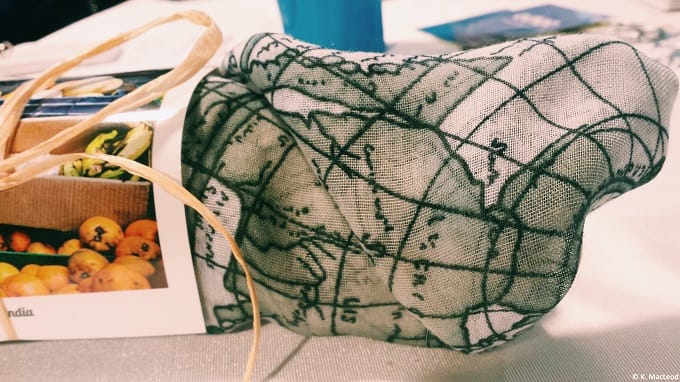 The sure-fire way to win a traveller's heart: give out map-printed scarves, as Natalie of Shatter The Looking Glass did.
Have you ever been to the Women in Travel Summit, or a blogging conference?