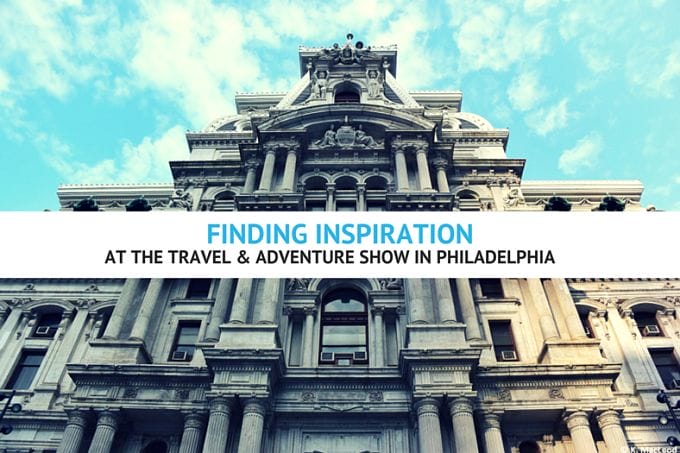 Last month, at Philadelphia's first ever Travel and Adventure Show, I learned one thing: travel shows are dangerous.  When you find yourself at a travel show, in a huge hall filled with representatives from hundreds of destinations and speakers who are like royalty in the travel industry, it's all you can do not to heed their advice, head to the airport, and jump on one of the next flights to the other side of the world.
The Travel and Adventure Show might be new to Philly (and to me), but it's a veteran in the American travel industry, providing a space for travellers and destination experts to connect; it had already passed through six cities in the 11 weeks before I attended, including Los Angeles, Washington D.C., and Chicago, before it stopped at the Philadelphia Convention Center on March 21st.  This year was a big one for the travel show, with its new sister website, 1000 Travel Tips, being introduced to travellers at each event.
I arrived, coffee in hand (of course), picked up my press pass, and made my way to join the other bloggers being treated to a private cooking demonstration from Paul Menta, a chef with 'Dock to Dish', a community supported fishery based in Florida's Key West.  Having missed breakfast, the freshly prepared spicy, crisp tiger prawn and crab claw were the perfect fuel for a day of walking, talking, and breathing travel.
The Travel Channel was one of the main media sponsors of the travel show, so their interactive booth was my first stop, where travellers were posing with props in front of the green screen for 'bucket list' photos and chatting to the travel experts (their free tote also proved useful for all the destination brochures I collected throughout the day).
Joining in the Travel Channel photo booth fun and posing in ridiculous sunglasses!
Would-be travellers were trying out rock climbing and scuba diving, listening to cooks tell tales from the kitchen, and watching dance performances from cultures across the globe.  As well as destination booths, there were various stages set up for talks and demonstrations from prolific travellers, like TV host and Travel Channel regular, Samantha Brown.  She entertained the audience with tales of travel mishaps in countries from Peru to Greece, and had some advice on how to really appreciate a place in today's world of 'must sees' and iPhone apps.
First up, Samantha dismissed the popular distinction between 'travellers' and 'tourists,' the idea that there is a right and wrong way to travel, that being a 'tourist' (who doesn't order gourmet cheese in the local dialect) is somehow inferior to the 'traveller'.  "I really dislike this argument," she told the crowd. "Why do you care? You should travel however you feel most comfortable, and can afford."  Hear, hear!  With that out of the way, she urged us all to do three things while travelling: get out of the past, go for a walk, and talk to the locals.
I'm a staunch believer in the idea that walking is the best way to get to know a place (that, coupled with the fact that I'm a dreadful driver, ensures walking is my main mode of transport in a new city), and Samantha apparently feels the same.  Rather than rushing through must-see historical sites, she takes at least some time out of her hectic schedule to slow down and really be in the moment.
Travel Channel host Samantha Brown entertaining the crowd in Philadelphia.
"The small but tangible moments are what travel is all about," the TV host explained.  "Get out of the past, put yourself smack dab in the middle of the present just to see what happens.  Go for a walk. Put your map in your back pocket and put down the app.  Walk down a street because it looks pretty.  Sit down and be part of everyday life – because everyday life is extraordinary.  That's why I love my walks: when I'm on a walk I'm not looking for the exclamation point, but the comma.  That's where a country and a culture exposes itself, and where we breathe."
While Samantha's talk was full of advice, Patricia Schultz's was brimming with inspiration.  The author of the international best-selling guidebook '1000 Places to See Before You Die' assured the crowd that despite what the title may suggest, the book is all about living.  "You have only one chance to really pursue what thrills you. You need to make it a priority." To prove her point, Patricia relayed advice from a 90-year-old she met in Peru, who was visiting for the first time: "your knees have expiration dates – get the difficult places out of the way early."  If that's not inspiration to get going, I don't know what is!
Patricia then proceeded to give us a randomly-chosen run-down of 30 of her favourite places; a thousand, she noted, would take quite a while longer than the time allotted to her.  You can only imagine how delighted I was when she began with my favourite place in the world: Scotland!  Her talk moved on to detail everywhere from Shanghai to Ethiopia, Amsterdam to Israel and Palestine.  I was practically bouncing up and down in my seat with excitement – and the urge to get up and go to one of these locations right there and then.
Three Aksha perform a classical Indian dance.
The Travel and Adventure Show is primarily geared towards travellers (not industry insiders), helping to inspire and assist them in choosing and booking their next 'vacation', as they say here in America.  John Golicz, a trade show specialist and the child of first-generation European immigrants who discovered his love of travel through them, founded the show over a decade ago, when he realised that as an adventure traveller, there was nothing out there in the trade show world for people like him.
"We found that my idea of adventure is a lot different from your idea of adventure," says John of the evolution of the event.  "You might have a 60 year old couple come in that wants to go bird watching in Belize, and that's their sense of adventure.  Or you want to go and do farm to table in Italy, that's your adventure.  Everyone's really got a different idea of what experiential travel's all about, so we just thought, if we got the best destinations and companies around together with travel enthusiasts, good stuff would happen."
Good stuff did happen.  The Travel and Adventure Show has seen more than a million travellers come through its doors over the years, and they return again and again.  "What makes the travel show special is we have booths in the middle of the floor filled with destination experts," John explains.  "They could be a tour operator, they could be a travel provider, they could be a tourism board member, or someone who lives in the community and works there."
Free luggage tags from the tourism team at Visit Currituck.
"You're going to hear from people who're actually there, with real information you can't get anywhere else.  It's authentic, it's tailored to what you ask, right, so it's very personal to you, and they give you tips and techniques and information about travelling there that you can't get anywhere else, and that one-on-one interaction is what our attendees in all our surveys think is so wonderful."
I could see why.  The far-flung destinations were causing severe wanderlust to kick in as I walked up and down the aisles. Thanks to my lovely chat with Trish at Zambezi Safaris, I've now added northern Mozambique to my wishlist.  After dropping by the Malaysia booth, Kuala Lumpar is not far behind.  The same goes for Aruba, St Maarten, South Africa, and countless others.  As I've mentioned before, my wanderlust wishlist is never-ending.
Some of the founder's own favourite spots include Sunset Key in Florida; Tuscany in Italy; and Paris – because "who doesn't like Paris?" Up next for him is a multigenerational holiday in the Dominican Republic with extended family, and a Danube River cruise with his wife, in celebration of their 30th wedding anniversary. After a hectic 11 weeks of taking The Travel and Adventure Show on the road, John thinks it will be "just the right speed."
"They say everyone's got a bucket list of about five trips that they always want to go on at any given moment," he continues.  "Our job here is to mix that all up on you.  So you think that you're coming in for this, but you leave with three new ideas."  Well, John, the Travel and Adventure Show mission certainly worked on me.  I entered the hall dreaming of East Africa, of the Middle East; I left even more determined to visit these regions, yes, but also imagining locations much closer to home.
From the Hudson Valley of upstate New York to the Outer Banks of North Carolina and the majestic glaciers and mountains of Alaska, the American tour reps at the travel show really made me sit up and take notice of just how much there is to explore in my newly adopted country.  And for that alone, the Travel and Adventure Show 2015 was a success for me, my suitcase, and the stories it might tell in the months to come.
____________________
Have you ever been to a travel show? Where do you find your travel inspiration?