Who doesn't enjoy a good love story?
Combine it with a witty, relatable narrator, a background of travel, and a look at the ups and downs of expat life, and you have Girls Who Travel, the lively debut novel from Nicole Trilivas.
When the preview copy of Girls Who Travel arrived in my mailbox (yes, Americans really do have mailboxes outside their homes), I settled down on the couch with a cup of coffee and was immediately drawn to Kika Shores, the travel-obsessed, occasionally foul-mouthed central character, who finds herself struggling to adjust to life back at home in New York after a round-the-world backpacking trip.
When she's offered the opportunity to work as au pair for an American family in a well-to-do corner of London, she jumps at the chance, and all sorts of adventures ensue – everything from cultural collisions to long-distance relationships and unexpected romantic entanglements.  Think Jenny Colgan or Marian Keyes meets your favourite female travel blog, and you have an idea of what's between the pages of Girls Who Travel.
The growing online world of blogging actually played a role in the beginnings of Girls Who Travel, with travel blogs helping author Nicole to "get back into the traveller mind-set and to inject that tone of fun and adventure" while she was writing at home in New York City.
One of the things I really loved about the novel was how 'real' it feels, with references to travel blogs (Kika runs one herself) and the technology that we all use to plan our adventures.  In fact, the seed of Nicole's story was planted thanks to a friend on social media.
"So I had this friend-of-a-friend (you know the type—the kind you "friend" on social media even though you don't know too well in real life), and after university, she became an au pair for a family in Europe," explains Nicole over email.  "She proceeded to clog my feeds with all these amazing pictures, and in between being jealous and living in admiration of her, I thought, that would make such a fun book!"
Nicole's instincts were right, but what really makes the novel so much fun to read are the characters, and Kika in particular.
"Knowing that Kika was a lifelong traveller helped me build her personality," reveals Nicole.  "I believe that travellers aren't built the same as everyone else. Some may say that they have something restless inside, but I think we're actually eternal optimists!"
"We're not all searching for something; we just see the world in a different way, as a welcoming place, a playground, or even a classroom. Knowing that Kika thought this way too, made her other traits fall into place more easily (i.e. she's laid-back and maybe a little irresponsible; she's hopeful; passionate; driven in her own way; etc.)."
Nicole should know: she's a travel addict herself. Originally from New York, she now lives in London with her British boyfriend, and has visited more than 40 countries along the way.  "I have always wanted to travel! My favourite things to draw as a child were landscapes. I don't know why, but I always wanted to explore! I would read books just because they were set in a different country. I'll watch any movie where the location doubles as a character."
"At 17, I went to the Czech Republic, which was a game-changing experience, and I haven't stopped since. So far, I've been to just under 40 countries. Have you heard the quote: "I haven't been everywhere, but it's on my list"? Yeah, that sums me up perfectly."  (A bit like yours truly, then.)
Writing was something else that Nicole loved from a young age – but unlike travel, it's something she refrained from indulging in for years.
"For a long time I fought off my desire to be a writer," she explains. "Time and time again, I tried to convince myself to do something else with my life—probably because I was too scared to fail. Finally, in my mid-twenties, I gave in when I realized it was now or never. I could either wrestle these urges and secret desires for the rest of my life, or I could give it a go and give it my all. "
So she did, putting her advertising career on hold and taking off – literally.  Nicole focused on her writing as she moved around the world, travelling through Scotland, Ireland, Australia, and eventually settling in London.  Seven years later, and Girls Who Travel is about to hit the shelves.  How does she feel to finally have achieved her secret lifelong dream of being a published author?
"I am kid-on-Christmas-morning excited!" she tells me.  Even over email, Nicole's excitement is palpable.  "This has been a lifelong dream, and to tell you the truth, it still doesn't feel real!  Signing with Penguin was a surreal moment — more so because I got the news right outside of the famed City Lights bookstore in San Francisco. I celebrated by browsing for books in a happy daze, then letting it all sink in over tacos and margaritas next door."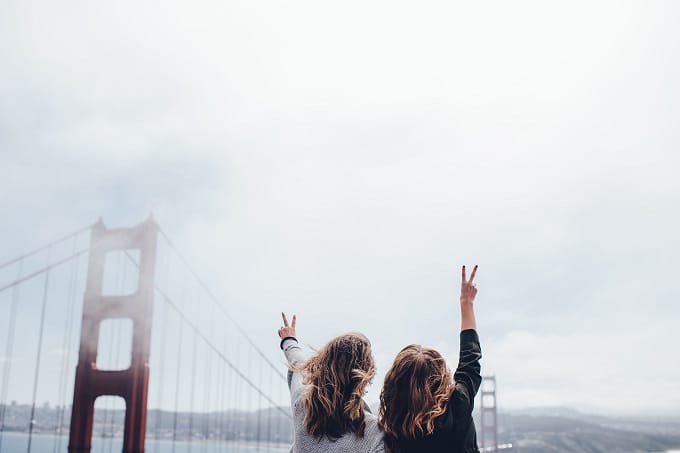 It's been a year and a half since Nicole toasted her success with margaritas in San Francisco, and Girls Who Travel is finally about to hit the shelves; it's scheduled for release on 3rd December.
"Despite the wait, it has been a pleasure because everyone involved seems to genuinely love books and the industry," she says.
In the meantime, she's been working on her next novel, another feel-good, wanderlust-inducing tale inspired by travel.  It focuses on a "student on study abroad who's doubling up as a travel writer, and it all takes place in a ski chalet filled with international snowboarding bros, an ex-reality-TV star, and an unlikely pastry chef. As with Girls Who Travel, it's a light-hearted read designed to make you want to travel (or to keep you sated between trips)."
Girls Who Travel is definitely perfect for some armchair travel – as a Brit abroad, I loved reading about Kika's London misadventures – and reading it will undoubtedly leave a smile on your face.  Some cynics might say the story is improbable, but as I can attest to, real life proves that nothing is improbable when it comes to love and travel!
____________________
For all my fellow book lovers, Girls Who Travel is available to order in the UK, the USA, and Australia. And of course, a huge thanks to Nicole for taking the time to answer all my questions!
Would you like to read Girls Who Travel? Do you have any favourite books about travel, life, and love to recommend to me? Let me know in the comments – I'd love to hear from you!
____________________
Thanks to Penguin, who sent me a complimentary advance copy of Girls Who Travel to read.  As always, all opinions are my own – you wouldn't expect anything less from a travel-obsessed bookworm!