In the quiet streets of the Santurce neighbourhood, one sound rang out above the cockerels and the traffic and the planes flying overhead: the sweet call of the coqui frog.
Even in the heart of San Juan, this little tree frog, native to Puerto Rico, called out its own name, high-pitched and persistent. Co-qui. Co-qui. Co-qui.
Until we visited the El Yunque rainforest on our third day on the island, we assumed this persistent call came from a tropical bird; it was a delightful surprise to learn that the soundtrack to Santurce, the slightly gritty urban neighbourhood we were staying in, came from a tiny frog.
Santurce is not what you would call 'touristy', and quite frankly, that's what we were looking for when we chose where to stay in San Juan, the Puerto Rican capital. Various travel writers call it the 'hipster haven' of San Juan, but I wouldn't go quite as far as that. This is no Brooklyn, with its polished pretensions and expensive coffee shops – and that's a good thing.
What Santurce is, is a neighbourhood with character, a neighbourhood with a story to tell. Affluent in the 1940s and 50s, the area took a dive in the 70s, when the crime rate was high and wealthier residents moved to the suburbs. These days, Santurce is popular once again.  Despite the current economic crisis, it's at the centre of an up-and-coming art scene, and, for us, was the perfect location for a stay in San Juan.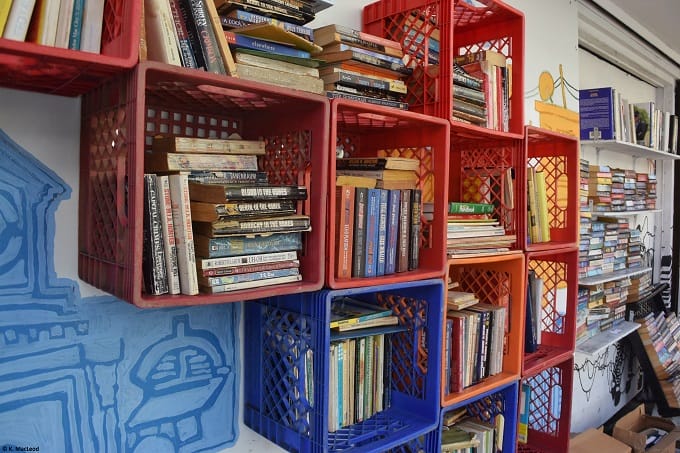 Santurce is a neighbourhood where the streets are lined with low-rise buildings decked out in all colours of the rainbow.
Some shone behind high security fences, while others seemed to barely cling onto the grandeur of days gone by, damp stretching over old paintwork. Bougainvillea – my favourite plant – climbed over fences and walls and balconies, adding to the kaleidoscope of colour.
There was a small cafe on the street level of our building where we sipped local coffee in the mornings (given the language barriers, there were lots of 'gracias' and smiles in the ordering process). There was a free-for-all library taking up a block on Calle Loiza (why doesn't every neighbourhood have one of these?), and street art and graffiti on the walls and in alleyways.
On Calle Loiza, one of the main thoroughfares, there were restaurants, minimarts, sleek hair salons, and little cafes. But the effects of the current economic crisis were palpable; it seemed that every other building was either empty, up for rent, for sale, or simply earmarked for demolition.
What Santurce lacks in convenience (to get to Old San Juan you're looking at a $17 one-way taxi ride, or a 75 cent journey on an infrequent bus that doesn't run on weekends), it makes up for not only in atmosphere, but an abundance of food and drink options – some of which are considered to be among the best on the island.
At Bebo's Cafe, a no-frills restaurant on the corner of our street, Calle de Parque, we feasted on garlic mofongo, a Puerto Rican staple; waiters were still busy serving food as 11pm approached. At La Cueva del Mar we ate far too many fresh fish tacos, washed down with local Medalla beer, and at José Enrique we indulged in the creations of one of the island's most celebrated chefs.
The latter is located near Plaza del Mercada, which at night resembled an outdoor party. Revellers old and young spilled out from the bars that line the streets, dancing to the music and sipping mojitos from hole-in-the-wall bar counters built into the main market building. I hadn't seen life lived so energetically on the streets since I worked in China, where parks in the early evening are a hive of activity as old and young exercise, socialise and eat.
During the day, La Placita was quieter: locals were poking around at the fruit and vegetable market, and elderly friends were gossiping together under the shade of the square's trees.
I watched as a stall owner sliced into a plantain to show a customer its freshness, while in broken Spanish my husband managed to have a conversation with another, whose stall sold fruit smoothies and empanadas (that was breakfast sorted).
Not only was Santurce a great neighbourhood to eat in, or to simply walk around and soak up the atmosphere of, but its reputation – both past and present – piqued my interest in the political and economic situation of Puerto Rico, and its relationship with the rest of the US.  Is the creativity in Santurce thriving because, or in spite of, the economic downturn? What do the residents think of it all? (I already have a few books earmarked for reading; Santurce – and Puerto Rico as a whole – really got under my skin.)
For the five days we were there, Santurce was exactly what we needed.  Staying in a rental apartment in Santurce gave us a glimpse of the San Juan that exists outside of the high-end resort hotels by Condado beach and the beautiful cobblestone streets of the old town.  If you're visiting San Juan, don't overlook a stay in Santurce. What you'll find is thought-provoking art, fabulous food, a beach nearby (if you want it), and of course, the comforting call of the coqui frog.
____________________
What kind of areas do you like to stay in on holiday? Would you stay in an up-and-coming neighbourhood like Santurce?
Let me know in the comments below – I'd love to hear from you!
____________________