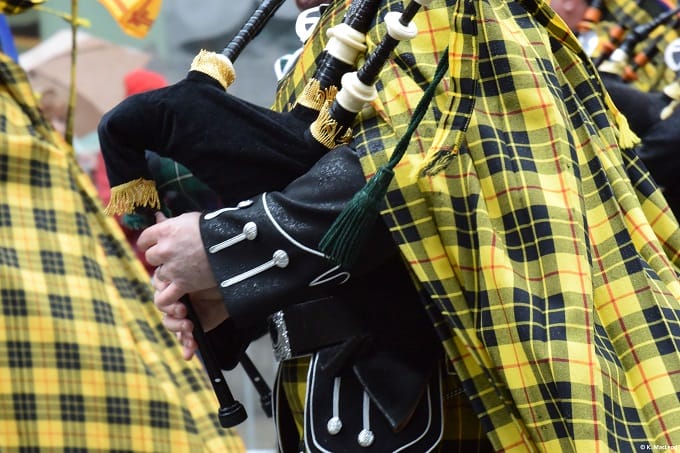 I've been to NYC Tartan Week many times before.
I've reported in sky-high heels from fashion shows, interviewed Scottish authors and designers, and heard the strain of bagpipes on the wind as I docked at Ellis Island. But NYC Tartan Week 2016 was different. This time, as a Scottish expat in the USA, I felt as if I had more of a stake in the celebrations.
Tartan Week is a week-long celebration of all things Scottish, taking place to coincide with Tartan Day, which falls every year on April 6th, and  recognises the impact that Scottish immigrants have made to the US over the years.
This year, my own Tartan Week experience didn't begin until the Wednesday, when I slipped on my Harris Tweed Hebrides blazer and made my way to the Lincoln Center for a night of entertainment courtesy of Visit Scotland and The National Theatre of Scotland.
Ducking behind a curtain, we were faced with what looked like a local community hall-turned-pub: wooden tables with paper tablecloths, a bare wooden bar along one wall, and black curtains lining the edge of the room.
When Kirsten Alana (a talented travel photographer with a passion for Scotland) and I were told to rip up our paper napkins into shreds for part of the performance, I knew that The Strange Undoing of Prudencia Hart was going to be no ordinary play.
Whisky and ballad verses at the National Theatre of Scotland event.
A tale about the Border Ballads – performed entirely in rhyming couplets – the play was magical and realistic, funny and philosophical.
It was interactive, meaning some members of the audience were drawn into the performance (Kirstin received a sloppy kiss on the cheek!) and some of the jokes were so very Scottish that I laughed longer and harder than I have in months (think football chants in rhyming couplets and you're half way there).
Theatrics aside, though, there was something moving about sitting surrounded by fellow Scots and those who love Scotland, something very special about sharing stories and experiences of our favourite locations. Everyone wanted to visit the Outer Hebrides, for example, and I was told to get to Oban ASAP. It was one of those nights where you hop on the subway home and can do nothing but marvel at the way this city works – and how small the world really is.
Day 2, for me, took place outside the iconic Saks 5th Avenue Department Store.
The costumes from Season 2 of Outlander were being displayed in the windows usually famous for their annual Christmas displays, and for which I had a press pass to speak to the stars of the show.
Outlander follows the story of a 1940s English nurse, Claire, who falls through time at a stone circle outside Inverness, and ends up in 18th century Scotland.  A time travelling historical romance set (and filmed) in Scotland might sound like a strange plot for a successful TV show, but it works.
Extravagant Outlander costumes on display on 5th Avenue.
I should know: I've spent the last month binge-watching the entire first season, and I may have done an excited dance around the living room when I was added to the press list (and not just because I was going to meet the very handsome lead actor).
Outlander still flies under the radar in the UK, but on this side of the Atlantic, the show is huge, a Golden Globe-nominated series with legions of die-hard fans who are actually visiting Scotland as a result of the show – so naturally, a perfect fit for Tartan Week.
The fans are "definitely more passionate here I think," Caitriona Balfe, who plays Claire Randall Fraser, told me. "But I think it's changing a little bit… as we've been shooting Season 2 you see more and more fans show up on set. I think there's more awareness now of the show in Scotland than there was last year."
Sam Heughan, who plays Claire's 18th century husband Jamie Fraser, seemed amused by the Scottish weather the city was experiencing. "It's perfect, it's been like four seasons today almost!" he laughed, while I asked him how he was feeling about the impending start of Outlander's Season 2 (which I haven't seen yet, so no spoilers, please!).
Trying to act calm and collected as I interview Scottish actor Sam Heughan.
"I mean I'm still nervous, excited. We had a great premiere on Monday, lots of fans turned up as well, which was terrific, they were outside in the freezing cold… It's always nerve wracking, but I guess this year we were a little bit more aware of what we're going to be doing – the first year was definitely about learning, it was all kind of new to us."
The Scottish weather – and the Scottish actor – stuck around until the end of the week and the culmination of the celebrations, the 18th annual Tartan Parade on Manhattan's 6th Avenue.
Despite the rain, it was exciting to hear familiar songs (like Mairi's Wedding, a regular at Scottish nuptials) and see familiar names on the signs being carried through the canyon-like streets of NYC.
I shouted extra loud for the MacLeod clan, despite my dislike for the infamous bright yellow hunting MacLeod tartan they were sporting, and I even got the chance to speak to a fellow islander who was dancing her way up Sixth Avenue.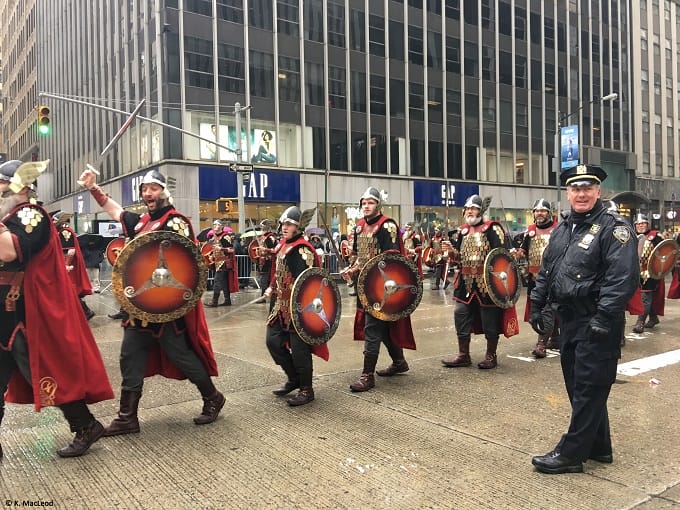 This New York cop looked confused as Shetland's Up Helly Aa Vikings stormed 6th Avenue!
The week's festivities also reminded me that national identity is a funny thing, fluid and multi-layered.
I'm a Rubhach and a Leodhasach, a Scot and a Brit, and I'm proud of all these identities, perhaps even more so as an expat, when I'm flying the flag for my home on the other side of the world.
NYC Tartan Week gave me a chance to fly that flag – literally and metaphorically – in support of my home. When you see the way people identify with the place where you grew up, you can't help but feel moved by their emotion.
If expat life tends to make people more proud of where they come from (and I can testify that absence really does make the heart grow fonder), then maybe it goes some way to explaining the unbridled enthusiasm Scots-Americans have for their Scottish heritage – an enthusiasm that was on full display during NYC Tartan Week.
All I can say is: roll on Tartan Week 2017!
I think people could definitely tell I was Scottish!
____________________
Have you ever been to NYC Tartan Week, or would you like to attend? Let me know in the comments, or on Facebook, Twitter, or Instagram!
Plus: a big shout out to Natasha Bieberfield of That's Normal who I was partnered with on the Saks red carpet!