In Philadelphia, you run into history around every corner.
Independence Hall, where the signing of the Declaration of Independence took place.  The Liberty Bell, a State House bell that become a nationwide symbol of freedom and protest. Elfreth's Alley, where the American flag, the Stars and Stripes, was born.
In Philadelphia, I found myself running into my own history, too. I wasn't looking for ghosts, or searching for shadows of my younger self, but they were there all the same, almost impossible to avoid.
I shouldn't have been surprised, really. Philadelphia has played what you could call a defining role in my life.  Eight years ago – give or take a month or two – I arrived in Philadelphia for the first time, a nervous-but-excited exchange student who had never been to the USA before, and had never lived in a city.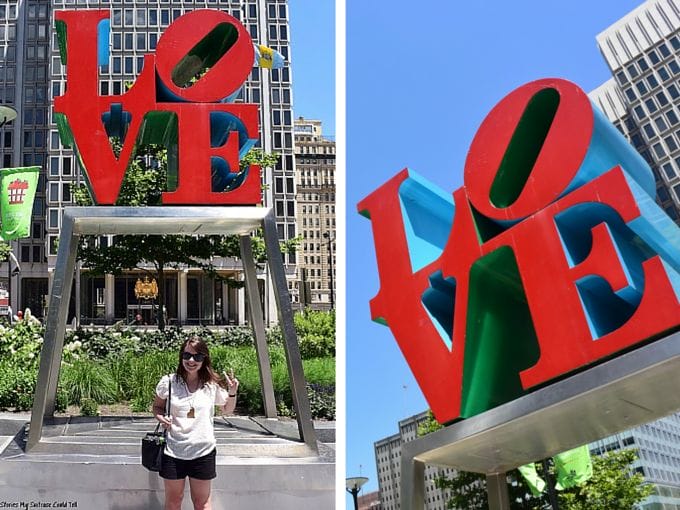 It was on returning to Philadelphia for BlogHouse, an intensive four-day professional blogging workshop, that it hit me.
Crossing the Ben Franklin Bridge, the skyline laid out before me, the thought occurred to me that my year in Philadelphia was quite possibly the catalyst that started it all: the love affair with living abroad, the move to China, the blogging, the transatlantic relationship that became a marriage.
That year, my overarching feeling was that anything was possible.  Maybe it was the naivety of a 21 year old, or the side effects of that American Dream positivity.  Whatever the cause, it worked: I spent that year starry-eyed and full of dreams. (But even in the wildest of these dreams, I don't think I could have imagined what the next few years would have in store, online and off.)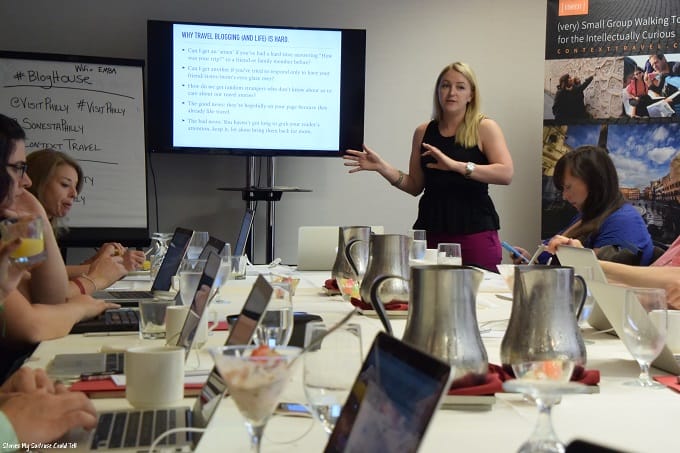 Maybe that wide-eyed optimism is what made returning to Philadelphia this month a little bit like stepping back in time.
BlogHouse, something of a bootcamp for bloggers, reignited that same optimism and confidence in me too. When you're surrounded by your 'tribe' – by people who love what you love, who do what you do, who understand what it's like to work (or try to work) in this fledgling yet flourishing world of blogging, it's hard not to be optimistic.
The workshops we attended were invaluable, and opened my eyes to the strength of the industry.  Our mentors have been doing this for years – some for a decade – and have expertise in different areas. Instagram and Pinterest, Snapchat and video, storytelling and photography, WordPress and SEO.
(Attending the latter workshop felt a bit like sitting in on a particularly difficult Maths lesson, but it was refreshing to have my mind focused on something so completely different to what I usually do.)
And it wasn't just the practical aspects of BlogHouse that inspired, but the personal ones too.
It was the chats with fellow bloggers about our goals for our businesses (because that's what our blogs are, at the end of the day). It was the conversation with my mentor, Sherry, that set creative sparks firing in my brain, leaving me too excited to sleep, even while cocooned in the fluffy pillows of the Sonesta Hotel.
It was the laughs, the jokes, and the deep conversations about life, love, and travel that came from the intense summer camp-style experience of being in one another's pockets for four days straight.
At BlogHouse, I discovered another side to blogging, and another side to Philadelphia too.
Eight years later the city – and I – are different.  But with the help of the tourist board, Visit Philly, I caught a glimpse of Philadelphia's cool side.
They introduced me to the 2nd Floor Brewing Company in Old City, where craft beers are created on the premises, and then the Independence Beer Garden, where food and drinks dance at the edge of history (the Liberty Bell sits right across the street).  Through Context Travel, I learned about some of the city's best food – like Federal Donuts – and tidbits of history about the place the tour company calls home.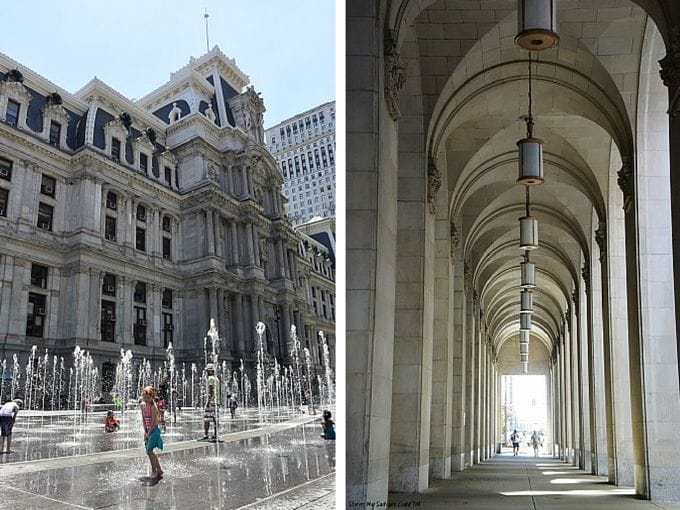 Off on our own, a group of us found a beer garden by the Delaware River, spruced up with hammocks and fairy lights.
With Anne and Rachel, I slurped gelato and gorged on pork rolls and ambled through the pretty streets of Society Hill, one of the oldest neighbourhoods in Philadelphia.  Another group of us grabbed cheesesteaks at Cleavers, and capped off the night with cocktails at a local speakeasy, Franklin Mortgage and Investment Company.
The weekend was a snapshot of a city I used to know, like meeting an old friend you've lost touch with over the years.  The BlogHouse experience was action-orientated and inspiring – I left with a notebook crammed full of hand written notes, a to-do list as long as my arm, and so many ideas my mind feels as if it can't quite hold them all in.
Maybe most importantly, I left with friends, with a community. "Welcome to the family," said Lisa Lubin, one of the mentors, on our last day.  "It doesn't end here."
She's right: it doesn't end here.
Philadelphia and BlogHouse reminded me that sometimes, all you need is a little bit of optimism (and hard work) to get off the ground.  You see, dreams do come true.  Coming full circle to Philadelphia, where my past met my present, proves just that.
The BlogHouse 2016 'graduates' in Historic Philly (photo courtesy of Lisa Lubin).
A huge thank you to the BlogHouse sponsors: Visit Philly, Sonesta Philadelphia, and Context Travel, and our mentors, Sherry Ott, Lisa Lubin, Anne Lowrey, Cailin O'Neil, and Lisa Ghisolf.
____________________
Have you ever returned to a place that had a big impact on you, like I did with Philadelphia? 
Let me know in the comments below – I'd love to hear about your experience!
____________________