Welcome to the first edition of the Armchair Travel series!
This is the space where I share reviews of books that inspire travel, offer escapism, and simply transport you away from the cares of daily life – much in the same way a holiday does.
Books, for me, offer up so many of the same experiences and feelings as travel. Some are complete escapism. Like a week by the pool somewhere warm and sunny, these are the books that make you laugh, smile, and breeze through the pages.
Others are challenging. Like an encounter with an unfamiliar culture thousands of miles from home, they push you outside of your comfort zone, introducing you to new ideas and ways of thinking.
Books, like plane tickets, can take you anywhere. So if you're an armchair traveller looking for a new literary destination, here are five of my recent reads (and favourite quotes) that will transport you around the world…
____________________
Previous Convictions, by A. A. Gill
I can't remember the last time I came across a writer with such a magical way with words; the late A. A. Gill's way of describing even the most mundane scene is extraordinary. Previous Convictions is a collection of his travel writing, a mix of the domestic and the international, the hilarious and the heartfelt.
The essays vary widely, from a weekend at Glastonbury, or a visit to the Tate, to war-torn Haiti and the deserts of Oman. Wherever he went, though, his observations were acute – and brilliantly worded, too.
What it says: "I can't disengage my feelings for Scotland from this landscape. They're all one. I suffer the heightened sentimentality of all expatriates… I have a feeling for it that's beyond words."
Where it takes you: Everywhere from hunting in the Scottish Highlands to dodging bullets on the streets of Haiti.
 The Outrun, by Amy Liptrot
The Outrun, the award-winning, critically-acclaimed memoir from Amy Liptrot, follows the writer's descent into drink in her early twenties in Edinburgh and London, and her recovery at home on the cliffs and shores of Orkney.
This is no misery memoir, though; it's a glorious celebration of the power of nature, and what it means to leave home, and to return. For any islander, Amy's words will hit close to the heart, as she describes the rhythms and experiences of island life with lyrical clarity.
What it says: "Although I had left, and had wanted to leave, Orkney and the cliffs still held me, and when I was away I always had, somewhere inside, a quietly vibrating sense of loss and disturbance."
Where it takes you: The many islands of Orkney, in the north of Scotland.
The Nightingale, by Kristin Hannah
The Nightingale follows the fortunes of sisters Vianne and Isabelle in Nazi-occupied France, chronicling not only their decisions in the face of horror, but their sometimes fraught relationship, too.
This sweeping historical novel is a New York Times bestseller – and forthcoming film – and yet it hadn't crossed my radar until Erin, of 10 Miles Behind Me, urged me to read it.
I'm so glad she did. I devoured it in two days straight, desperate to find out how the war ends for the sisters – only to turn the final pages with tears in my eyes.
What it says: "If I have learned anything in this long life of mine, it is this: in love we find out who we want to be; in war we find out who we are."
Where it takes you: Oregon, in 1995, and France, in the 1940s.
 Greatest Hits, by Laura Barnett
Greatest Hits follows the life – and the music career – of Cass Wheeler, using the songs that made her famous (before she suddenly abandoned music) to set the scene for different chapters in her life. Over the course of one day in her home studio, we see her as a child, a teenager, a headstrong twenty-something, and now in present-day middle age.
It's one of those books that truly makes you forget where you are. While reading, you're not sitting on your couch at home: you're a world-famous singer looking back on her teenage years in 1960s London. It's the kind of book that swallows you whole, and leaves you thinking of it, and its characters, long after you've turned the last page.
After all, every reader can identify with the time-travelling properties of the music we once loved and lived life to.
What it says: "She has always been muddle-headed in the middle of the afternoon. "The death hour," she used to call it on the tour bus, and worse for her spirits than the darkest moments of the night; a nothing, nowhere time, seeping past so slowly, to be endured for the eventual reward of the fresh, invigorating hours of evening."
Where it takes you: London, the English countryside, and around the USA – from the Sixties through to the present day.
The Summer of Impossible Things, by Rowan Coleman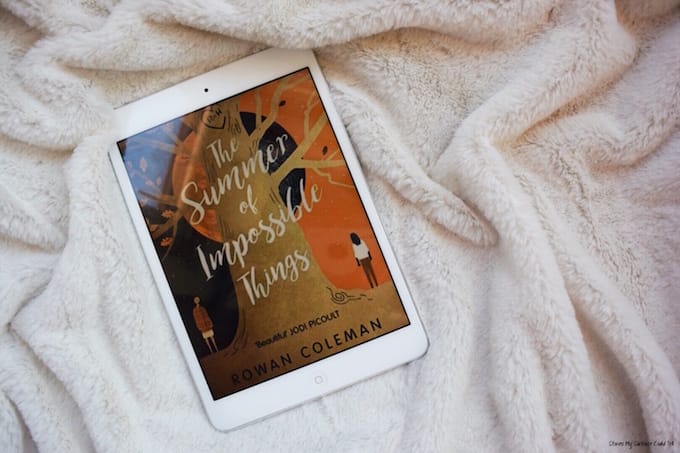 After the death of their mother, Luna and her younger sister travel from England to their mother's childhood home of Brooklyn, New York in a desperate attempt to unearth what happened to make her leave, and never return.
When they arrive though, strange things start happening, and Luna finds herself suddenly thrown back in time to her mother's teenage years in the Seventies. Luna is a physicist, though, so she knows what's happening is impossible – or is it?
Rowan Coleman's latest novel is like a little slice of summer magic, and perfect for enjoying outside on a sunny day (which is exactly what I did!). Reading The Summer of Impossible Things, you'll feel like you're time travelling too – travelling through the pages to the sultry heat of Bay Ridge as disco sounds filter out from the clubs, while Luna tries everything to change her family's past, and their present.
What it says: "Stories are the only things that can ever really change the world. The stories that people believe in are the only ones that matter. Those are the stories that have the power to change everything we think we understand."
Where it takes you: The sizzling heat of Brooklyn in the summer of 1977.
____________________
What books have you read recently that you enjoyed? Do you have any armchair travel recommendations for me?
 Let me know in the comments – I'd love to hear from you!
____________________
P.S. If you want to know what I'm reading in real time, I share my progress on my "52 Books A Year" challenge in my monthly newsletter, which you can get here!