Long Island City is a neighbourhood in flux.
From industrial days gone by to the gleaming towers blocks that pierce the skyline today, Long Island City is changing. And thanks to a morning with Brooklyn Unplugged Tours, my blogger friends and I were able to get a glimpse of the transitions taking place – transitions that the New York Times say make this the city's fastest-growing neighbourhood.
Long Island City is part of the borough of Queens, and sits right across the East River from Manhattan. Queens is vast, covering more than 100 square miles, but this little corner of the borough is unique, being both incredibly well connected and with a primarily industrial, as opposed to suburban and residential, history.
"The reason this area is different from the rest of Queens is that it's physically separate from the rest of Queens," said Jeff, who runs Brooklyn Unplugged Tours in (you guessed it) Brooklyn and Queens. He explains that the unofficial borders of Long Island City are comprised of the train tracks, the Sunnyside Yards, and the East River, but that these markers are flexible.
We began our tour on a hot Sunday morning at Queensboro Plaza, an area where construction is booming.
"Even with the changes, it's always going to be loud here," Jeff noted, as we struggled to hear him while another subway train hurtled above our heads.
Three subway lines converge here, making it desirable for New Yorkers who want to move outside Manhattan (hello, cheaper rent!) but don't want to lose any of the convenience of being close to the heart of the action.
Everywhere we walked near Queensboro Plaza seemed to possess two things: construction, in the form of brand new apartment blocks (there are thousands of new apartments in the works), and the constant rattle and hum of the overground train tracks.
A few blocks further south the noise subsided, melting away as we entered a seemingly empty commercial area.
While the heavy industry of the past may be gone, this is still a place of work. Within the space of a few minutes we passed the Silvercup Studios, famous for producing Sex and the City, The Sopranos, and 30 Rock; a taxi repair shop and tutoring facility; and even a few hotels.
Jeff told us that there are also more than 40 hotels in this part of Long Island City, sandwiched between the residential zoning areas near Queensboro Plaza and Hunters Point, the latter closer to the river. Similar to the rental market, the main appeal of hotels in this area is that they're less expensive than their cousins across the water – not to mention more spacious.
Aside from hotels, what also stood out in this area was the art.
The problem with street art, said Jeff, isn't getting the artists to paint – that's easy. What takes work, and often skilled negotiation, is procuring permission from building owners to use their walls as a canvas.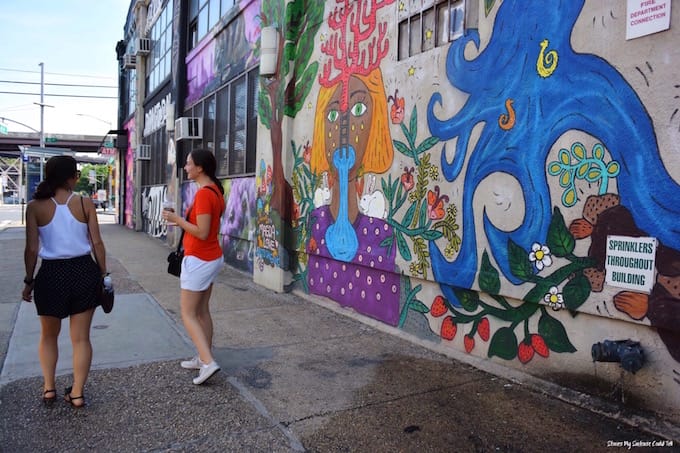 Street art has a long history here, and made headlines in 2013 when the buildings of 5Pointz, known as the city's "graffiti Mecca" were whitewashed without notice. Today the designs in the neighbourhood are less about traditional "tagging", and more about art, as we were able to see from the murals we passed near 43rd Avenue.
And for art lovers, there's more than street art to be found here; the contemporary art arm of the Modern Museum of Art, Moma PS1, has a home here too.
As we neared the end of our tour, we came to the literal edge of Long Island City, at Gantry Plaza State Park.
Today, the area is filled with modern restaurants, shops, apartment buildings, river-side parks, and sought-after elementary schools – but fifty years ago it was home to train depots, factories, and the bottling plant for Pepsi.
All that's really left of that heritage is the iconic Pepsi-Cola sign. That morning, families picnicked underneath it, and football teams kicked a ball around nearby. Erin, Marie, Karissa, and I went into overdrive with our cameras, admiring the expansive views across the East River to Manhattan.
From here, we could pinpoint some of the city's most iconic landmarks: the Chrysler Building, the Empire State Building, and the United Nations.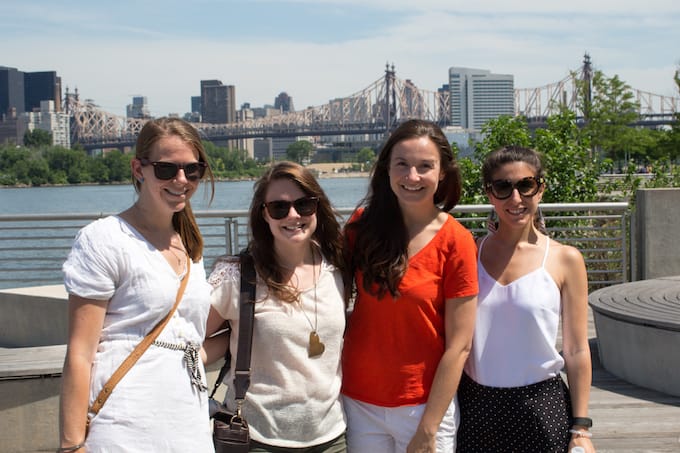 One of my favourite things about New York City is how dramatically the city can change in just a few blocks.
Some of the most interesting finds can be discovered just by detouring down a side street, or travelling a few minutes in an unplanned direction. Architecture alters, languages change, and shops transform.
It's a characteristic clearly visible in Long Island City, a neighbourhood that boasts glass towers a few blocks from charming brownstones, film studios and auto shops a few steps from trendy hotels. For a look at how New York is changing – and for some of the area's most impressive views – you need to go to Long Island City.
____________________
NEED TO KNOW
How do I get to Long Island City?  To get to the Queensboro Plaza area, take the N, W, or 7 train towards Queens and get off at the Queensboro Plaza stop. If you want to explore the waterfront area, take the 7 train towards Flushing Main Street, and get out at the Vernon Boulevard station.
Where can I stay in the area?  While I haven't stayed in Long Island City myself, I've had my eye on the Paper Factory Hotel for a long time, and would love to return to the neighbourhood for a 'staycation.' There are dozens of hotels in the area, so you can definitely take your pick!
What tour did you take?  We went on the Long Island City Walking Tour with Brooklyn Unplugged Tours, which lasts two hours and (at the time of writing), costs $32 per person.
____________________
Thanks to Brooklyn Unplugged Tours for offering us a complimentary tour! As always, all opinions -and fun with the #BlogSquadNYC! – are entirely my own. (P.S. Thanks to Marie of One Carry-One for the great photo of the four of us.)
____________________
Have you ever visited Long Island City, or would you like to? Have you ever gone on a walking tour on your travels?
Let me know in the comments below – I'd love to hear from you!
____________________ 
Want to read more?
10 of the Best Places to See the New York City Skyline
Boating in Central Park: A Classic NYC Experience
Where to Shop in New York City
____________________