Books, like plane tickets, can take you anywhere.
From the comfort of your living room couch, you can travel through time and space, to different countries and alternate worlds. Aside from the research that shows reading is good for our health, at the end of the day, armchair travel is just plain good fun.
At the start of each year, I set myself a goal of reading a set number of books by the end of December. Some years I surpass it (like I did in 2017, when I aimed to read 52 books and finished 56) and others I don't quite reach my hoped-for total.
But reading is not a race, with yourself or anyone else.
The way I look at it is that setting a reading goal – whether that's 52 books a year, or five – works as a reminder to read more. When I'm aimlessly scrolling through outraged Tweets or perfectly posed Instagram shots, I have an extra push to put down the phone, and pick up a book.
So if you're hoping to kick-start a reading habit this year, or simply enjoy more books than usual, here are my own personal tips on how to read more…
1. Don't make excuses.
If you don't want to read, that's absolutely fine; not everyone enjoys reading. But if you do want to read, there's no point spending half an hour on Facebook, or the entire evening in front of the TV, and then saying that you "don't have time to read."
Plus, if you can focus long enough to binge the latest Netflix show, or watch a 90-minute movie, then you can focus long enough to read a chapter or two of a book – you just need to get into the habit of picking up a book, instead of reaching for the remote.
2. Only read books you want to read.
That sounds pretty obvious, doesn't it? But the fact remains that many people base their reading habits around what they think they "should" be reading, or what "looks good" to others.
Whether you're into sci-fi stories or epic romances, historical fiction or creepy thrillers, read exactly what you want to read. A lot of people look down on what's known as "chick lit," for example, but I'm not ashamed to tell you that I devour books written by the likes of Jenny Colgan, Lucy Diamond, and JoJo Moyes. Trust me: you'll find you read a lot more often when you're actually looking forward to finding out what happens next.
3. Don't be afraid to put down a book you're not enjoying.
Until recently, I had always prided myself on finishing every book I started. No more!
I found that persevering with a book I simply didn't like was affecting my entire attitude to reading. I would dread picking up the book, and as a result would spend days – sometimes weeks – without reading at all.
I've now come to the conclusion that life is too short for us to read books we don't enjoy. I do give new books a chance, but if I really don't like the book by the time I'm a quarter of the way through it, I'll put the book down in favour of something that will bring me pleasure.
4. Make use of your local library – it's free!
Libraries are some of my favourite places on Earth. I always seek them out when I travel, and wherever I've lived, one of my first priorities has always been acquiring a library card.
The magical thing about libraries is that you can get any book you want completely free of charge; it's one of the only places where access to books and knowledge is not dependent on the money in your wallet. Some libraries have a bigger stock than others, but every one I've been a member of is happy to order in a new book for you, or borrow one from a nearby library instead.
If you want to read more without spending money, get yourself a library card. You'll be able to walk away with five or six books at once for absolutely nothing. How wonderful is that?
5. Take your book (or Kindle) everywhere you go.
A lot of book lovers hate the Kindle, and I was initially hesitant too, but I'll be honest: it's now one of my most-used possessions.
Kindles are brilliant for someone like me who loves to travel. Instead of taking up valuable space with ten books in my suitcase or hand luggage, I can carry hundreds of them in my handbag, the equivalent of my own personal library.
And it works just as well as home as it does abroad. My slim, old-school Kindle (no, I do not want to be able to browse the internet while reading) fits easily into my smallest handbag, meaning I can read anywhere: at the bus stop, waiting for the subway, on the subway, in the queue for a museum, while out for a solo coffee or lunch… (you get the idea).
Having a book with you at all times means you can read anywhere and everywhere (and in turn it means you'll read more without even realising).
6. Put your phone on silent in another room.
This one is a game changer.
With our attention spans seemingly getting shorter and shorter thanks to Tweets, Facebook rants, Instagram stories, and notification after notification, it can take time to get used to concentrating deeply again on one task for a prolonged period of time.
But that kind of dedicated focus is the only way to read; you can't get lost in another world if your phone is bringing you back into your living room every five minutes.
So put your phone on silent and forget about it. (I find this works even better if you put it on silent and put it in a room at the other end of the house with the door firmly closed, although Mr. Stories My Suitcase Could Tell says it does make me a bit difficult to get in touch with…). Without technology to distract you, you'll be able to read more, and for longer stretches of time, too.
7. Track your reading habits.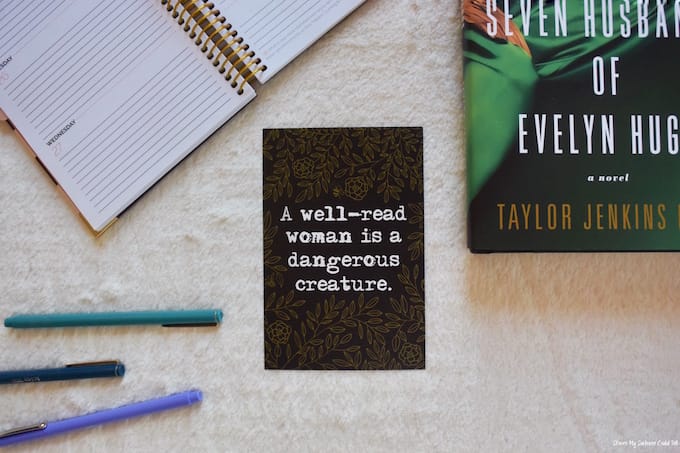 If you're a list-maker like me, then tracking your reading progress will encourage you to read even more.
I track the books I read through Goodreads, where I organise them into "shelves" based on the year I read them. You can add "friends" on Goodreads a bit like you do with Facebook, so you can get ideas and inspiration when you see what they're reading, too.
But you don't need to use a website to record what you read. You can create a spreadsheet, take notes on your phone, or use a good old pen and piece of paper.
There's something rewarding about seeing the list of books you've read grow (and it's also a handy reminder of what you've read when someone asks you for book recommendations!).
8. Join a book club.
It can be an online book club – like 'Now Read This' from the New York Times and PBS Newshour, or Pop Sugar's Reading Challenge – or a physical one with friends.
Whatever you choose, being surrounded (literally or figuratively) by other people reading the same book as you will encourage you to finish each book club choice you start, and get involved in discussions about what you're reading.
I've only ever taken part in an online book club, but I've wanted to join a local book club for ages, and might even make joining one a goal for the new year.
9. Sign up to a subscription service, like Book of the Month.
While I'd probably only recommend this to already dedicated readers, I've found that subscribing to Book of the Month has helped me read even more.
Book of the Month has been around for more than 90 years, but it relaunched in 2015 with a new take on the mail subscription service: at the start of each month, members choose between five new releases, and their choice is delivered to their door a few days later, with no extra postal charges.
I think the attraction of Book of the Month is the combination of a great selection of novels; the novelty of receiving something you love in the mail; and the tactile experience that is reading a newly-released hardback novel (at around $12.50-$14.99 a month, that's about half the usual price).
Initially, I was only going to subscribe for the three free months I won via Part Time Traveler on Instagram, but I loved it so much it became a monthly treat to myself. Thanks to Book of the Month, I've read books I would never have thought to pick up; I've read anticipated new releases before they've come out; and my bookshelf looks better than ever thanks to the beautiful covers.
In our age of swiping and scrolling, there's something hugely appealing about curling up on the couch with a solid, beautifully designed, hardback book. And when you're guaranteed one new book a month, you're likely to read at least one book a month – it's another way of reading more books, more often.
10. Make reading part of your routine.
Reading has always been an integral part of my daily life.
And if reading becomes part of your routine, as much as making a cup of tea when you wake up, or going for a morning jog, you will naturally read more.
Conventional wisdom says to read before you go to bed, as a way to relax, unwind, and get away from the sleep-shattering properties of our device screens. But making reading part of your routine doesn't mean you have to read before you go to bed.
For you, the best way to read could be setting aside an hour on Sunday afternoon to read a book on the couch with a glass of wine. It could be replacing your early-morning social media scan with a few pages while you eat your breakfast. You could read on your commute to work, or during that dead hour before dinner when you've got home, but want to chill out before you begin cooking.
Whenever you choose to read, start small, keep up the habit, and soon you'll find reading is something you don't even have to think about.
And there you have it: ten habits that will help you read more.
Whether you want to start small or aim high, begin reading again or increase your already-frequent book sessions, I know from personal experience that these are all actions that can help you read more books, more often.
So pick out a book, open it to the first page, get comfortable, and let the (literary) adventures begin.
____________________
Would you like to read more, or do you have any tips on how to read more books, more often? Which books are you hoping to read this year?
Let me know in the comments below – I'd love to hear from you!
For more book-related adventures, why not take a look at the "Books" section of the blog, or delve into my Armchair Travel Series, where you'll find reviews of books that inspire travel?