My first sight of Mexico City was from the air, as our plane descended through a smoggy, sunset-tinged sky.
The city was sprawling, filling every conceivable space, reaching to the edges of the horizon and climbing haphazardly up hillsides. It wasn't until later that I learned this is the largest city in North America.
But we weren't meant to be arriving in Mexico.
We – my husband and I – weren't meant to be spending a week in Mexico City in shorts and t-shirts, re-applying sun cream, and searching for the best taco stands. We were meant to be in Scotland, celebrating my 30th birthday at a surprise party filled with family and friends, balloons and cakes, and even a ceilidh.
Unfortunately, it wasn't to be. Severe weather in the UK meant our flight across the Atlantic was cancelled at the last minute, and so we decided to be spontaneous and celebrate elsewhere: we searched the "everywhere" tab on Skyscanner, saw a good deal to Mexico City, and booked flights leaving the next day.
With no time to plan our trip, I had no idea what to expect from the Mexican capital.
As I've said before, I'm usually the kind of traveller who buys a guide book months in advance, then spends weeks highlighting the pages and adding post-it notes scrawled with extra ideas taken from blogs, Instagram, and Pinterest. On this occasion, I barely had time to grab a guide book at all before we boarded the plane, let alone actually read it. I looked down from the plane at the city rising to greet us, and wondered what our week in Mexico City had in store for us.
We soon learned that the city consists of multiple colonias, or neighbourhoods, each one with a distinctive character and atmosphere.
Over the coming days we'd explore a handful of them on foot, drinking in the sights, sounds, and smells of areas that ranged from historic enclaves to hipster havens. Trendy Roma, with its elegant (and often crumbing) colonial mansions from the 19th century, and countless mural-covered walls, reminded me of Madrid's La Latina neighbourhood. Next-door-neighbour Condesa, with its tree-lined streets and Art Deco architecture, was peaceful and serene, and equally as charming.
Here we enjoyed everything from casual tacos de guisado at Tacos Hola, to fine dining with mezcal cocktails in the interior courtyard at Husset. We grabbed pastries for breakfast from the famed bakery Panaderia Rosetta, and enjoyed them outside at the nearby Plaza Rio de Janeiro, where a dog training school (they're all the rage in Mexico City, it seems) took place beneath the trees. (This is also the neighbourhood where we ran into fellow blogger Christine, and her husband David: I couldn't believe the coincidence!)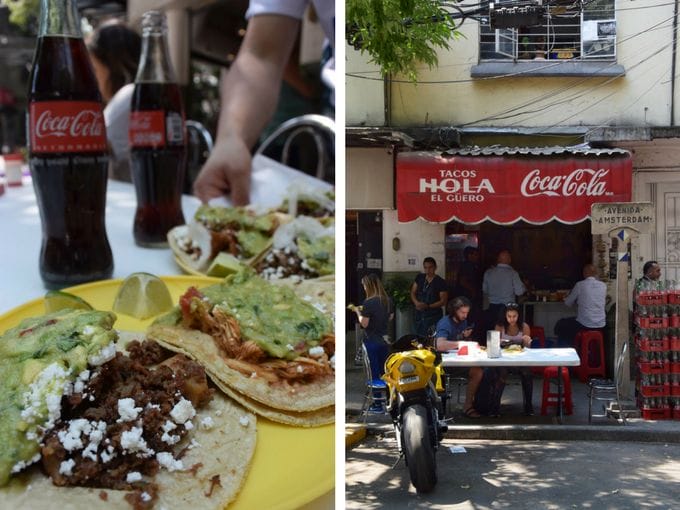 In the Centro Historico, we fought with crowds of fellow tourists to see the sights the city is famous for.
We marvelled at the elegance of the Palacio de Bellas Artes, geeked out over the postal exhibition at the ornate historic post office that is the Palacio Postal, and admired the contrast between the ruins of the Templo Mayor and the cathedral that dominates the Zocalo, one of the world's largest public squares.
It was in Santa Maria la Riberia that I fell in love with a library with floating shelves, the Biblioteca Vasconcelos. From there, we strolled past street art to the ornate Moorish Pavillion in the Alameda de Santa Maria, another one of the city's tranquil squares, and ambled our way through the local neighbourhood to the Mercado san Cosme. The market was full of everything from food stands to clothing stalls: bowls of mole powder sat next to piles of fresh shrimp, and slabs of meat sat sweating on countertops waiting to be sold while lunchtime regulars chatted over their food at the next stall.
Coyoacan, a quieter more residential neighbourhood in the south of the city, stole my heart completely with its colourful facades and cobblestone streets lined with bougainvillea. This was the home of famed Mexican artist Frida Kahlo, and her former house, Casa Azul, is now a fascinating museum. We went into full tourist mode and hired audio guides to learn more what we were seeing, but we also adored the building itself, with its cobalt-blue walls and cactus-filled interior courtyard.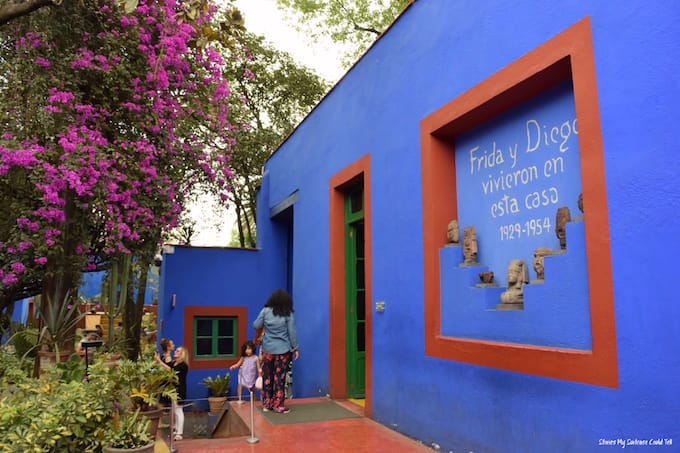 On our last day, there was a visit to the Bosque de Chapultepec, a huge park that covers more than 1600 acres in the centre of the city.
The space is filled with trails, gardens, museums, monuments lakes, and a zoo, and was once described by the New York Times as "one of the world's great urban parks." Our main reason for visiting though, was to see the castle that sits on an outcrop overlooking the city, the Castillo de Chapultepec.
While I'm sure the Museum of National History housed there would have been fascinating if we had an ounce of Spanish, for us it was the building itself that stole the show. Originally built as a country house for Spanish royalty, it features sweeping grand staircases, glittering chandeliers, and manicured rooftop gardens – not to mention 360 degree views across the city, its edges blurred by the haze of pollution.

In some ways Mexico City reminded me of the Chinese cities I lived in and visited eight years ago.
It's an enticing mix of old and new, traditional and trendy. There are huge congested roads and smoggy air on the one hand, and charming historic neighbourhoods on the other, all part of a place where life – from lunch carts to exercise classes – plays out communally on the streets. One minute we were craning our necks to look at the skyscrapers being constructed in Paseo de la Reforma, and the next we were exploring ancient ruins at the Teotihuacan pyramids. CDMX, as it's known, feels like a city on the rise, both literally and metaphorically, and it won us over almost immediately.
A word I've seen being used to described the city is "vibrant", and after spending a week there, it's easy to see why.
From its dining scene to its architecture, and with such a varied collection of colonias to choose from, Mexico City has something to suit everyone. We only really scratched the surface of this mega city during our unexpected week there – which means, of course, that we'll just have to make a return visit!
____________________ 
NEED TO KNOW
How do I get there? Given it's one of the largest urban areas in the world, you can get a flight to Mexico City from just about anywhere! From New York City, we took a five hour flight with Interjet, and if you're in the UK, for example, British Airways offers direct flights from London.
Where should I stay?  Roma and Condesa are both walkable neighbourhoods with lots of good food options (and are safe at night, too). Because our holiday was very last minute, our accommodation options were limited, but we managed to get a hotel room at PF Suites, right on the edge of the Roma neighbourhood. If we'd had more time to plan, I would have liked the idea of staying somewhere like the Hotel Condesa, The Red Tree House, or in a quirky Air BnB.
How can I get around?  As I've mentioned above, Mexico City is huge. While we walked (a lot!) around each neighbourhood, we used Uber to travel between colonias, which was a fast and extremely affordable way to get around (about $4 for a 20 minute journey). The Metro and public bus systems are meant to be good, too, so give that a try if you have time to figure them out (or, unlike us, if you speak some Spanish!).
____________________ 
What are your thoughts on our week in Mexico City? Have you ever been to Mexico City, or taken a spontaneous, last-minute trip to somewhere unexpected?
Let me know in the comments below – I'd love to hear from you!