Boston is a city of history.  The history is in the ground itself, in the Freedom Trail, the two-and-a-half mile line of red bricks set into the sidewalk.   It's in the statues of stately Americans long gone, the plaques on buildings boasting of their revered status, and the memorials to monumental events of the past.
Boston is also a city of firsts.  Often referred to as being 'older than America', it's hardly surprising that Boston is home to the country's first public park, the first public library, the first underground metro, the first college, and countless other notable 'firsts.'
It wasn't my first time in Boston, but in many ways it felt like it.  Maybe it was the rain, heavy drops from constantly grey skies, or maybe it was the timing, right after leaving my friends in Philadelphia, where I had studied for a year:  whatever the reason, Boston and I just didn't click during our first encounter.
This time was different. Six years on, I was in town for the annual Women In Travel Summit, and after whizzing to the top of the Prudential Tower, my feelings towards Boston had warmed significantly.  Following a few awkward encounters while attempting to navigate the 'T' (the name Bostonians give to their subway system) I ended up in the North End, Boston's traditional Italian American neighbourhood, for dinner with an old friend.
While the skyline views at the top of the 'Pru' were special, it was here that my renewed relationship with Boston really began.  Before settling on dinner at Mother Anna's (a homely-looking restaurant that served, among other things, delicious baked lasagne) we wandered along cobbled streets lined with locally-owned Italian restaurants, bakeries boasting of their cannolis, and old-school laundrettes open late.
As the sun set, locals were queuing up to buy fresh cheese and meat before dinner, in a deli that declared itself the location of the 'best Italian subs' in the city.  There was something in the air, something in the atmosphere that shifted my perspective of a city I had once disregarded.
I returned the next morning, for an all-American breakfast of coffee and a bagel at Thinking Cup, before setting out on foot to get to know Boston's neighbourhoods.  For me, walking is the best way to get acquainted with somewhere new, the best way to experience a city as it really is on the ground, stumbling across streets and sights that you might not find otherwise.
This unplanned walking tour took me along a section of the aforementioned Freedom Trail (which covers historic sites of the American Revolution) and passed by the famous Faneuil Hall, where city meetings once took place.  From there I continued through the maze of modern buildings until the streets opened up to reveal Boston Common – still covered in snow at the end of March – whose edges I skirted, strolling past the gold-domed State Capitol building before ducking down a side street and getting lost in the charming Beacon Hill neighbourhood.
It's a wonder I ever came out again.  Beacon Hill is beautiful.  Every door is bright, with a quirky door knocker or intriguing letter box.  Every street is full of character: cobblestones, red brick buildings, gas lanterns leaning over at seemingly impossible angles. Under blue skies I spent almost my entire morning in this historic part of the city, bowled over by the classic American beauty waiting around each new corner.
There's more to Beacon Hill's past than pretty streets, of course.  When Massachusetts banned slavery in 1783, Beacon Hill became a focal point for abolitionists.  There are plenty of Boston 'firsts' to be found here too, as these streets were home to the first abolitionist group in America, and the first integrated school in the country, which opened in 1855.
By the time I made it to the neighbourhood's main thoroughfare, Charles Street, it was most definitely time for lunch.  Travelling solo means you only have yourself to consider, so I wasted no time in finding a seat at the communal wooden table at Tatte Bakery and indulging in coffee and cake for lunch.  It was only after I visited, devouring the pecan pie 'nut box', that I learned that Tatte is considered by some to be one of the world's 'bucket list' bakeries.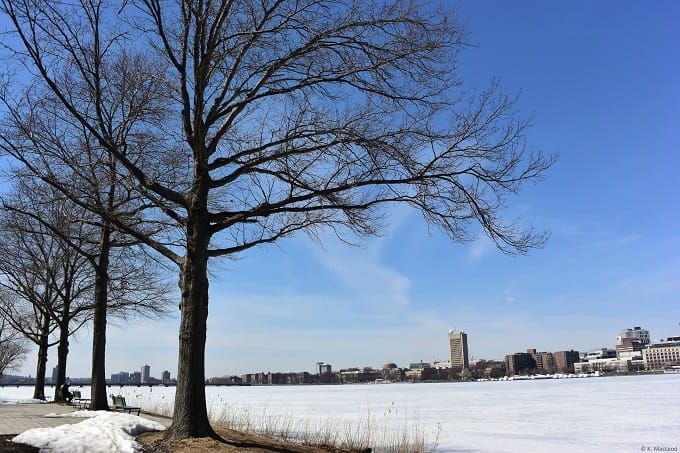 Fired up with caffeine and sugar, I made my way to the Charles River.  On one side sits central Boston, the other the student-filled neighbourhoods of Cambridge and Somerville.  Joggers, parents with prams, and fellow tourists were taking in the riverside sights too: the bare weeping willows, the views across to MIT, the sight of the Prudential Building and John Hancock Tower.  But the most striking sight of all was the river itself – it was completely frozen over, even at the end of March,
I turned away from the river then, and after a detour through the orderly residential streets of the Back Bay, I found myself where I intended to be – the South End.  It was almost by accident that I stumbled across Olives and Grace (which sells gifts made by emerging artists and producers), and I'm glad I did. The staff were chatty and friendly, furnishing me with an annotated map of their favourite shops and cafes in the neighbourhood, and even recommending spots perfect for photographs.
It was strange to think that before the mid-1800s, the street where I was standing didn't exist.  Not only were there no buildings, but no land on which to build,  All that existed was the Boston Neck, a narrow isthmus of land connecting downtown Boston to the neighbourhood of Roxbury to the south.
When the city's population began to boom, the tidal marsh was filled in, and the South End, with its large, elegant homes, was created.  The area has seen ups and downs over the generations, as most do, and is now described as the more 'hipster' area of Boston.
After more walking through the South End – in and out of the quirky shops, and up and down side streets lined with beautiful brownstones – my feet were telling me it was time to go.  The first event for the Women In Travel Summit was in a few hours, and time for wanton exploration of the city older than America was almost up.
My rather random neighbourhood tour confirmed that yes, this is a city of history, and a city of firsts; but I also learned that it's a city of charming architecture, quirky independent shops, and really, really good food.  After a lacklustre initial encounter, Boston, that 'beacon on a hill,' was quickly winning me over.
____________________
Have you ever gone on a walking tour, or visited a destination that didn't appeal to you at first? Would you give it a second chance, like I did with Boston?