When the lights came up for the half-time break, I was momentarily confused.
So engrossed had I been in the Dundee Rep play, 'In My Father's Words', that I had forgotten I was not in a cabin on the shores of Lake Ontario, but sitting two rows from the stage in the 59E59 Theatres in New York City.
That was the power of the acting on show in In My Father's Words, the moving play about identity, immigration, and language being performed as part of the annual Brits Off Broadway festival. Written by Justin Young, directed by Philip Howard, and with Gaelic translation by Iain Finlay Macleod, In My Father's Words is set in Canada in 1992, where it follows the story of elderly Don, who is slipping into dementia, and his relationship with his estranged son, Louis.
It's a relationship that quickly turns even more complicated, as Don's newly-hired carer, Flora, realises that the 'nonsense' Don is speaking is not nonsense at all, but Gaelic.  What follows over the next two hours is the slow unravelling of generations of deeply buried family secrets, from false names and unpaid debts to the traumatic ocean-crossing journeys of early 20th century island emigrants.
The stage was small and intimate, with a few striking props setting the scene thanks to the vision of Fiona Watts.  A large tree and slanted wood floor dominated the space, doubling as Don's bedroom, while also providing the aura of a wood cabin.
An early Nineties-era typewriter and cassette player sat on a desk, indicative of Louis' job as a university Classics professor, while jumbled boxes and crates created the feel of a dishevelled home, a mind slipping away.  A large screen in the background translated parts of the Gaelic speech, in a dream-like manner that alluded to the role the ocean and the lake plays in the lives and histories of this fictional family.
Even if the stage had been empty, I'm certain the effect of the play would have been just as strong, thanks to the talent of three actors involved.
Angus Peter Campbell gave a powerful performance as the ailing Don, sitting staring into space on the floor, his accent switching from Canadian English to west coast Scottish Gaelic.  You could really feel the character's frustration at the struggle to be understood, and his confusion at not recognising the people around him.
Murieann Kelly, whether poking fun at Louis, or welling up at the effort to get the two men to reconnect, was utterly brilliant as the cheery, persevering Flora.  The Irish actress' performance was even more impressive given the fact that she had been fighting a throat infection for the week leading up to the show's opening, two nights previously on June 4th.
New to the production for its New York stint, Gary Collins was perfect in his portrayal of Louis, the comically tragic, divorced Classics professor whose main goal in life is to translate the Odyssey.  When I wasn't laughing at his geeky stoicism, my heart was going out to him as he struggled to reconnect with Don, and reconcile himself to this new reality.
Without giving too much away, it's fair to say that as the play progressed, the search for answers to Don's mysterious Gaelic ramblings became more and more gripping.  The slow, sometimes halting, journey towards a renewed relationship between father and son was deeply moving, and the thorny issues being tackled were thought-provoking.
As a recent arrival in America, I felt invested in the questions of identity, personal and national, being examined on stage.
Can you adjust to a new life with an old identity? What is the meaning of home? Is your sense of self tied to where you're from? Would it be easier for an immigrant to shed their past, in order to prosper in the present?
When Don called out "Mo dhachaigh" in the midst of a stream of rambling sentences, I felt my breath catch in my chest. 'My home': hearing it in Gaelic brought to mind all the emotions of leaving home, of crossing an ocean by air, as I did, rather than by sea, as immigrants like the fictional Don did a century ago.
Now, of course, immigration, at least from Scotland, is not what it used to be.  Many of the young emigrants of the early 20th century never saw the island or their families again.  Today, Scottish expats can be home on a plane in far less than 24 hours, and are in near constant communication with family through email, apps, and social media.
I can't even fathom what it must have been like to leave and never return: no wonder identities were abandoned, histories forgotten, and memories repressed, as they are in In My Father's Words.  Perhaps it was simply easier to deal with the loss that way.
Despite the serious issues at hand, the play featured light-hearted moments too.
I laughed as Flora sneaked a cigarette while Louis was at work (she conveniently forgot to mention that she's a smoker), and again when she made ironic jokes and eye-rolling comments at his expense.  On more than one occasion, Gary-as-Louis stood in front of the audience as if in front of his first-year university students, despairing at their lack of interest in the Odyssey, causing laughter to ripple through the intimate theatre.
When I left after the play, and after conversations in Gaelic and English with the cast, crew, and sponsors, I felt reconnected again to the islands, to mo dhachaigh.  In My Father's Words is without a doubt the best piece of storytelling – be it film, TV, or print fiction – that I've seen in a long time.  Gaelic-speaking islander or not, if you're in New York City this month, go and see In My Father's Words.  You won't regret it.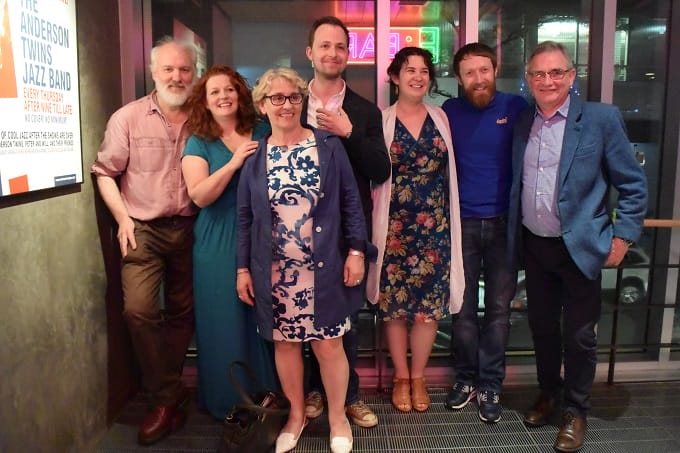 ____________________
I attended the Harris Tweed Hebrides-sponsored press showing of In My Father's Words at 59E59 Theatre on June 6th 2015  The show runs until June 28th at 59E59 Theatres on 59th and Madison, Manhattan.  Tickets are $35 and available to purchase online, over the phone, or in person at the Box Office.
____________________
Have you ever watched a performance (or movie) that really hit home for you? What was it like? Let me know in the comments below – I'd love to hear from you!