"You're going to get fat."
That's what my brother told me before I came to America for the first time: a not-so-subtle warning about the portion sizes in the States.  He had already visited the USA, on a high school exchange trip to Pendleton, South Carolina, but I laughed off his suggestion, because how much food can you fit on one plate? He had to be exaggerating.
He wasn't.  The food portions here are quite frankly phenomenal, and six years after I first crossed the pond I'm still in awe of them.  Starters here are the size of main courses in Scotland (and sometimes bigger).  Main courses could easily feed two people, if not more.  I've seen sandwiches the size of my head, 50 chicken nuggets on offer for $9, and diners that have pork chops on the menu for breakfast.  I do love pork chops (especially the tex mex ones from my local butcher on the Isle of Lewis), but having them for breakfast is crossing a line, even for me.
In New York, I've found that going out for dinner or ordering 'take out' is more common – and often less expensive – than cooking at home.  Given I'm possibly one of the worst cooks you'll ever meet (my Home Economics teacher told my parents I was the worst student she'd ever had) it's a situation I'm more than happy to take advantage of.  $6 bowls of Vietnamese soup? Yes please.  $2 Mexican tacos?  Count me in.  My tastebuds are happy, even if my waistline is not.
Americans definitely know how to eat well.
I've had my fare share of giant juicy steaks that my knife sliced through like butter; enjoyed delicious delicate rolls of sushi; tried just about every burger on New York's 'best burger' list; and gained an addiction for my new favourite breakfast item, the mighty bagel.
You haven't tried a bagel until you've tried a New York bagel, and once you've eaten one that's hot, toasted, and covered in poppy seeds and garlic from the likes of Ess A Bagel in Midtown Manhattan, you'll be spoiled for life.  I've already dragged family and friends here on numerous occasions just to prove my point (and as an excuse to eat yet another bagel).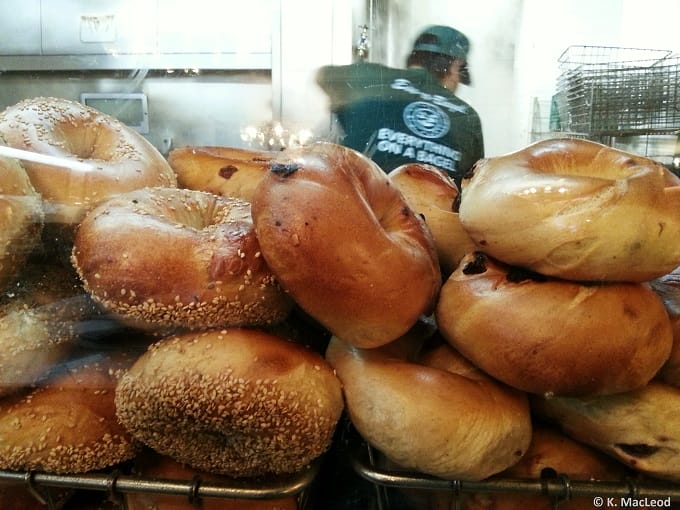 They might be able to offer the biggest burgers, best bagels, and fabulous food from every corner of the globe, but one thing the Americans can't do is chocolate. My family and friends have been more than kind in keeping me supplied with Cadbury, and there are one or two shops in New York that cater – at a price – to my sweet tooth.
However, Hershey, which owns the right to make Cadbury in the U.S. (it tastes nothing like the original), is trying to put a stop to the import of British Cadbury chocolate, so we'll see how long my beloved Dairy Milks are available to buy here.
It's funny, really, the things you miss when you're away from home.
Quality chocolate, yes, but also real bacon with a potato scone on a breakfast roll.  A homemade oatcake, accompanied by butter and jam.  Fish and chips with lashings of salt and vinegar.  Potato waffles.  Real eggs – Air an Lot eggs – bright orange and straight from the croft.  Plain Scottish bread from Stag Bakeries, toasted and slathered in Lurpak butter.
Luckily, this month I've found somewhere to soften the blow of being away from these stalwarts of Scottish menus: Kearny.  This small New Jersey town was in the Sixties and Seventies home to so many immigrant Scots that it became known as 'Little Paisley.'
While there are fewer Scots residents now, there are still some Scottish holdouts from the 'Paisley' days, like The Piper's Cove kilt rental shop (when we went to hire kilts for the wedding, we discovered that the owner's Glaswegian wife once lived in Lewis), and The Argyll Restaurant, run by a man from Mussellborough.
Here we found a menu featuring proper fish and chips, scotch eggs, and the choice of a bridie, pie, or sausage roll dinner with chips and beans.
The best part?  They also sell potato scones in packs of six to take away and cook at home (and even I can't go wrong with heating up a potato scone).
Another thing they don't stock in Kearny is Stornoway Black Pudding ('Scottish-style' black pudding doesn't quite cut it for me).  It seems unfortunate that I only realised I liked black pudding last year, and now I live in a country which bans real black pudding from crossing the border – it's not only human immigration they're strict on here!
I suppose I'll just have to wait until the next time I'm back in Point for my black pudding fix from Cafe Roo, and enjoy my giant portions of American food in the meantime. I might even get round to trying those pork chop breakfasts…
____________________
[This story was originally published as my 'Letter from America' column in the April edition of Lewis and Harris' monthly newspaper, EVENTS. Thanks to Mel Hattie for capturing me eating lunch in Boston!]
Have you ever experienced another country's food culture, or tried American food? What did you think of it?