I was already halfway up when I realised I had made a mistake.
I couldn't do it.
From ground level, the ruined Mayan temple at Coba, in Mexico's Yucatan peninsula, didn't seem that high.  From halfway up – the first point at which I paused from climbing on my hands and knees to survey the view – it felt high. Too high. One awkward foot movement, and I would be tumbling down hundreds of ancient stone steps.
At over 130 feet, the Nohoch Mul pyramid at Coba is the highest in the Mexican Mayan world, so my nerves were well founded.  It would have been used as a temple during the height of Mayan presence in this area (from 400 – 1100 A.D.), and is one of the few Mayan structures you're allowed to get up, close, and personal with in this part of Mexico.
Located in the jungle, the ancient city of Coba is now largely overgrown by trees and vines, so much so that the temple, ball courts, and assorted ruins seem to loom out of nowhere as you trudge (or bike) the hot, white paths through the trees.
Even these paved paths are an example of Mayan engineering prowess, wide avenues of limestone known as 'sacbe' that connected Coba to other Mayan cities – some as far as 60 miles away.
Archaeologists believe Coba was an important trade link between the coastal cities and inland centres, which may explain the roads, but no-one knows for sure.
What use would a culture that didn't utilise the wheel have for such carefully thought out roadways? The mind boggles.
Visitors can hire bikes to cycle these sacbes, but Mr. Stories My Suitcase Could Tell and I opted to make our way on foot, as some areas were closed off to bikes (and I wanted to conserve my energy for the climb to come).  We were glad of it, despite the heat, as walking allowed us to pay more attention to the wildlife en route to Nohoch Mul: the butterflies, the birds, and the lizards sleuthing their way up tree trunks.
"Don't look back! That's the worst thing to do," a fellow tourist smiled at me, making her way in the opposite direction, while clinging to the thick rope that hung down the worn centre steps. I was still paused halfway up the pyramid, regretting my decision to tackle the Mayan temple.  "Just keep going until you get to the top."
Although steep, it's not an exceptionally difficult climb. There are physical steps to climb, even if centuries of foot traffic (and sacrifices) have worn some of them down, leaving them shiny and slippery underfoot.  There's also the aforementioned rope, for nervous climbers to grab onto in a flash of fear (or cling onto for dear life the entire time, like yours truly).
But of course, in the end, I could do it.
It was a strange feeling, to stand atop this ruined temple and look out across nothing but forest and jungle to the horizon, knowing that in its heyday, Coba was one of the largest cities in the Mayan world, stretching as far as 50 miles, and home to some 50,000 people.
Even stranger was the knowledge that where we stood was very likely the location of human sacrifices; I remembered my primary school lessons on Mayan history, and was most definitely creeped out at the thought of some poor soul being offered up to the Mayan gods, whom the Maya believed were especially vengeful.
A strong breeze brought my thoughts from the past to the present, and reminded me of the height I was at.  What goes up must come down – and what I hadn't bargained on was the climb down being more difficult than the steep climb up.
My willpower had won.
My knees were weak when I reached ground level – from nerves, exhaustion, or dehydration, I'm not sure – but my willpower had won out. I had done it! I had climbed the Coba ruins, and experienced a small slice of history, following in the literal footsteps of a long gone civilization.
For that reason alone, climbing to the top of the ancient Mayan temple was more than worth it – just as the smiling fellow tourist had assured me it would be.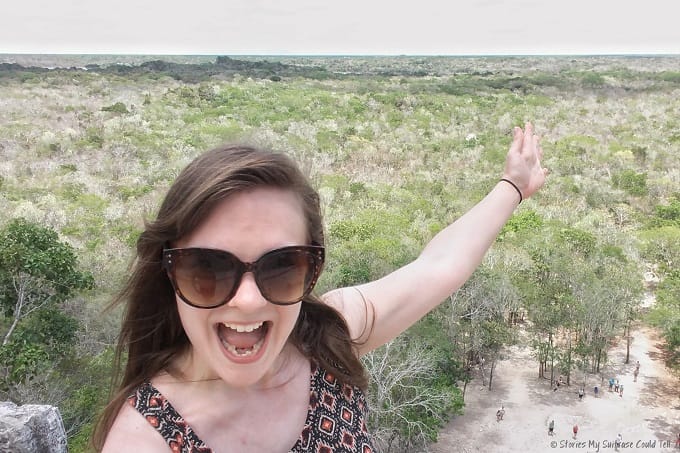 I was more than a little bit excited to make it to the top of the ruin!
____________________
NEED TO KNOW
Why should I visit?  Coba is less well-known than the Mayan cities of Chichen Itza and Tulum, so if you visit early in the day you'll avoid any crowds.  Plus, the big draw here is that visitors can still climb the Mayan temple, unlike many others in the region. (Despite my fear of open heights, this is what made Coba my favourite of the Mayan sites we visited!)
How do I get there?  While there are some tour companies that operate scheduled trips to Coba, the most convenient option is to hire a car and drive there yourself (or have your travel partner drive there for you – thanks, Mr Stories My Suitcase Could Tell!). Coba is 45 minutes from the coastal city of Tulum, one and a half hours from Playa del Carmen, and two hours from Cancun.
How much does it cost?  Entry to the site is about $4 each, or 60-70 Mexican pesos.  Bring cash to buy bottled water too – it gets hot! If you're driving there, there's also a small parking fee, but it was minimal (about 15-20 pesos).
____________________
Have you ever visited Coba or a Mayan temple in Mexico? Would you like to? Let me know in the comments below – I'd love to hear from you!
___________________ 
Want to read more?
How To Spend A Weekend on Mexico's Riviera Maya
Our Weekend in Mexico: A Travel Video 
17 Fun Things To Do in Mexico City
____________________