The Riviera Maya is a popular tourist spot, particularly for travellers from the USA, who can fly to Cancun from the north east in little over three hours.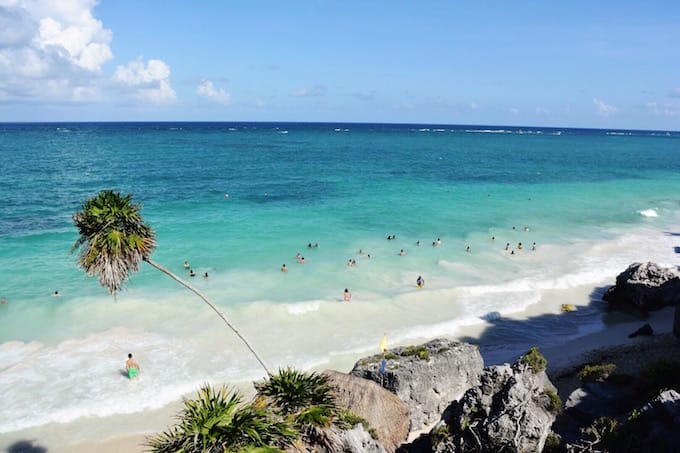 On the surface, it's your typical 'fly and flop' destination: you fly into Cancun, check into your hotel (likely one of the many Americanized resorts that line the Caribbean coast from Cancun to Tulum), and flop into a beach chair to relax for the weekend.
There's absolutely nothing wrong with this – we all need some R&R from time to time! – but for anyone who wants to go beyond the beach (that would be me, always wanting to see as much as possible!), there are plenty of activities that can be squeezed into a weekend.
From personal experience, here's what's possible in a weekend while staying in the Riviera Maya: proof that a short break can be just as exciting as a long haul holiday!
Spend a morning at Chichen Itza
For a lot of people, this is their only trip out of their Riviera Maya resort, and for good reason: Chichen Itza is one of the new Seven Wonders of the World, and an absolute must for anyone with even the tiniest bit of interest in history.
You could easily spend a whole day here exploring the ancient sites, but with only a weekend at your disposal (and "face-meltingly hot temperatures" – Lonely Planet wasn't lying on that score), a morning is enough.
While you could join a day trip, my advice would be to hire a car and make the journey yourself, with the goal of getting there before the crowds arrive and the sun gets too high in the sky. Mr. Stories My Suitcase Could Tell and I hired a car from our hotel, and arrived at Chichen Itza by 9.30am. Even by that point it was possibly the hottest place I've ever stepped foot in, and crowds of people were already beginning to arrive.
The first thing you see is the imposing pyramid of El Castillo: although you can't go up it (or inside it, to see the jaguar throne), simply taking in the sight of the structure is an experience in itself.  It's amazing to stand there for a moment, and imagine the construction of the 25 metre high pyramid, that also doubles as a stone calendar, in the days before modern technology.
While El Castillo is probably the most recognizable part of the complex, my favourite areas were the ball court and nearby grave.
There, if you look closely, you can see the intricate stone carvings that depict various events and beliefs in Mayan society: human sacrifices; eagles grabbing human hearts with their claws; and – most spooky of all – row upon row of skulls. It was morbidly fascinating, and an intriguing insight into an old civilization that believed sacrifice would appease vengeful gods.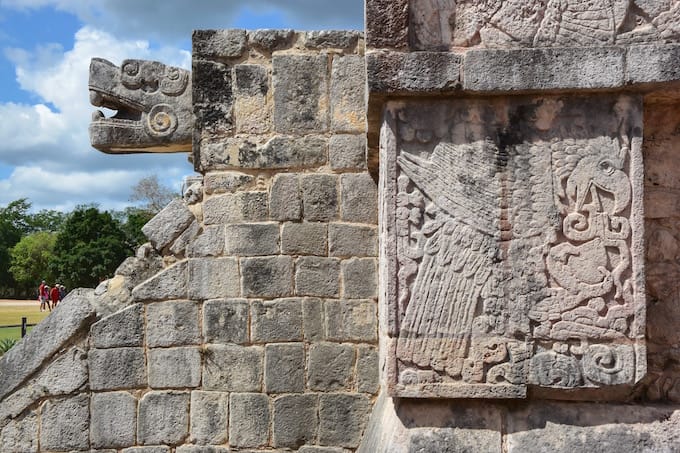 It's worth wandering around the whole complex, remembering to stop for shade where you can. This is a very touristy spot, so be prepared for large crowds and trinket-sellers around every ancient corner.
Climb the Mayan temple ruins at Coba
These Mayan temple ruins aren't mentioned as much in travel guides or tour packages from hotels – but that doesn't mean they're less interesting. In fact, I'd venture to say that the Coba ruins are more exciting to visit than either Tulum or Chichen Itza, partly because these are ruins you can actually get close to (for now, at least).
While it's one thing to look at and read about a historic site, it's another to touch it, climb it, and literally follow in the footsteps of the people who once lived, loved, and worshipped there. Climbing the main pyramid, Nohoch Mul, was an exhilarating – and slightly terrifying! – experience, but I can't recommend it enough.
(Don't miss my full frozen-in-terror story right here: Climbing an Ancient Mayan Temple in Coba.)
Admire the ocean view at Tulum
Located just outside the town of Tulum, the ruins here are smaller than those at Chichen Itza – but their location is far more impressive.  While our late arrival meant we had to hurry through the ruins without taking the time to appreciate their history (the site closes at 5pm), what we couldn't miss was the view.
Tulum was built overlooking the Atlantic Ocean, and its setting is truly beautiful. The sea was the kind of colour that makes you realize those strips of turquoise you see in holiday brochures are real, after all, and the sand was as white as powdered sugar: it really is that striking.
If you come prepared, you can even climb down the steps on the cliff side to cool down in the sparkling waves – something that would have been welcome after our earlier adventures that day, climbing the Coba Ruins!
Explore the colourful streets of Valladolid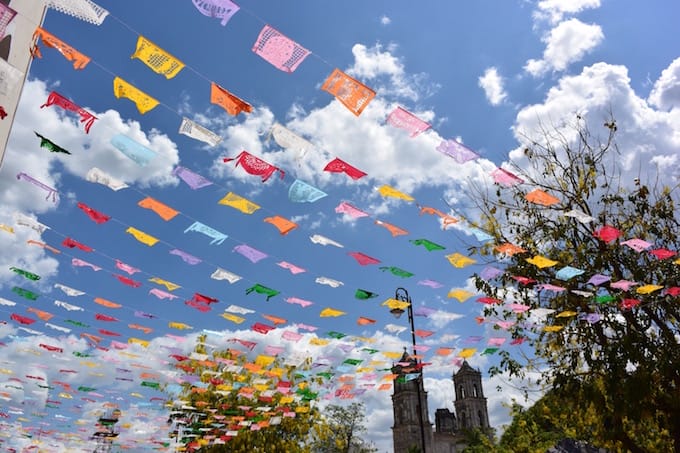 Valladolid, the third largest city in the Yucatan peninsula, was the perfect place to slow down after a visit to Chichen Itza, just half an hour away by car.  Every building is a different pastel colour; the spires of the cathedral peek out above the low rooftops; and traditional paper flags, all the hues of the rainbow, dance around the main square.
We both agreed that if we'd had more time, we would have spent a night or two in Valladolid. As it was, with only three full days, an afternoon break was all we managed here. Most Chichen Itza bus tours include a brief stop in the city, but having the freedom to explore it at your own pace is a plus.
Our time in Valldolid consisted of eating local food, sampling some ice cream, strolling through the quiet streets, and simply soaking up the atmosphere.  The laid-back city offers a complete contrast to the busy touristy areas on the coast, and for that reason alone, it's worth a visit.
Escape the resort and eat some local food
Our resort had five restaurants – probably small compared to some – but finding good local food was a high priority for us. Although it wasn't always the case, for me food is a huge part of experiencing a destination. We'd heard great things about Yucatan specialities, so our plan of action was something like this: stop anywhere that looks good.
That attitude served us well in Tulum, when we were desperate for sustenance after our Coba climb. This wasn't the trendy Tulum you see on fashion blogs: this was a simple restaurant by the side of a highway, and it was delicious.
No-one there spoke English, and we didn't speak Spanish, but somehow with a lot of smiles and pointing and 'gracias,' we ended up with heaps of food on mismatched plates, fresh tortillas kept warm under a bowl, and plastic goblets of fruit juice.
There was a Real Madrid game playing on a tiny TV in one corner, a family of eight at the table next to us, and people popping in and out on what could have been their lunch breaks.  It was exactly what we had hoped for.
The next day, in Valladolid, we ended up ordering some of the best food I've ever eaten, with the bonus of a gorgeous courtyard setting at Mesón del Marqués.
We opted for a platter of the regional specialties, and I found I was obsessed with the Cochinita Panuchos: pork meat marinated in achiote, combined with red onions, and served on top of a small fried tortilla stuffed with beans. I enjoyed them so much that I began to wish I'd ordered a plate of the things just for myself, so I wouldn't have to share them with Mr. Stories My Suitcase Could Tell.
Long story short: don't miss out on the local food, even if you just pop out of your hotel to visit the town next door.
Finally: Relax!
After squeezing in all of the above, our last day was spent by the pool at our hotel, and the small town by the resort, Puerto Morelos. If you've got an infinity pool and a swim-up cocktail bar at your disposal, why not make the most if it? We certainly did!
While not our usual holiday style, the all-inclusive package was undoubtedly relaxing. Having a comfortable living and sleeping space to return to after a long day was great, as was not having to worry about finding the right cash for something as small as a bottle of water.
That kind of convenience definitely makes a holiday run that little bit more smoothly. After two days of exploration, you're going to need that time by the beach to relax without a care in the world!
The verdict?
Our Riviera Maya itinerary was packed. While there were definitely some places we only experienced briefly (here's looking at you, Tulum), I was glad we made the most of my first introduction to the country by seeing as much as possible, and getting beyond the beach.
The only thing we had hoped to experience – but in the end didn't have time for – was a swim in a cenote, one of the many underground pools that the Maya thought were gateways to the underworld.
If you wanted, you could swap out one of the ruins in the itinerary for a swim or snorkel in a cenote (there were regular signs for cenotes by the side of the roads), but it all depends on your sightseeing priorities.
When it comes down to it, whatever your interests, you'll find you can fit a lot into three days on the Riviera Maya.
____________________ 
NEED TO KNOW
How long does all this take? Mr. Stories My Suitcase Could Tell and I arrived at our hotel late on a Friday afternoon, and left very early the next Tuesday, giving us three full days on the Riviera Maya, Mexico's Caribbean coast. We allowed roughly half a day for each location we visited.
How do I get there? Some of these Riviera Maya destinations are included in the organized tours that leave from hotels, but many are not. While I was told that small buses, or collectivos, were a cheap way to get around without going on a tour, hiring a car is definitely the most convenient way to get from A to B, and also gives you more freedom to arrange your holiday to suit your own interests.
How do I hire a car? The easiest option for us was to hire a car from our hotel. It costs roughly the same as hire car in the USA, but you NEED to purchase the additional Mexican car insurance (only a few credit cards cover it; check yours before you go). Apparently, if you get into a crash without this cover, you could end up in jail for a night or two while the insurance details are sorted out – and no-one wants that!
____________________
Have you ever been to the Riviera Maya, or would you like to visit? What would you add to the list?
Let me know in the comments below – I'd love to hear from you!
____________________ 
If you enjoyed this, you might like:
17 Fun Things To Do in Mexico City
Our Weekend in Mexico: A Travel Video
A Mexico City Day Trip to the Teotihuacan Pyramids
____________________