Mexico City. CDMX. District Federal.
Whatever you want to call the Mexican capital, it's safe to say that there's plenty to see, do, and of course, eat, in this buzzing metropolis.
Mexico City is a glorious mix of contrasts, from skyscrapers and traffic-clogged highways, to cobblestone streets and colonial mansions full of character. There are traditional markets and trendy boutiques, street-side snacks and some of the world's best restaurants. In fact, Mexico City might just be my new favourite city.
So on that note, in no particular order, here are 17 fun, interesting, and exciting things to do in Mexico City. These are some of the best experiences my husband and I had during our time there, taking in everything from history and architecture to food and drink, and beyond…
1. See the Palacio de Bellas Artes from above.
Start in the Centro Historico. The cultural centre that is the Palace of Fine Arts was built between 1904 and 1934 – construction stopped during the Mexican Revolution – and it's listed everywhere as one of the must-see sights in Mexico City. It's a beautiful building – but it's even better when viewed from above.
We were admiring the ornate marble façade from the ground-level gardens when Mr. Stories My Suitcase Could Tell noticed what looked like a balcony in the building opposite: maybe we could see the Palacio from there? It turned out the balcony is part of a café in the Sears department store, one that offers a stunning birds-eye view of the Palacio de Bellas Artes.
2. Across the street, send a postcard in a post office that looks like a palace.
It's almost hard to believe that you can send letters at this elaborately detailed palace, but it's been Mexico City's central post office since it opened in 1902. Designed by the same architect who oversaw the nearby Palacio de Bellas Artes, it's stunning, and well worth a visit for the sweeping staircases, old-school brass elevators, and intricate details. (I only wish my local post office was this impressive!)
3. Stand in the Zocalo, one of the world's largest public squares.
This square has been the centre of Mexico City since it's days as Tenochtitlan in the 1300s, when it was a space for ritual and celebration. Today, it's also known as the Plaza de la Constitucion, and is lined by government buildings and the Metropolitan Cathedral.
4. Then step back in time at the Templo Mayor.
A few steps further along is the Templo Mayor, which was the focal point of political and spiritual life for the Mexica people and their city of Tenochtitlan until the Spanish conquest in the 16th century.
What fascinated me was how recently these ruins were rediscovered; it was only in the 1970s that a carving was found by engineers digging nearby, which then prompted a full-scale archaeological excavation. For about $7, you can now wander through the ruins and visit the dedicated museum, which we enjoyed after a long, lazy lunch at a nearby restaurant.
5. Explore the colourful stalls at one of the city's many traditional markets.
Going to local markets (and even supermarkets!) is one of my favourite things to do when I'm visiting somewhere new (basically I'm nosy, and love seeing how other people live and shop). Piles of fresh mole powder, crispy pig skins, sweating slabs of meat, colourful clothes and toys – it was all for sale in Mexico City's markets.
We strolled through the Mercado de San Cosme in the Santa Maria la Ribera neighbourhood and the Mercado Coyoacan further south, and while we only caught a glimpse of the more central Mercado de San Juan from the open windows of a taxi, the tantalising smells of the street food on offer were very tempting! If we'd had more time to prepare for our week in Mexico City, we'd have opted for a market food tour –  definitely one to add to the list.
6. Or sample some of the city's well-known food at the hip Mercado Roma.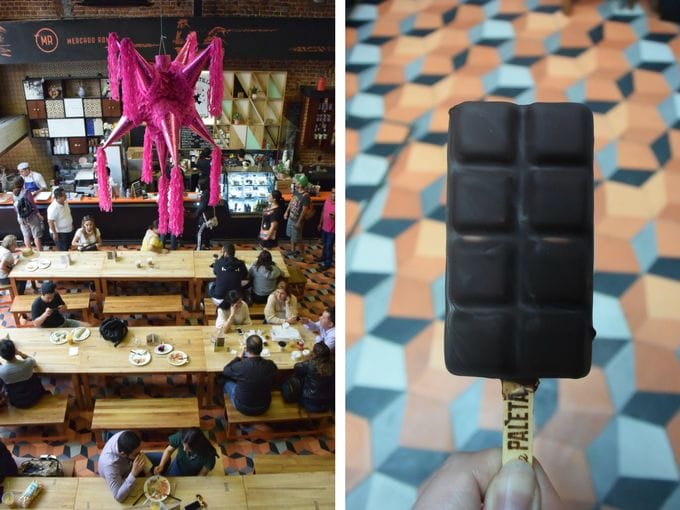 Mexico City is modern as well as traditional, and the trendy Mercado Roma – reminiscent of urban food halls like Chelsea Market or Urban Space Vanderbilt in New York City – is a perfect example. Decorated in artsy tiles and filled with communal tables, it features outposts of some of the city's larger restaurants, like Churreria El Moro, as well as snacks, sweets, and even a rooftop beer garden.
7. Admire the city skyline from Chapultepec Castle.
The Bosque de Chapultepec is a huge park covering more than 1600 acres in the centre of Mexico City, filled with trails, gardens, museums, monuments, lakes, and a zoo. Chapultepec Castle, home to the Museum of National History, is located on an outcrop in the park and offers incredible 360 degree views across the city.
The sights inside are beautiful too: originally built as a country house for Spanish royalty, Chapultepec Castle features sweeping grand staircases, glittering chandeliers, ceiling frescoes, and manicured rooftop gardens. We spent an entire morning roaming the hallways and relaxing on the roof – there really is a lot to take in here.
8. And explore the floating stacks at the Biblioteca Vasconcelos.
For anyone with even a passing interest in books – or architecture – the Biblioteca Vasconcelos cannot be missed. From the street, the library looks, well, boring: a concrete block that could have been built in the Seventies. Step inside, however, and you're stepping into bibliophile heaven, all mismatched floors of floating bookshelves, bright sun-filled study areas, and comfy couches for reading in. (As a self-confessed bookworm, I could have easily stayed there all day!)
9. Further south, visit La Casa Azul, the former home of artists Frida Kahlo and Diego Riviera.
The Museo Frida Kahlo is a fascinating place to while away an afternoon. Located in the artists' former home in Coyoacan, the museum features everything from Frida and Diego's paintings to the details and decorations of their kitchen, bedrooms, and studios. Invest in an audio guide to get the full story – it really enhanced our experience of the museum – and take your time exploring their beautiful blue home.
10. And then stroll the streets of the Coyoacan neighbourhood.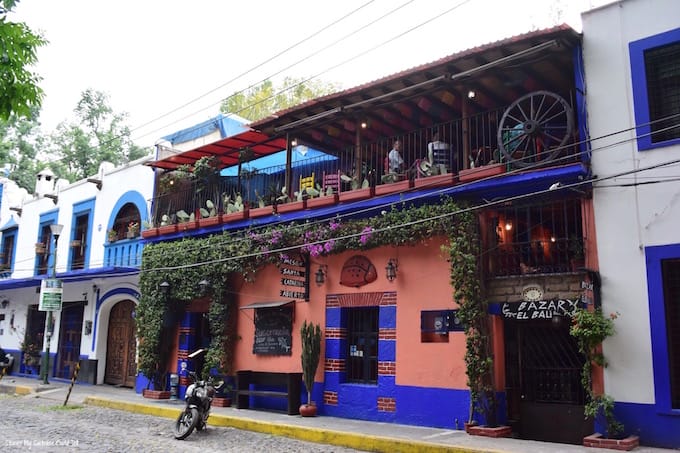 Coyoacan might have been my favourite neighbourhood in all of Mexico City: quiet and colourful, intersected by narrow cobblestone streets and practically dripping with bougainvillea and wisteria. Every street seemed to hold another hidden gem, like art markets and old churches nestled on the edges of small squares.
11. Spend a day climbing pyramids at Teotihuacan.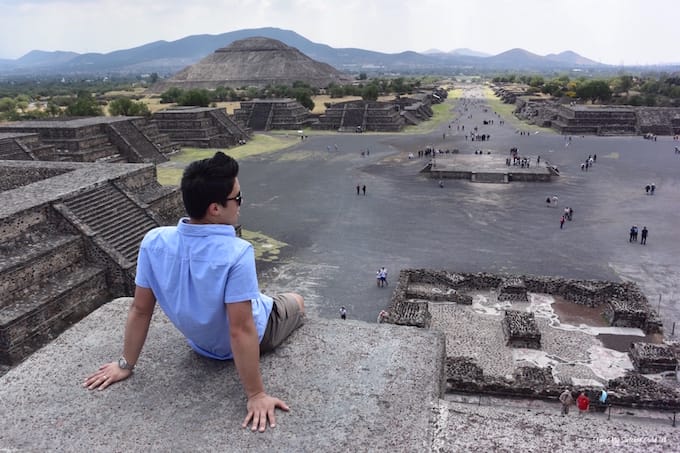 The ancient city of Teotihuacan is located an hour outside of Mexico City, and is home to one of the largest pyramids in the world. Although I wasn't expecting anything special when we visited, I was ultimately blown away by the sheer scale of the place and the pyramids. As a World Heritage Site and one of Mexico's most-visited archaeological sites, Teotihuacan is a must-see on a visit to Mexico City.
12. When you return, enjoy craft cocktails in one of the city's trendy bars.
Seeing as we were in Mexico City to (unexpectedly) celebrate my birthday, we made the most of the many cocktails on offer. From mezcal creations at the rooftop bar of the Hotel Condesa, to giant gin cocktails at Gin Gin, Mr. Stories My Suitcase Could Tell and I had our fair share of fancy drinks in the city's trendy neighbourhoods – they're definitely worth indulging in on a visit to Mexico City!
13. Admire the architecture in La Condesa and Roma.
From Art Deco to Neoclassical, the architecture in Condesa and Roma is beautiful – not to mention colourful. There were more than a few mornings when we took our time doing nothing more than wandering through the charming streets of these two neighbourhoods, admiring the buildings that lined them.
14. Then try and spot the street art around every corner.
While some of the country's most well-known 20th century artists were famous for their murals, street art is alive and well in Mexico today, too. We saw street art everywhere: in car parks, on side streets, above overpasses, and over doors, so keep your eyes open as you explore the city – you never know what kind of masterpiece you might see!
15. Relax in one of the city's many quiet squares and parks.
One of things we loved about Mexico City was the abundance of leafy public spaces, squares, and parks. We spent a few mornings relaxing in Plaza Rio de Janeiro in the Roma neighbourhood, having grabbed coffee and pastries from Panaderia Rosetta, but we also loved the quiet Parque Mexico in Condesa, filled with fountains, playgrounds, and even casual dog training schools!
16. Or join the crowds on the Paseo de la Reforma when it's closed to traffic on a Sunday.
Every Sunday, the Paseo de la Reforma – the city's main thoroughfare – is closed to traffic, and Mexico City's residents come out in their droves to enjoy it. It was lovely to see such a convivial, community atmosphere in the middle of a major city: there were families out in groups; parents guiding toddlers on unicorn bikes with stabilizers still attached; couples trying (and sometimes failing) to rollerblade in pairs; and people like us, simply strolling along and soaking it all in. I've never seen anything like it in a city before, and I loved it.
17. Eat all the tacos and tortas you can find (and try some of the city's fine dining, too).
Mexico City is home to some of the best restaurants in the world – think Pujol or Quintonil – and Conde Nast Traveler has described it as "quite possibly the most exciting eating destination in the Western Hemipshere."
While we weren't able to get a reservation at any of the big-name restaurants, we did enjoy some of the city's more upscale spots, like Huset, located in the adorable open-air courtyard of a Roma mansion, and Fonda Fina, where we tried "deconstructed tacos."
And then of course, there are the casual taco stands, tortas ordered from family-run convenience stores, and all sorts of tasty treats for sale by the side of the street. Whatever level of food you're looking for, you'll find something to satisfy your taste buds here.
____________________
In all honesty, we only scratched the surface of what this incredible city has to offer during our week there. When it comes to things to do in Mexico City, this is merely a glimpse of what awaits you – but it's certainly a good place to start!
____________________
Have you ever visited Mexico City, or would you like to? What do you think are the best things to do in Mexico City?
Let me know in the comments below – I'd love to hear from you!
____________________
More stories from Mexico:
A Mexico City Day Trip to the Teotihuacan Pyramids
How To Spend A Weekend in Mexico's Riviera Maya
Our Weekend in Mexico: A Travel Video
____________________