New York City is known for all number of things: the skyline, the sightseeing, the bagels, and of course, the shopping.
Carrie Bradshaw and the Sex and the City girls made shopping in this always-stylish city look effortless. While finding the right shop is not quite as easy as they make out in the movies (I learned the hard way while shopping for wedding shoes), as clichéd as it sounds, New York has something to suit every shopping style.
Whether you're after bargains or boutiques, technology or tasty food, designer department stores or under-the-radar vintage fashion, you'll find it here, in this ever-changing, buzzing urban playground.
Fifth Avenue, and the nearby Upper East Side, make up one of the most famous shopping areas in the city.
Designer names abound here, as do the majority of New York's iconic department stores. Saks, Barneys, and Bergdorf Goodman all have homes in the area, alongside the likes of Tiffany & Co, Louis Vuitton and Prada.
It's not just fashionistas who flock to Fifth Avenue, but tourists and techies too: the Apple store 'cube' is located on 57th and 5th, right where Midtown gives way to the open space of Central Park.  This is the neighbourhood for visitors looking to treat themselves to something special (or simply indulge in a little wallet-friendly window shopping, as I do).
Head a little further south and you'll come across the Flatiron District and Union Square. 
There are high street brands here, of course, but also interesting outliers, like Fishs Eddy, a small shop on Broadway that specialises in what it calls 'sturdyware' (kitchen and homeware in quirky designs).  There's always something happening at Union Square: games of chess, hopeful music performances, and plenty of people simply relaxing in one of the city's green zones.
Union Square itself hosts the famous Greenmarket four days a week, when farmers and foodies converge to sell the freshest produce to thousands of city residents.  Plus, from here, you're only a few steps away from The Strand, which claims to store 18 miles of books (I get willingly lost in here on a regular basis).
Swivel south west and you're in one of my favourite neighbourhoods: the West Village. 
Strolling through these charming cobblestone streets – with their beautiful brownstone homes and excellent corner restaurants and cafes – can make you feel as if you're in a movie.
More and more designers are popping up on Bleecker Street (think Marc Jacobs and Ralph Lauren) but little local outposts can still be found.  As a bookworm, I adore the Three Lives & Company bookstore on West 10th, and there are plenty of shops that are a stationery addict's dream, like Greenwich Letterpress and Paper Source. To top it off, this is the area to stock up on cupcakes from the original Magnolia Bakery, or relax over a lazy brunch.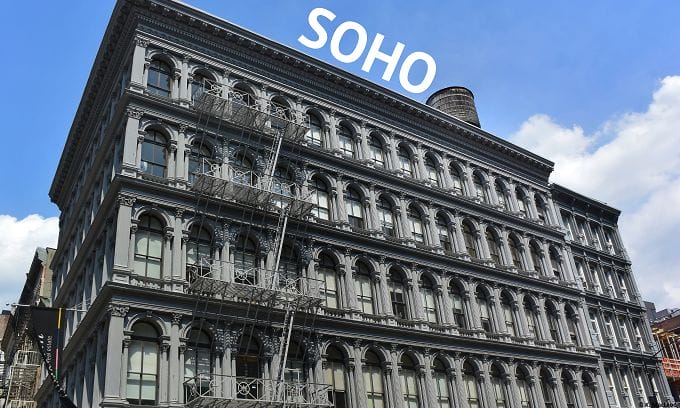 For a serious shopping spree, Soho would be my zone of choice. 
High street stores are located just steps away from high-end designers, giving you everything you could want within easy walking distance. You can stock up on reasonably-priced outfits at Forever 21 or J Crew, and if you feel like it, walk a few streets over and splash out on something fancy.
Soho is where I bought both my wedding dress and my ONA camera bag, and also happens to be the location of a few of my most-frequented coffee shops (perfect for resting your feet in when the spending gets a bit too much).
Perhaps my favourite aspect of this neighbourhood, however, is the atmosphere: it's bustling, packed with the fashionable crowd, but beautiful too, with gorgeous cast-iron architecture (remember to look up, or you might miss it!).
If you're searching for something a little different to take home, then jump on the L train to Williamsburg. 
There are brands in Brooklyn, of course, but this is the borough where people come for unique and vintage finds. On Williamsburg's Bedford Avenue there are clothing boutiques like Pinky Otto, filled with racks of on point fashion finds; the quirky and feminine accessories shop, Catbird; and indie bookstores like Spoonbill and Sugartown.
You'll find the Brooklyn Flea here by the East River in the summer, and in Fort Greene year-round (when I first visited New York, it was located under the Brooklyn Bridge). On Saturday, shoppers can stop off for snacks at the ever-popular Smorgasburg food market by the waterfront; it's one of my favourite foodie spots in the city – choosing what to eat from the countless pop-up stalls is quite the challenge!
So where do you start if you don't know Fifth Avenue from Fort Greene?
I first learned to weave my way around the city back in 2009 by sneaking glances at the map I hid in my handbag. These days, smart phones can do all the work for us, and the new Hayes and Jarvis shopping app, free to download from the Apple Store, has been created to help New York newcomers find their dream shopping destinations in what can be a confusing city to navigate.
(Sorry, New York – your subway simply can't compete with the London Tube!)
The Shop NYC App features 100 shops, each handpicked by local city experts with an eye on different departments; it features ten shopping categories including technology, food, family, and fashion. You can create your own itinerary on the app, or choose from one of the routes already curated to suit your tastes.
For anyone visiting New York, the Shop NYC app is a great starting point in figuring out where your favourite shops are situated. While I like to think my navigational skills for shopping and sweet treats in the city are pretty decent, trying out the app led me to some new discoveries: the Red Hook winery, for example, is now being added to my personal and ever-expanding New York to-do list.
Besides, you can never go wrong with a little bit of window shopping (and snacking) in the city. See you in Soho!
____________________
 Do you have any tips on where to shop in New York City? Which of the neighbourhoods sound most appealing to you?
Let me know in the comments – I'd love to hear from you!
 This post was sponsored by Hayes and Jarvis, but as always, all opinions (and shopping obsessions!) are my own.
____________________ 
Want to read more about NYC?
10 of the Best Places to See the New York City Skyline
Boating in Central Park: A Classic NYC Experience
Enjoying A Sunset Cruise Around New York City
____________________