I love watching the sunrise as I wake up in the morning, fresh cup of coffee in hand.
Usually I have a quick glance through the window at the light breaking over the Manhattan skyline, but for most of the last month I've watched the day begin over the Minch, the stretch of water that separates the Outer Hebrides from the Scottish mainland.
In a rare stroke of luck, that view was bathed in sunshine nearly every day of those three weeks. The unusual stretch of hot, sunny weather in May reminded me of summers as a child, when my brother and I would climb heather-filled hills playing adventure games, and go paddling at the beach armed with buckets and spades.
This spring was the first time Mr. Stories My Suitcase Could Tell had seen the Outer Hebrides in the sunshine (not to mention the first time he'd experienced midges!), and what a difference it made. We were able to explore the island, hike through the moor, visit the croft at Air an Lot, and even go swimming one day, the weather was that wonderful.
It's been nearly four years since I moved to the USA, and I'm beginning to learn that no matter how long your visit home – I was in the UK for three weeks this time – there is never enough time to see all the people you would like to.
With the ones you do manage to see, however, the conversation and laughter flows as if you saw each other yesterday. This time the catch-ups were spread across the country: Lewis, Glasgow, Dunfermline, and the Lake District. There were road trips, dinner dates, outdoor games with four-year-olds, and even a wedding, set in the gorgeous surroundings of Armathwaite Hall and Bassenthwaite Lake.
(As an aside, I'm also learning that there's never enough time to eat all the food you want to eat, either, unless you plan on returning a few sizes larger than when you left. While I had my fill of Stag bread, Stornoway black pudding, sausage rolls, and of course, Cadbury's chocolate, I completely forgot to eat some potato waffles, and only managed fish and chips twice.)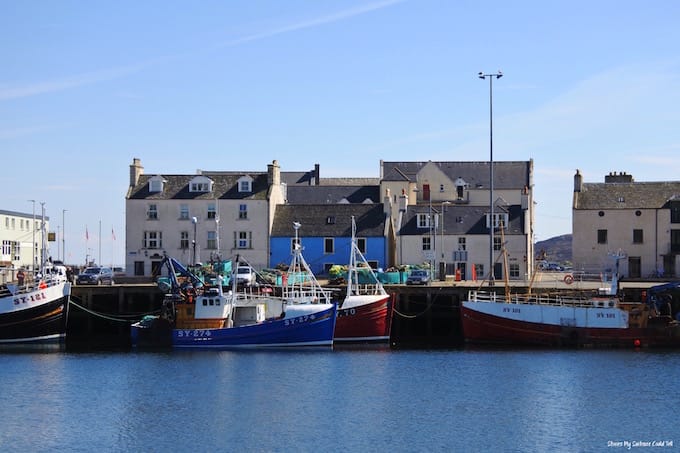 Then there's the task of dividing your time up between returning to old haunts and discovering somewhere new.
Bayble Beach, five minutes from my childhood home in Lewis, is always a must, as is a stroll through the Lews Castle Grounds, and a stop to admire the view over Seilebost beach. But the traveller in me sought out new destinations, too, which led to a hike up over the hills in Mangersta in Uig; a 2km walk to an eagle observatory in Harris, and a drive to the remote village of Rhenigidale.
On the mainland, it involved a stroll through Glasgow's Merchant City as the sun set; and a morning spent delving into the rich royal history of Dunfermline in Fife. I may have had deadlines to meet, and homework to hand in, but I tried my best to make the most of the time I had in the Hebrides and further afield.
Now that I'm in my fourth year as a US resident and British expat, I've become used to this switching between countries and continents, slipping with ease from one life into another.
In some ways, though, it can still feel slightly disconcerting. One minute I'm paying in pounds, hearing accents like mine, and the next I'm reaching for dollars and subconsciously altering my accent in order to be understood (the two versions of English can make for some amusing encounters!).
As journalist Rosie Spinks, a dual British and American citizen, writes in her monthly newsletter, the switch is "a little bit confusing and melancholy, but always comforting. You feel both rooted and uprooted at the same time, which always takes getting used to. The trip has a beginning, middle, and an end, but it never feels over."
When I leave, it always feels too soon.
These three sunny weeks passed in a flash, feeling more like three days; I almost can't believe the trip I've been looking forward to for so long has been and gone already. But as Rosie notes, "if you're lucky, when you head to the airport, you're looking forward to going home – whatever that means."
And I do count myself lucky: lucky to have loved ones in two locations, a lifetime of roots in one place and new shoots growing stronger in another. If home is where the heart is, then I think it's safe to say I've got two of them.
____________________ 
Have you ever returned home after moving away? What was it like? Let me know in the comments below – I'd love to hear from you!
____________________ 
WANT TO READ MORE?
10 British Foods I Miss As An Expat in the USA
Letter From America: My Translation Troubles As A British Expat
What Happens When An Expat Goes Home?
____________________