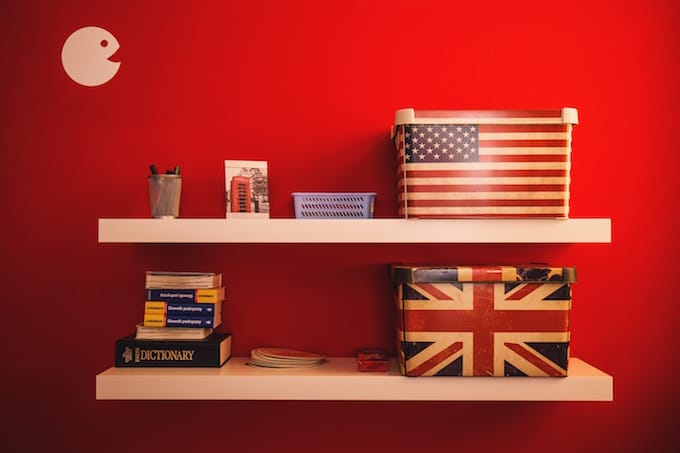 It was while sitting watching The Great British Bake Off that I realized my husband and I weren't on the same page.
Six years together, two of them based in the USA, and still our two versions of English were causing confusion.
"He's making a pig's ear of it!" I exclaimed at the TV. (As a Brit and lover of all things sweet, I get very invested in the ups and downs of the Bake Off, not to mention hungry).
"He's making a what?" My husband already jokes he needs subtitles for watching British TV, but this time it was me he didn't understand.
"Making a pig's ear of it…."
To make pig's ear of something is to do it very badly, to make a mess of it –  as this contestant on the Bake Off was demonstrating.
This wasn't the first time my husband and I had come across a linguistic misunderstanding.
A few years ago, when looking for apartments (sorry, flats), he sent me a link to one he liked the look of. "Ooh, that's not bad!" I wrote back, assuming my enthusiasm would translate.
It did not. In America, the traditional British habit of understatement does not come through: to my husband, I was saying this place was just short of bad, and most certainly not good. It took a while for us to realise where the conflict was, and it's an anecdote we come back to a lot when explaining cultural differences to our friends.
Try explaining what "Digestives" are to a non-Brit – it can get confusing.
We joke that we're going to start our own English-to-English dictionary, to help other British-American couples in the same situation. To prove the point, I added "washing-up liquid" to our shopping list a few weeks ago and he came home empty-handed from the supermarket (called a "grocery store" on this side of the pond). He thought I meant laundry detergent; I meant what Americans call "dish soap."
Most of the time, though, we muddle through just fine.
And while Mr. Stories My Suitcase Could Tell does understand the majority of my British words and phrases (and even a few Gaelic ones!), when I leave the apartment it's another story.
I usually remember to change my vocabulary depending on who I'm speaking to: pants for trousers, sidewalk for pavement, trunk for car boot, chips for crisps. Sometimes, though, I forget, and will be insistently saying something like "I need to put the rubbish in the bin" before I realise no-one has a clue what I'm saying. The American translation? "I need to put the trash out."
Other words and phrases that cause confusion here include "Away with the fairies" (Mr. Stories My Suitcase Could Tell mistakenly passed this phrase onto his friends as "Sitting with the pixies"); "torch", which in the US is not a plastic light run by batteries but a piece of wood lit on fire; and "trolley", which in the UK is used to transport your shopping, but in America is what Brits would call a "tram."
It's not only the words themselves that pose problems, but the pronunciation of them too.
Katie seems like a fairly straightforward name to say, right? Wrong. Oh so very wrong, as I'm reminded on almost a weekly basis. In American English, the letter 't' sounds more like a 'd'. While I'm happy to change the pronunciation of almost anything else, my own name feels like a step too far. Cue people thinking I'm called Casey, Kathy, Kitty – anything but Katie.
(Once, I made the so-very-British mistake of nodding my head in agreement after being misheard for a third time, to avoid any embarrassment. Oh well, I thought, I'll never see these people again so it doesn't matter if they think I'm called Casey. It didn't matter until they started telling me about their niece called Casey, and asked me how I spelled my name. Cue red faces all round…)
My reaction when people understand my accent (only a slight exaggeration!)
I suspect the solution is to put on an American accent – and I have tried on occasion – but that seems to cause even more hassle than constantly repeating "Katie" over and over again. And don't even get me started on what happens when I talk to people on the phone.
When people can't see me talk, it's apparently much harder for them to understand me. Hence the reason why Mr. Stories My Suitcase Could Tell is always the one who phones up to order our takeaways (or takeouts, as you'd say here). With me on the phone, it would probably end up on the other side of town, at the wrong address.
The longer I'm here in the USA, the more I suspect my accent will fade.
It's done so already, or so my family and friends like to say when they hear me talking to Mr. Stories My Suitcase Could Tell. Put me in a room with my parents, however, and I'm right back to the raw island accent I grew up with. I like to think it will remain, even in some small way; the thought of losing my accent feels a tiny bit like losing a part of my identity.
Trying to hold on to my British accent in Central Park…
But of course, in order to survive in another country you need to adapt, in ways big and small. In China it was learning not to be shy about queue-jumping – a horror for any Brit. Here, it's learning to say 'Katie' in a way people will understand, not getting awkward when I have to call trousers 'pants', and going in for the hug, not the handshake, when I meet someone only vaguely new. But let's not go there yet – differences in non-verbal communication are a whole other story!
____________________
Have you ever had difficulty communicating in another country, or with the differences between British and American English? Are you an expat with a similar story?
Let me know in the comments – I'd love to hear from you!
____________________
Want to read more?
10 British Foods I Miss As An Expat in the USA
How To Make Friends As An Expat (From Someone Who's Been There)
What Does It Mean To Get A U.S. Green Card?
___________________