In French, a flâneur (or flâneuse) is someone who strolls, saunters, and wanders around a city.
It's a delightful sounding word, one that rolls off your tongue, and the act of being a flaneur is just as satisfying, as I found out during a long weekend in Paris last winter. What better way to see Paris on a return visit than to stroll leisurely through its streets, lingering at its pavement cafes over a café crème, or a glass of wine?
Being flâneurs for a few days allowed my husband and I to soak up the city piece by piece. Both of us had been to Paris before, but never together, and from the moment we arrived, the weather was damp and grey – but it's a mark of how magical this city is that even a permanently overcast sky couldn't dampen our spirits.
Paris offers famous grand gestures – Notre Dame, the Eiffel Tower, the Champs Elysees – but it's the details that draw you in.
The striped awnings above pavement cafes. Shuttered balcony windows, uniform against cream walls. Intricate wrought-iron doorways that occasionally open and give you a glimpse of the life lived inside. Details like these seem like a declaration of identity. Paris always strikes me as a city that you simply cannot mistake for anywhere else; here, it is impossible to forget where you are.
We strolled the streets of Saint Germain and the Marais, stopping to eat and drink and eat some more. We sipped rich, thick hot chocolate from Angelina, one of the most famous patisseries in Paris, and started our days with bread and cheese. (What is it about the bread and cheese here that makes it so much better than anywhere else?) We lingered at wine bars with locals, ate steak frites for lunch (and dinner), and made the most of those heated pavement cafes with the striped awnings, their windows foggy from the warmth indoors.
We marvelled at the Impressionist paintings at the Musee d'Orsay, and at the elegant window displays on Rue St. Honore. Surprised by rain showers, we ducked into the many covered galleries, sophisticated secret passageways of shops and cafes that in the UK are much less elegantly referred to as 'shopping arcades.' But everything seemed more elegant in Paris – even ourselves.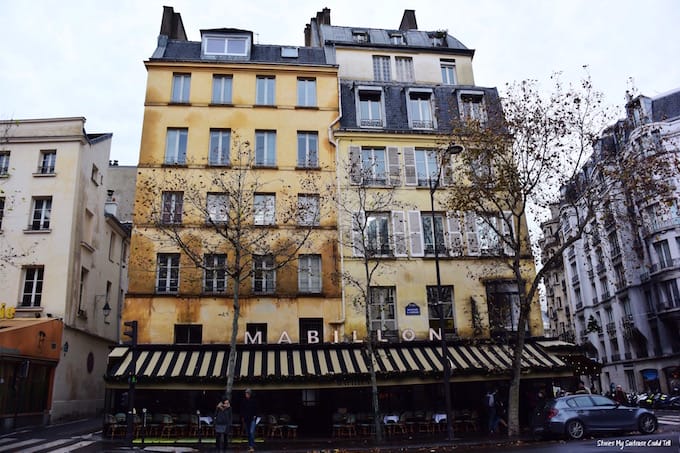 When we weren't being "flâneurs," we were being tourists.
We stopped to take selfies in the rain at the Trocadero, the Eiffel Tower behind us as hawkers tried to sell us cheap plastic keyrings of Paris' most recognisable structure. We trekked up narrow staircase after narrow staircase to Montmartre, the domes of the Sacre Coeur above the rooftops encouraging us to keep going. We stood at the top of the Arc de Triomphe and looked down the long avenue of the Champs Elysees, before returning to ground level and walking along it as far the dramatic Place de la Concorde.
It was all touristy, yes, but who can resist the world-famous sights of Paris? Who can fail to be moved by the sheer grandeur of Notre Dame, the intricate detail of the thousands of Bible stories told in stained glass at Sainte Chapelle, or the sheer, extravagant opulence of L'Opera? Not me. I had seen most of these sights countless times before, and yet they were as magnificent as ever.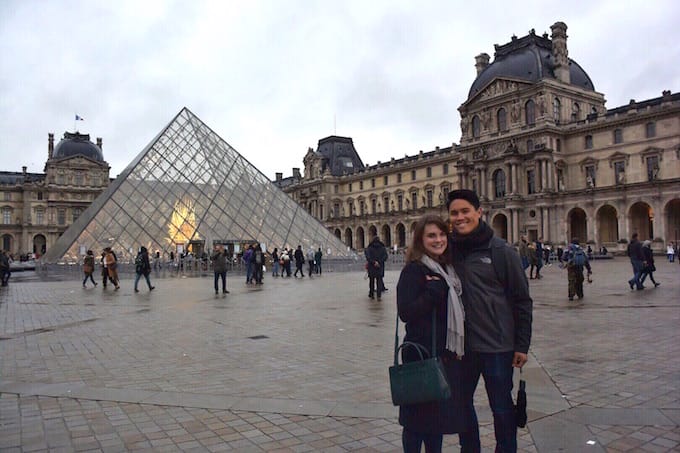 You see, Paris has always been my favourite city.
Before London, before New York City, for me, there was Paris. The writer A. A. Gill once wrote that it's the very idea of France that draws us in, that "we only see what we need to see to maintain the fantasy." In some ways he was right, but for us, our weekend in Paris as autumn turned to winter really was magical – from the grand gestures right down to the tiny, unforgettable, Parisian details.
____________________
NEED TO KNOW
How do I get there? If you live in London, or France then you're lucky – you can simply hop on the train and start your weekend in Paris in just a few hours. Most of us, however, have to fly, and many major airports offer flights to the French capital. We flew direct from Newark to Orly, for the bargain price of $350 each on Norwegian Air.
Where should I stay? We stayed in the Artus Hotel on the Left Bank, just around the corner from the famous café, Les Deux Magots, and a ten-minute walk from Notre Dame. (I've also stayed in the Raffles, but that's a whole other story!) Accommodation in Paris can be pricey, but staying in a more central location will save you money on transport costs, as it's an easy city to walk around.
How do I get around? Be a flâneur and walk! Paris' central neighbourhoods are very walkable, and it's the best way to soak up the city. We walked everywhere, only taking the metro when we had longer distances to cover, like the day we went north to Montmartre.
____________________
Have you ever spent a weekend in Paris, or would you like to? What's your favourite way to experience a city you've already visited?
Let me know in the comments – I'd love to hear from you!