Let me be frank: as a Brit in the USA, I am completely fascinated by the US Election.
Every time I speak to someone from home, they are equally as incredulous. "What's going on over there?" they ask.  The actions of the US ripple far beyond its borders, so naturally people are curious – or downright concerned.
Hailing from a country where national health care, paid maternity leave, and legally mandated time off from work is the norm, my political views in a country with none of these safeguards are already considered extreme – hence why I tend to shy away from political conversations!
But this status as a Brit abroad, a non-US citizen ineligible to vote, means that I have a front row seat to a show I have no say in.
Naturally, then, I view it as an outsider, and it's not just the opinions being expressed that are unlike anything I've heard at home – I'm pretty sure Theresa May and Nicola Sturgeon would be out on their ear if it was discovered they hadn't paid taxes in 20 years – it's the very nature of the US election system itself.
Us Brits can be a cynical lot, and people get fed up of elections pretty quickly. (Confrontation is not our strong suit – we'd rather get back to our tea and chats about the weather, thank you very much.) Well, count yourselves lucky, fellow Brits: while our General Election campaigns last a mere six weeks, the US election lasts two years. Yes, you read that correctly: two years!
Technically, they start in the January of election year with the primaries, but in reality the campaigns begin two years in advance. In effect, the election has been ongoing since I first set foot in America as an expat in 2014. Since then there have been party primaries, debates, sexual scandals, FBI hearings, the lot. If someone had tried to write a film script like this, I imagine it would have been dismissed as unbelievable. Then again, they do say anything is possible in the USA…
The presence of the election has been all-consuming, too.
Cable news channels cover the election 24/7 as if it was a major sporting event, with dramatic music, sharp camera angles, and jazzy graphics. Everything – and I mean everything – is branded 'Breaking News', whether the term is actually true or not. Want to know what's going on in the rest of the world? You're out of luck; the US election is the only headline here.
Political TV adverts pop up in between the most innocuous of shows. One minute I'm watching Property Brothers, and the next I'm being bombarded by messages of "I'm Donald Trump and I approve this message", or "This has been paid for by Hillary for America." Political adverts are banned in the UK, so these commercial political interventions surprised me at first.
And it's not just on TV that the election takes over: it's out on the streets too. Anything that can potentially display a political slogan or symbol – mugs, socks, magnets, t-shirts, baseball hats, badges – will do so.  I've seen Bernie Sanders street art, t-shirts proclaiming "I'm With Her," and even socks bearing Donald Trump's face. Can you imagine socks with the Prime Minister's face emblazoned on them being sold in the UK? I find it all very intriguing, but I can't help but laugh at the thought.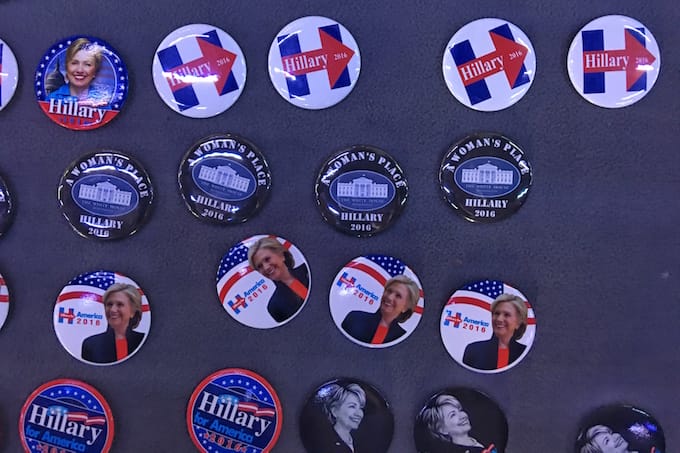 In reality, though, few people are laughing in the USA right now.
Emotions are running high on both sides, and the polarization is real. The atmosphere is tense; it feels like there is a lot at stake, much more so than in a usual election. Regardless of who wins on Tuesday, I think it will take a long time for the country to recover from the divisions this election has laid bare. I'm not exaggerating when I say I've been in groups of expats that have joked about holding their foreign passports close in case of emergency.
With less than a week to go, it will be interesting (to say the least!) to see what happens after two years of all of the above. When the polls close on November 8th, will Trump be getting ready to "make America great again", or will the country be "stronger together" with Hillary Clinton?
Only the American people can determine that outcome. As for me, I'll be sitting vote-less on the side lines, watching the final results of the US election roll in.
____________________
Have you ever experienced an election in a country other than your own? What was it like? Let me know in the comments below – I'd love to hear from you.