Each spring, Tartan Week in New York City celebrates Scotland's influence on the USA.
Over the years, events have ranged from fashion shows and red carpet photo shoots, to poetry readings and theatre performances. But this year, for me, Tartan Week was different.
It wasn't because the celebrations were in their 20th year, or the fact that in KT Tunstall, the Tartan Parade had its first ever female Grand Marshall: for me, it was different because a group of talented fellow islanders were the stars of the show, and I was lucky enough to march alongside them up Sixth Avenue.
Following a huge crowdfunding campaign, which brought in money locally as well as nationally, the Sgoil Lionacleit Pipe Band – made up of school pupils ranging in age from 12-17, from Uist and Barra in the Outer Hebrides – arrived in New York City at the start of April to perform as part of Tartan Week.
Although I hadn't met any of the pupils, parents, or staff before, everyone was lovely, and it was an absolute joy to be surrounded by so many islanders, so far from home (even if I did get teased at first for being a Rubhach!).
I joined them first on Ellis Island, where the pipe band had been invited to perform by Clan Currie.
It was wonderful to watch them play and dance with the skyscrapers of Manhattan towering above them, and I may have got slightly teary-eyed during a beautiful rendition of the Gaelic song, Tilidh Mi.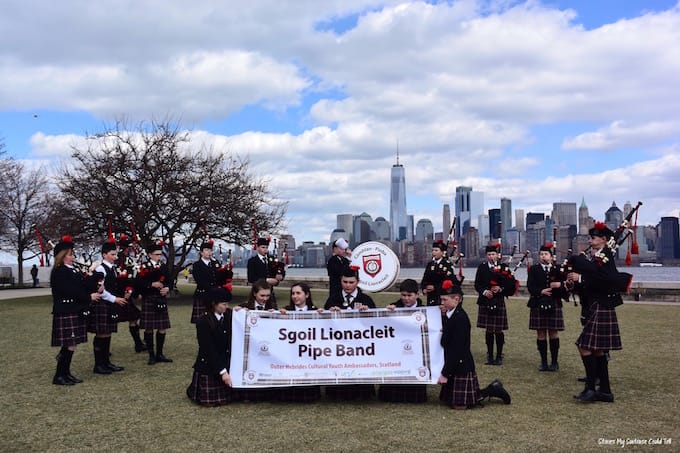 Back in Manhattan, I took a wee detour to a Visit Scotland ceilidh at an iconic music venue, the Bowery Electric (and got a bit teary eyed again at the performance of Caledonia – Tartan Week is a whirl of emotions for an expat!), before catching up with the pipe band in Bryant Park in advance of the annual Tartan Parade on the Saturday.
I hadn't actually planned on marching in the parade – I was originally going to stand on the sidelines and take photos – but in the end, because I was still chatting to everyone as the kick-off time approached, not to mention the fact that I was carrying the pipe major's bag, I thought, "Why not?!"
Marching in the Tartan Week parade is a completely different experience to standing on the sidewalk and watching it.
You're walking in the middle of a normally traffic-clogged canyon of a road in Manhattan, with crowds of people cheering and shouting and clapping. It felt surreal, but mostly I just felt so proud of the kids playing and dancing their hearts out up Sixth Avenue. They were there as official cultural ambassadors for the Outer Hebrides, and they honestly couldn't have represented the community any better.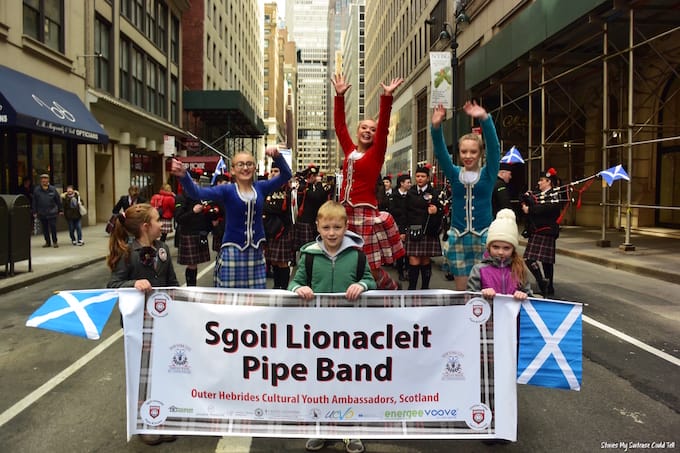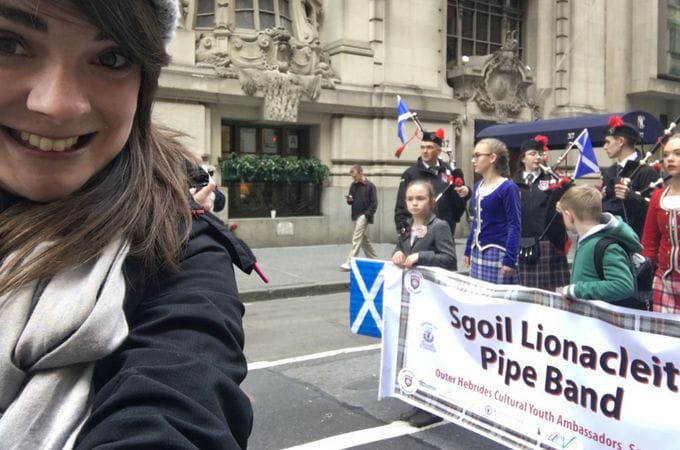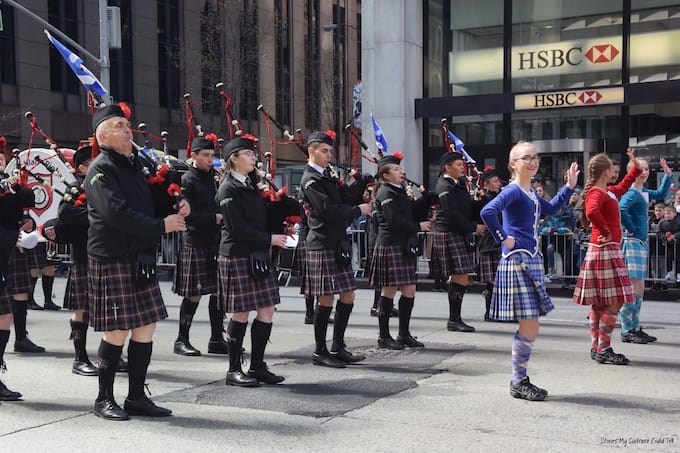 It was a huge achievement for them, both as musicians, cultural ambassadors, and as the first pipe band from the islands to ever perform at Tartan Week. It was well deserved after a difficult year too, following the loss of one of their friends and band members, Eilidh Macleod.
Their final performance in Bryant Park was a set played in her memory, and one the pipe band won third place for at the Scottish Schools Pipe Band Championships in March; the set features a fantastic set of tunes that include the Fair Maid of Barra, Dawning is the Day, Wee Man from Skye, The Clumsy Lover, and (a personal favourite of mine), Crossing The Minch.
With the pipes finally packed away, it was time for the band to relax and enjoy the city that never sleeps.
(And time for me to get some rest after a hectic Tartan Week!)
The Sgoil Lionacleit Pipe Band were the furthest travelled participants in the parade – some of the students had never left Scotland before – and they truly stole the show. Watching them perform across the city, from Ellis Island in the south to a jamming session on 56th street near Central Park further north, was exciting, but also emotional.
As I've said before, when you're from the Outer Hebrides, home can never really be anywhere else – and thanks to the Sgoil Lionacleit Pipe Band, Tartan Week 2018 brought a bit of my island home here to me in New York City.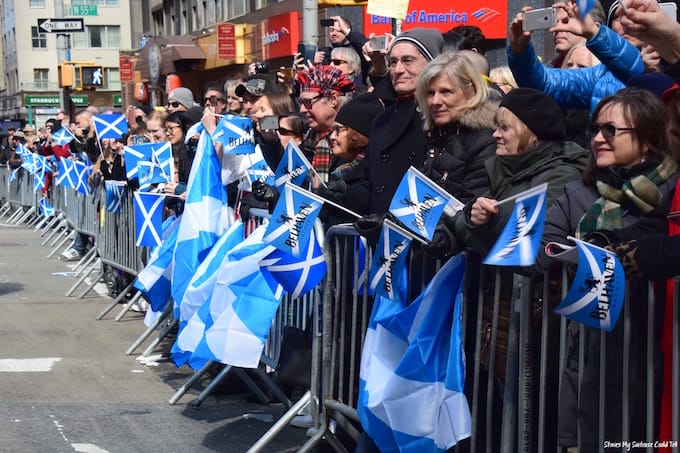 ____________________
Have you ever taken part in Tartan Week, or would you like to? What reminds you of home when you're not there?
Let me know in the comments below – I'd love to hear from you!
____________________
Want to read more?
Tartan Week 2016: My Expat Experience
Skerryvore in NYC: A Lesson in the Power of Music
An Expat's View of the Importance of Language
____________________