New York City.
The Big Apple. The Concrete Jungle. The 'city that never sleeps.'
New York City is one of those cities that feels familiar even when you've never been there. The dancing lights of Time Squares, the rush of a yellow cab speeding by the sidewalk, the steam billowing upwards from grates on the road.
We've seen it all before – on TV screens and in movie scenes – and yet stepping foot in this crazy city for the first time (and sometimes for the fiftieth) still sends a little thrill of excitement up our spines.
It's an experience that's exciting and overwhelming all at once.
Where to stay? What to do? Where to go? I can navigate these geometric city streets without thinking now, after ten years as a tourist and nearly four years as a resident, but that wasn't always the case. As a newly-arrived 21-year-old, I found my bearings using a well-worn, tattered city map, and not much else.
What I didn't have back then was a guide book, something I use all the time now for travel planning tips.
So when the team at Marco Polo asked me if I'd liked to test one of their new guide books, I knew immediately which one I wanted to try: the New York City edition. I'm always espousing the benefits of local travel – of acting like a tourist in your home town – and ten years after I first came to New York, I thought it was time to take my own advice (and some tips from the pages of my Marco Polo guide, too).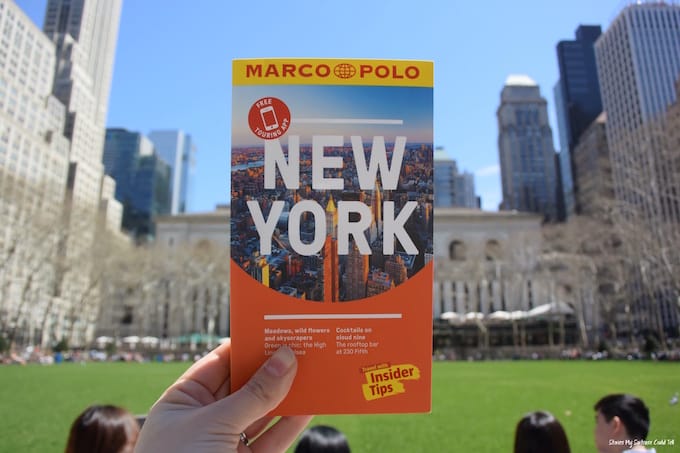 The guide is filled with lots of my own favourite spots, the must-see sights everyone wants to experience, and the iconic buildings and photo-ops. But it's also dotted with lots of local tips too, like the advice to try an ale (dark or light are your only options) at McSorleys, or catch an intimate gig at Rockwood Music Hall.
When you're stepping foot in this crazy city for the first time, how do you know which sights to prioritize?
Well, using my own experiences and some inspiration from my Marco Polo guidebook, I've put together a list of must-have travel experiences in New York City for first-time visitors, from the classic food and drinks you need to try, to those pinch-me moments in places like Times Square and on the Brooklyn Bridge…
1. Have a bagel for breakfast
Start your day with a NYC classic, but take note: not all bagels are created equal, and most New Yorkers will claim you haven't really tried a bagel until you've tried a New York bagel. While rumour has it that it is the city's water that makes them so delicious, apparently it's the process of boiling and then baking them that gives the bagels their signature crispy exterior and doughy centre.
Whatever makes a bagel a "New York" bagel, there is serious debate over where to find the best ones in the city. Whether you're getting them fresh with cream cheese from old-school Ess-A-Bagel in Midtown East, indulging in some smoked fish at the iconic Russ and Daughters on the Lower East Side, or queuing up with NYU students at Murray's in Greenwich Village, you can't leave New York City without trying one.
2. See the city skyline from above
No matter how many times I see the New York City skyline, I never get tired of it. My own favourite skyline viewing spot is from the outdoor platform at Top of the Rock, but the Empire State Building is an icon that's worth visiting for the history as well as the views, while the viewing observatory on the 102nd floor of One World Trade is the highest in the city. Take your pick, and brace yourself for vertigo-inducing but beautiful skyline views!
3. Watch the impossibly bright lights at Times Square
No matter the time of day or night, Times Square is busy. The crowds and commercialism mean that most New Yorkers do their best to stay away from the intersection of streets known as 'the crossroads of the world,' but on a first visit to New York City, you simply have to experience Times Square.
I know what it's like to be a tourist here, and I can still remember the sheer thrill of my first sight of Times Square, when I found myself standing in the centre of these blindingly bright lights I'd watched on television for years. I was giddy with excitement, so I say yes – visit Times Square, preferably at night, and soak up the crazy atmosphere.
4. Admire the ceiling at Grand Central Terminal
Grand Central Terminal is more than a mere train station: it's an iconic New York City destination in its own right. The building first opened in 1913, and sees more than 700,000 people pass through its doors every day.
While there are countless spaces to shop, dine, and eat here, the highlight is undoubtedly the main concourse, where you can stand back and admire the elaborate painted ceiling, featuring zodiac constellations made up of thousands of stars.
(Don't miss the Whispering Gallery either: the ceilings just outside the Oyster Bar create certain acoustics that mean you can whisper to your travel partner from the other side of the room!)
5. Walk across the Brooklyn Bridge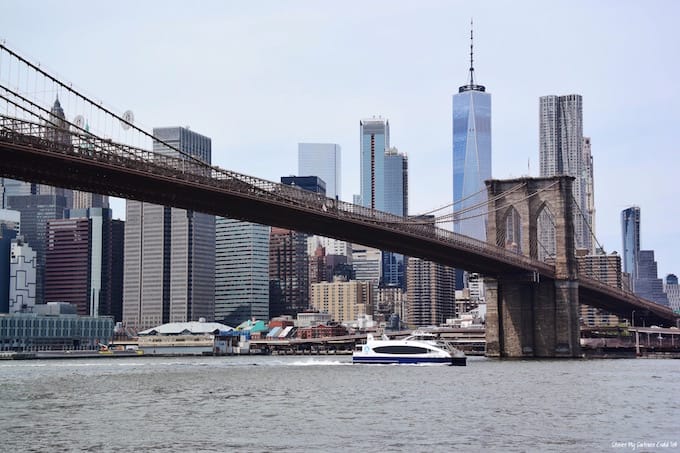 The Brooklyn Bridge, built in 1883, was the first bridge to connect Brooklyn with Manhattan, and at the time was the world's largest suspension bridge. Today, it's an iconic part of the New York City skyline, and the views from the pedestrian walkway are spectacular.
While you can access the bridge from either Manhattan or Brooklyn, I always take friends to Brooklyn via the subway first, so we can stroll through the DUMBO neighbourhood and grab some food or drinks, before heading to Brooklyn Bridge Park and then finally crossing the bridge itself.
6. Indulge in one of the city's famous desserts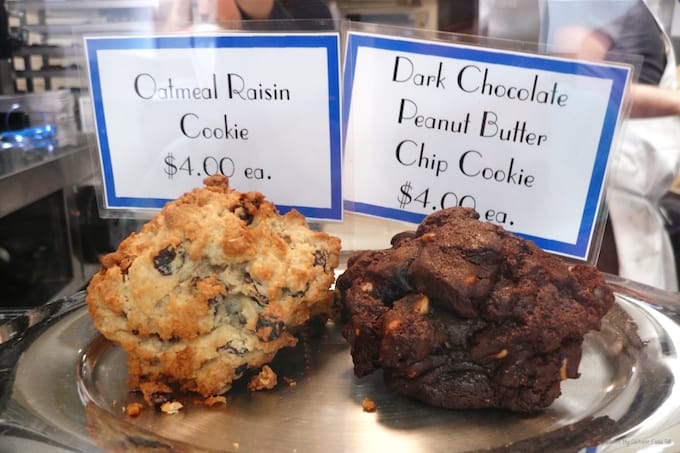 Cheesecake, cupcakes, and the black-and-white cookie: New York City is famous for its food options, and that of course includes dessert. Magnolia Bakery on Bleecker Street is one of the most famous dessert spots, thanks to an appearance on Sex and the City, and while the cupcakes are decent, New York City has a whole host of other incredible sweet treats to indulge in.
Some of my personal favourites include New York-style cheesecake at Eileen's in NoLita; the Nutella-lined ice cream cone from Big Gay Ice Cream; the giant, melt-in-your-mouth cookies from Levain Bakery; and the moreish Crack Pie from Momofuku Milk Bar. Why not try them all? (I do, on a regular basis!)
7. Visit the 9/11 Memorial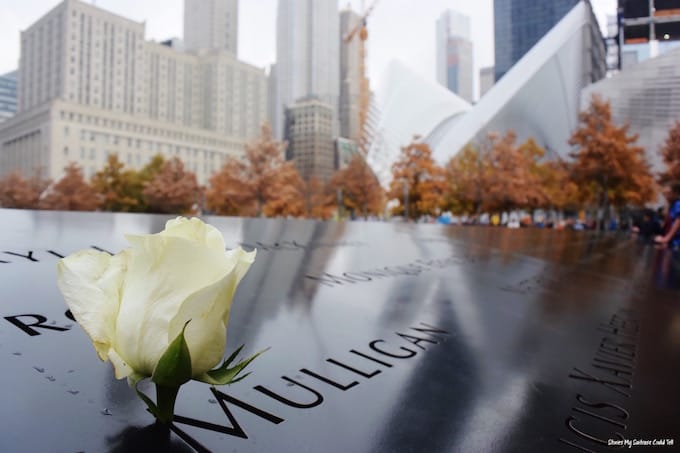 The 9/11 Memorial features two large reflecting pools set in the location of the two original Twin Towers, with 30ft waterfalls cascading into the pools. Engraved on the walls around the pools' edges are the names of every victim; by some names you'll see a rose, which is left in memory on what would have been that person's birthday. It's a sobering, moving place, and a stark reminder of what New York City went through on September 11th, 2001.
8. Get a dose of greenery in Central Park
Central Park was the country's first public park, and is so huge – 843 acres – I could fill an entire blog post on things to do here. In the summer you can hire a boat and row around the Lake, race model sailboats at Conservatory Water, or head for Sheep Meadow to relax with a picnic. The park is equally beautiful in winter, when the paths are covered in snow and you can wrap up warm to go ice skating. Whenever you end up visiting Central Park, it provides a welcome respite from the rest of the 'concrete jungle' that is New York City.
9. Grab a slice of New York City pizza
Opinions of New York City pizza are a bit like those of bagels: there's hot discussion over which of the city's slices and 'pies' are the best. Whether you grab a quick, cheap slice on the go from somewhere like Joe's Pizza or Prince Street Pizza, or get a whole pizza with a creative twist from a hipster sit-down spot like Roberta's, you can't leave New York without trying one of the city's favourite dishes.
10. See the city from a different perspective on the High Line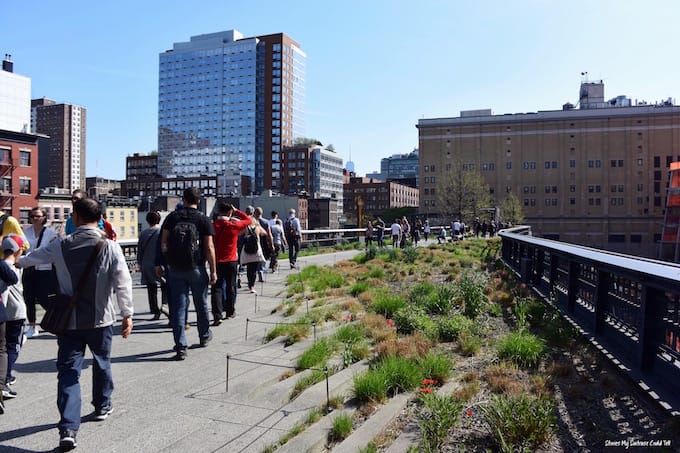 This elevated railway-turned-public park can no longer be considered a hidden gem – it's busy with visitors and locals at all times of year – but it's still absolutely worth your time on a first visit to New York City.
The last freight train ran on the High Line in 1980, and after a lot of campaigning against the tracks being demolished, the first section of the new park opened in the summer of 2009. Along the High Line there are overlooks to pause and admire the view from; chairs to sit and relax in next to water features; public art installations; and all sorts of interesting seasonal plants and flowers to admire.
(I always recommend starting at the northern edge of the High Line at Hudson Yards, on 34th and 10th Avenue, then walking south until you reach the end of the park, and the Meatpacking District, where you can grab lunch or stroll further into the West Village.)
11. Window-shop on Fifth Avenue
On your first visit to New York City, a walk along Fifth Avenue – dotted with iconic New York department stores and famous landmarks – is an absolute must. Keep an eye out for the stately New York Public Library (you'll notice the lion statues outside), St Patrick's Cathedral, and Rockefeller Plaza, as well as high-end department stores like Saks and Bergdorf Goodman. After all that window shopping and sightseeing, you can treat yourself by popping into the Plaza Hotel for a refreshing drink and some people watching – a true "only in NYC" experience.
12. Join the locals for a lazy Sunday brunch
I always think that brunch is to New York City what the Sunday roast is to Britain: the cornerstone meal of the weekend. It's a midday meal that combines all the best elements of breakfast and lunch (not to mention day drinking, usually in the form of mimosas and Bloody Mary's), and in the words of Conde Nast Traveler, "it's a way of life in this town."
If you want to join the locals on your first visit to New York City, then take yourself out to brunch. With poached eggs, French toast, breakfast burgers, and fried chicken on the menus, the difficult part will be choosing where to go!
13. Stroll through the cobblestone streets of the West Village
The West Village, a maze of picturesque brownstones and charming cobblestone streets, is possibly my favourite neighbourhood in New York City – and not just because Mr. Stories My Suitcase Could Tell and I got married here!
It still holds on to a little of its artsy bohemian past, from the days when it was home to literary legends (Welsh poet Dylan Thomas reportedly drank himself to death here at the White Horse Tavern) and played a pivotal role in the gay rights movement.
You can also still find lots of independent businesses here among the high-end big name shops, and there are countless delicious dining options (Buvette, The Spotted Pig, and Jack's Wife Freda are just a few of our favourites).
14. Sail to the Statue of Liberty
Gifted to the Americans by the French in 1886, the Statue of Liberty stands at the entrance to New York Harbour as a symbol of freedom and democracy. You can easily spend a whole day here after sailing over with Statue Cruises, visiting the fascinating museums, and climbing up to the pedestal (or even the crown) of the famous copper statue.
But if your time is limited, and you only want a glimpse of Lady Liberty, your best bet is to hop on the free Staten Island Ferry, which crosses the harbour every 30 minutes and takes you that bit closer to the Statue (as well as offering panoramic views of downtown Manhattan).
15. Indulge in a hearty American burger
I knew I had acclimatized to life in the USA when, on returning from a trip to Scotland, the first meal I wanted was a burger! It probably helps that New York City has some truly brilliant burgers, from classic American versions to high-end options that taste (and cost) more like steak.
Some of the best include those at The Burger Joint, a dive bar hidden behind a curtain in the luxury Parker New York Hotel; The NoMad Bar, where the burger is upscale and the cocktails are quirky; and PJ Clarkes, which was once a favoured spot of Frank Sinatra, Jackie Kennedy, and Nat King Cole.
16. Wind down with a drink on a rooftop bar
The novelty of drinking a cocktail with the city laid out below you never fades, and there are copious rooftop bars to choose from. Mr. Purple on the Lower East Side offers a dramatic view of Lower Manhattan and One World Trade; 230 Fifth puts you directly in front of the Empire State Building; and The Ides in Williamsburg gives you a different perspective of Manhattan from across the East River. A rooftop cocktail is the perfect way to end your first trip to NYC on a (literal) high!
____________________
And there you have it: a selection of must-have travel experiences in New York City for a first visit (and some you can enjoy on a third, fourth, and fifth visit, too). There is much more to see and do, of course, than one blog post can cover – this is a city of more than 8 million people, after all – but for a first visit, these experiences will give you a good taste of the Big Apple.
For the rest, pack your Marco Polo guide book, your camera, and a (very) comfy pair of shoes, and you'll be all set to explore New York, New York – the city so good, they named it twice!
____________________
Have you ever visited NYC, or would you like to? What would you include in a list of must-have travel experiences in New York City?
Let me know in the comments – I'd love to hear from you!
This post is sponsored by Marco Polo, but all opinions, words, and love of New York City are entirely my own.