When you think of Scotland's Outer Hebrides, you might think of beautiful beaches, Harris Tweed, or gin distilleries.
But what makes visiting the Outer Hebrides truly unique is the Gaelic culture and language, giving the islands an identity which offers visitors an experience they won't find anywhere else in the world.
The Outer Hebrides are the heartland of the Gaelic language, home to the largest number of Gaelic speakers in the UK. And while Gaelic is becoming more popular in other parts of Scotland, the Outer Hebrides is where you'll find it spoken on a daily basis everywhere from the supermarket to the taxi queue.
As a Leodhasach (someone from the Isle of Lewis), I'm far from being a fluent Gaelic speaker myself, as Duolingo likes to remind me! But the language and culture is still a part of who I am. How could it not be?
I grew up surrounded by Gaelic. My Granny would chat away in Gaelic with her neighbours in the kitchen, or teach my brother and I Gaelic nursery rhymes. It's my Dad's first language, and when I was little, my parents would speak to each other in Gaelic when they talked about things that didn't concern my brother and I as children – but of course, we were soon able to understand everything they were saying!
These days, I understand more of the language than I can actually speak it, although a few favourite phrases travelled with me when I moved to the USA. I have a particular fondness for Gaelic exclamations like Muirt Mhòr! Obh Obh! and Ò mo chreach! that even my American husband has picked up.
In that small way, I've brought a bit of the culture with me, just like the Gaels who've been emigrating from the islands for centuries did, taking the Gaelic language and culture with them to places like Australia, New Zealand, and North America.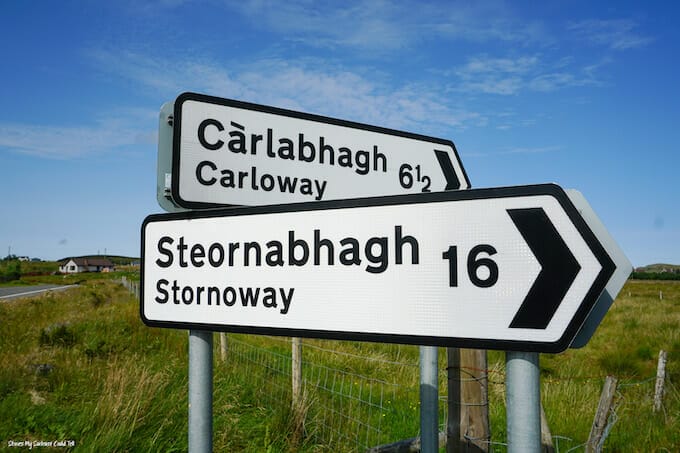 The language stays with you not just because it's a part of you and your culture, but also because there are some feelings Gaelic can capture in a way that English simply can't.
Cianalas is just one of those words, one that's taken on even more significance for me as I'm living away from home. Cianalas roughly translates as "homesickness." But the reality of the word is much stronger than that, more of a deep longing for the place where your roots lie – for the Outer Hebrides – that never really goes away. I've written before that no matter how far islanders travel, the Hebrides will always be home. "Homesickness" doesn't even really come close to capturing the deep attachment to people and place that cianalas does.
And I think visitors can sometimes experience a small part of that feeling, too. How else to explain the way the Outer Hebrides gets under your skin as a visitor, making people return again and again, year after year, decade after decade?
And no matter your travel style, there's a way to experience Gaelic in the Outer Hebrides. (Even if it's something as small as trying out a few phrases at an island pub when you ask for a locally distilled G&T…!)
Gaelic is threaded through the culture of the Outer Hebrides in so many ways, from our stories to our songs, our place names to our food and drink.
As a melodeon player, I often relate to Gaelic most strongly in music. With the more traditional tunes, even when you don't understand every word, you can grasp the feeling and emotion that runs through them. (Eilean Fraoich, the unofficial anthem of the Isle of Lewis, never fails to bring a tear to my eye.) Music, then, is an easy way to experience Gaelic while you're on holiday in the islands, whether you're at a pub in South Uist, a gig at An Lanntair in Stornoway, or in the big tent at the annual HebCelt Festival.
You can get a feel for Gaelic culture on a croft, too, as you learn about the traditional way of working the land that's being carried on into the 21st century. (I found this out first-hand on the croft at Air an Lot in Ness, where you're a guaranteed to see Gaelic in action, as the animals only understand Gaelic!)
You can enjoy a literal taste of it through food, like marag dhubh (black pudding), sgadan (herring), or a wee dram of uisge-beatha (whisky). You can't miss it in the history, when you come across monuments to land raiders or the ruins of blackhouses. And you can connect to it in the landscape too, with a simple walk on the tràigh (beach) or a hike up a beinn (hill).
Whatever you're looking for on a visit to the Outer Hebrides – a food-and-drink fuelled holiday, a week of outdoor adventures, or a deep dive into local history – you'll find it all enriched by the Gaelic language and culture that weaves its way through almost every aspect of life.
As I've often said, the Outer Hebrides have so much more to offer than you might expect. When you visit them as Scotland's Gaelic islands, there's a whole new cultural and linguistic world just waiting to be explored. And as for me? It's simple: the language helps connect me to home – mo dachaigh – even when I'm far away.
NEED TO KNOW
Where can I experience Gaelic music in the islands?  As I mentioned, music is an excellent way to get introduced to the language, and you can hear it at the likes of An Lanntair in Stornoway, Taigh Chearsabhagh in Lochmaddy, Ceolas in South Uist or at festivals like HebCelt, Eilean Dorcha, and more.
Where can I experience Gaelic in the landscape?  The beaches of the Outer Hebrides are famous, but are more widely known by their English names. Why not get to know them in Gaelic instead? A few of my favourites are the Traigh Mhòr in Lewis, Losgaintir and Seileabost in Harris, and Coilleag a'Phrionnsa in Eriskay.
Where can I learn more about Gaelic ancestry and history?  There are lots of historic sites and museums throughout the islands, but a favourite spot of mine is Comunn Eachdraidh Nis (the Ness Historical Society), which is an absolute treasure trove of community history in the north of Lewis – they even have an extensive archive room that's been carefully curated over decades. Don't forget to stop by their café for some tea and cake while you're there, too!
Where can I find more ideas on making the most of the Gaelic language during my visit?  For more inspiration on how to experience Gaelic on your visit to the Outer Hebrides, take a look at the new e-book guide from Visit Outer Hebrides, Scotland's Gaelic Islands.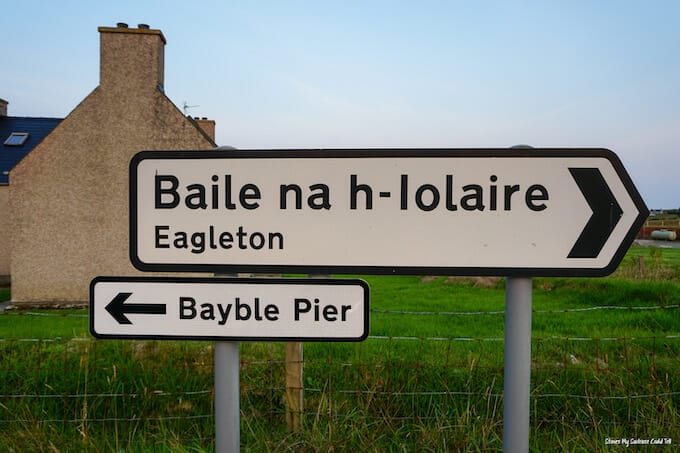 ____________________
Have you experienced Gaelic while visiting the Outer Hebrides? Which aspect of Gaelic culture would you most like to learn about while visiting? Let me know in the comments – I'd love to hear from you!
____________________
This post is sponsored by Visit Outer Hebrides as part of the "Scotland's Gaelic Islands" campaign, but as always, all opinions and love for the islands are entirely my own.