A decade of writing. A whole decade!
Last week marked 10 years of Stories My Suitcase Could Tell: 10 years of writing, taking photos, editing blog posts, managing social media, trying (and often failing and learning the hard way) to navigate the technical side of running a website, getting to know all of you, and of course, travelling near and far.
Although 2021 has been very, very quiet on the blogging front (it seems the creativity-stifling effects of the pandemic have only hit me in its second year), I couldn't let a milestone like this pass without celebrating it. After all, ten years is a long time to nurture any personal project.
What began as a space for me to quietly indulge my creativity while I job-hunted after graduating from university and spending a year in China has morphed into a travel website where thousands of you come every month to read my "suitcase stories."
Stories My Suitcase Could Tell has led me to so many wonderful experiences in the past decade  – directly and indirectly –  and I thought there was no better time to celebrate those experiences than on the blog's tenth birthday!
2011 – 2012
Stories My Suitcase Could Tell started life at my parents' kitchen table in the Outer Hebrides. In reality, I had no clue what "blogging" was, or that there was a whole industry out there slowly becoming more professional; I didn't even use my full name or a photo of myself. I was simply writing whatever came into my head for the next two years, assuming no-one but my closest family and friends were reading…
2013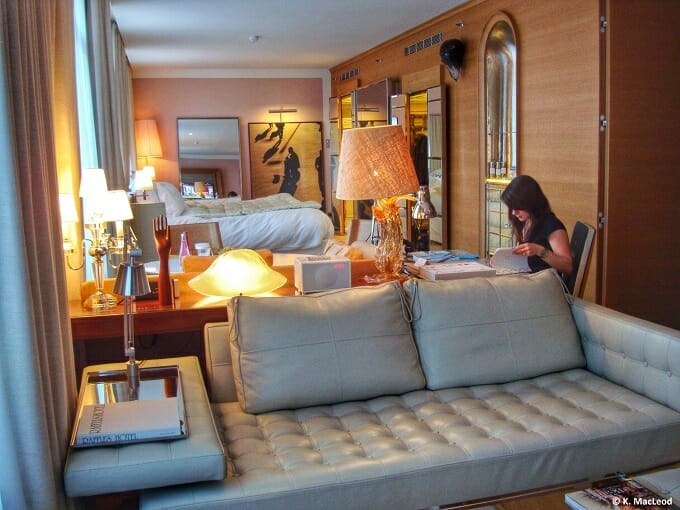 This was the year I started social media accounts for the blog, and discovered serious blogging, fellow bloggers, and a whole digital travel community. 2013 was also the year I secretly entered a travel essay into the Black Tomato "A Tale of Two Cities" competition I'd seen promoted on The Well Travelled Postcard – and unexpectedly won. The prize – a two-night stay at the luxury hotel Le Royal Monceau in Paris – remains one of my favourite travel experiences to date.
2014
In 2014, I started to write more about the locations on my doorstep in the Outer Hebrides, and entered one of those blog posts, about the district of Ness in the north of the Isle of Lewis, into the Holiday Hypermarket competition search for the UK's 'Top Travel Blog.' After a public vote, my blog post finished in first place – and I won a two-week holiday to Kenya, to boot. (I couldn't believe it!)
That was the same year Stories My Suitcase Could Tell was named 'Best Travel Blog' at the Cosmopolitan Blog Awards in London. For someone who has been writing since the age of eight, being recognised by the editors of a global media brand like Cosmopolitan was an incredible, surreal moment. I think it will always be a highlight of my career, full stop – let alone my blogging one!
2015
After moving to the USA at the end of 2014, I got involved in the local Travel Massive community in New York City, and went to the Women in Travel Summit in Boston. In other words, I made travel blogging friends "in real life," and many of the women I met in those early days in America are still dear friends, and an irreplaceable part of my life here.
While my Green Card paperwork was slowly processed after our West Village wedding, my travel was limited to the US only, but that meant finding new vantage points in New York City – like City Island and sunset cruises – and visiting the likes of Chicago, Maine, and Washington, D.C.
2016
In 2016 I decided to try something new, and launched my newsletter at the start of the year. It's taken a few forms since then (most notably changing from a  weekly to seasonal update), but it's still at heart a wee update on life behind-the-scenes of the blog: what I'm writing, what I'm reading, and where I'm travelling.
This was also the year I started playing around with videos on my (then) new iPhone. These days they tend to be Instagram Reels – like this Instagram Reel for the Outer Hebrides 'Scotland's Gaelic Islands Campaign) – although the 2016 video "At Home in the Hebrides" remains my most popular.
Other highlights from 2016 included attending BlogHouse Philadelphia, interviewing Sam Heughan (aka Jamie Fraser from Outlander) on the red carpet in NYC, and visiting Puerto Rico, New Orleans, Italy, and Niagara Falls.
2017
In terms of blogging, 2017 was a year of press trips (which is where journalists and bloggers work with tourism boards to visit a destination and write about it). From local East Coast trips to the likes of Long Island, New York and Chestnut Hill in Pennsylvania, to adventures further afield in the Finger Lakes, Ottawa, and Jekyll Island, I learned that while press trips are a lot of fun, they're also a lot of work – but I certainly wasn't complaining!
2018
In 2018, Stories My Suitcase Could Tell played a starring role in my application for the Columbia Publishing Course at Columbia University, and opened up a whole new facet of my career as I began working in book publishing, taking the skills I'd learned from journalism and blogging into the world of marketing and publicity.
But there were plenty of old-school blogging moments too, like walking in Tartan Week Parade with the Sgoil Lionacleit Pipe Band, and seeing my story "An Afternoon Sail to the Shiants" come second place in the AITO Awards for Best Travel Blog.
2019
This was the first year I navigated blogging alongside a typical nine-to-five office job, and learned to write in the spaces I could (like in the Notes App on my phone on the subway in the mornings). While I wrote less as I adjusted to corporate life, there were still plenty of adventures, both in travel (like visits to Seville, Seattle, and North Uist), and blogging, as I reported from the National Trust for Scotland Gala on New York's Upper East Side, and saw my blog post on The Valley of the Fallen shortlisted for the AITO Awards Best Travel Blog 2019.
2020
Well, we all know how 2020 turned out! With travel off the cards thanks to a global pandemic and closed borders, travel writing (and the wider travel industry) was almost non-existent. But there was a wonderful surprise towards the end of the year, when I found I'd been named one of Scotland's Top 100 Women in Tourism for 2020. Seeing as I didn't even know the awards were happening, it was a lovely highlight during a long year (and I'm looking forward to celebrating virtually with the rest of the nominees next month).
2021
Year 10 of Stories My Suitcase Could Tell has been very quiet – mostly because the year has sped by in what feels like the blink of an eye. Thanks to the wonders of science, I was finally able to travel again, and go home to the Outer Hebrides after a two-year absence – and I do have a lot of stories to catch up on from my month in Scotland, and various trips to Maine and Seattle.
This year I was also delighted to work on an advertising campaign very close to my heart, the Scotland's Gaelic Islands campaign by Outer Hebrides Tourism (which you can read about here, if you haven't already). It felt like a fitting collaboration for year ten of the blog, given many of these years (and blog posts) have been dedicated to writing about the islands.
And there you have it: 10 years of Stories My Suitcase Could Tell.
As I scrolled through old blog posts and photos before writing this, I was hit with a wave of nostalgia. Highlights and milestones are lovely to look back on, but they can't truly capture what this blog and community has meant to me over the last ten years.
I can't quite believe I've been writing here for a decade, and that some of you have been along for the ride for nearly as long. I've said it many times before, but absolutely none of this would be possible without you: without you reading my stories, liking my social media posts, leaving me comments, and opening and replying to my newsletter. It all means so much more to me than I can put into words, so thank you.
As the world returns to some semblance of normality (fingers crossed!), I hope to get back to writing here more regularly, and I have a few other ideas up my sleeve, too. So here's to more suitcase stories – in the next year, and the next ten! I hope you'll join me and my suitcase in the next chapter of the story, wherever it takes us.
____________________