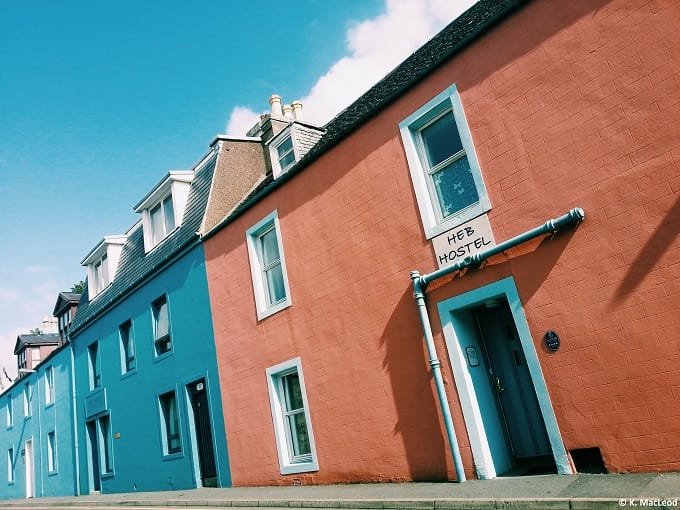 A recent survey from the Office of National Statistics (ONS) made a big claim: that the Outer Hebrides was the happiest place in the UK.
Not only is it one of the best places to travel to, it's now considered one of the best places to live as well, thanks to happiness levels of its residents.
The survey made headlines, and has reappeared in the press in the past few days. But what makes these Scottish islands such a happy place? Using far less scientific methods than the ONS (my own, very subjective, experience as a Leodhasach), here's why I think people in the Western Isles are among the happiest in the country…
THE STRONG COMMUNITY
It's not for nothing that island expats and exiles around the world call the Outer Hebrides 'home', no matter how far they've travelled or how long they've been absent.  As I've said before, there is a connection here, not only to family and the house you grew up in, but to the very island itself.  It's why the word cianalas exists in Gaelic, one that loosely translates to 'homesickness' but means so much more.
Apparently wellbeing is also higher when we have some form of contact with our neighbours. In the Hebrides, most of us know the names of our neighbours, who can be called upon in various emergencies, both big and small. (My next door neighbour and I used to enjoy a good chat when she gave me a lift to work in the mornings.)  Most people have friends they've known since they learned to walk and talk, not to mention family friends who know their parents and grandparents and that second cousin once removed (I'm not even joking!).
Of course, then can be occasional downsides to living in a small, close-knit community (as a teenager, your parents will know your every move!) but most of the time, you're comforted by the support system of friends, family, and neighbours that have always been – and will always be – there for you, no matter what.
THE LOW CRIME RATE
Contrary to what the multiple murders in Peter May's best-selling Lewis Trilogy (or his recent stand alone novel, Coffin Road) might lead you to believe, the Western Isles have an extremely low crime rate.  In fact, the region's crime rate is one of the lowest in the UK – this is a place where it's only in recent years that people have started locking their doors when they leave the house, and where one of the most popular eating options in Harris operates using an honesty box at the side of the road.
On a personal note, I feel privileged to have grown up in a location where as I child I was free to jump on my little bike and take off with my friends, a place where the only warning needed was one about remembering to wear a helmet. The safety of the islands is just one aspect of what makes this a wonderful – and happy – place for children to grow up.
THE RICH CULTURE
The media might have you believe otherwise, but cities don't have a monopoly on arts and culture.  Despite the archipelago's location on the northern edge of Europe, the cultural events and activities here can hold their own against some of the UK's best.
Not only do you have a rich, traditional Gaelic culture – in music, art, history, and literature – but the award-winning arts centre in the heart of Stornoway, An Lanntair, is responsible for bringing the brightest and best in the modern arts world to the Hebrides.  It's there that I've seen the Moscow State Ballet dance on stage, listened to Jenny Colgan chat about her latest novel, and heard politicians pontificate on their tenure.  You can't claim to be bored when the events calendar is as good as this!
THE FABULOUS FOOD
Easily accessible, fresh, healthy food is important for any community.  While supermarket prices in the island might cause consternation in comparison to those in places like Inverness, the abundance of local butchers, bakers, and fishmongers – not to mention cafes that offer locally made menu items, like 40 North – are a huge benefit to the people who live here.
I'd always vaguely assumed that the likes of fresh local eggs, scallops straight from the sea, and warm freshly baked breads were commonplace.  Moving away from the Hebrides soon taught me otherwise. The presence of similar 'farm to table' produce in urban areas is a fashionable trend – and an expensive one at that.  You wouldn't believe how much I'm looking forward to fresh Stag bread and Air an Lot eggs when I'm back in the islands next month!
THE PRISTINE ENVIRONMENT
As a child, I thought the visitors who came to the islands and waxed lyrical about how fresh the air was were crazy.  What was so special about fresh air?  A decade or so later, and I was one of those people going crazy about the fresh air, having returned home after spending a year living in the clogged US cities of Philadelphia and NYC.
The air in the Outer Hebrides is clean, and the environment is pristine: miles of open countryside and beaches and crofts where children can play freely, and adults can decompress.  One of my favourite things to do on a Sunday afternoon in Point is to leave my phone at home and go for a pre-Sunday roast walk on the beach.
Exposure to nature has been shown to reduce stress and improve well-being (as explained here, here, and here), but even without the hard evidence, do we really need science to tell us that waking up to a view like this every morning is going to give your happiness levels a bit of a welcome boost?
____________________
What do you think of the Outer Hebrides' inclusion on this list as the happiest place in the UK? What is it about your hometown that makes you happy?
Let me know in the comments below – I'd love to hear from you!