I'll let you in on a wee secret: I love reading "year in review" round-ups.
It's probably a mixture of nosiness and nostalgia, but whether it's a list of the best articles in my favourite magazine, or a behind-the-scenes look at a fellow blogger's travel tales, I always enjoy looking back at what's happened throughout the year.
Whenever I've turned on the news this year, there always seemed to be another horrible headline. But while 2017 might not go down as the most positive year in the history books, it was a truly lovely one for me personally, filled with family, friends, travels, and lots of good books.
So to celebrate it all, here's a look at the year in review on Stories My Suitcase Could Tell.
(And you can check out the 2011, 2012, 2014, 2015, and 2016 editions to see how the past few years compare!)
2017 in… Travel

At the start of the year, I had only one trip scheduled in my calendar.
I wrote then that "the empty pages are making me nervous, because, for better or worse, I'm the kind of person who needs to have a holiday in their calendar. Without that dose of adventure on the horizon, I feel claustrophobic – I always have."
Well, it turns out that I needn't have worried: over the past 12 months, I've gone on 16 different trips, both near and far (and if you include day trips and staycations in NYC hotels, that figure rises to 20). What can I say? 2017 certainly surprised me!
The best part, though, was that most of these adventures involved quality time spent with family and friends. As an expat who lives many miles away from most of my loved ones, it was wonderful to see so many people, so often, over the past 12 months.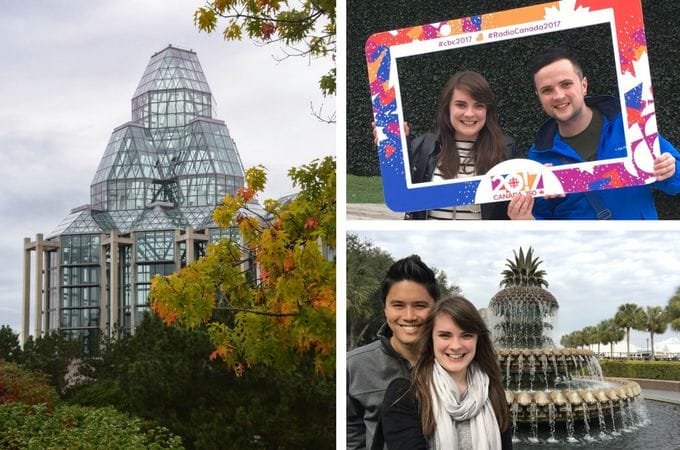 There were catch-ups with childhood friends and new babies in the Outer Hebrides; many drives through the north of Scotland with my brother; and a reunion with the dear friends I made in China over a lazy summer picnic in London. I visited Spain, a new-to-me country, with my family (it was our first family holiday in over a decade); and hung out with my brother again for a long weekend in Ottawa.
Back in the USA, my travels continued apace. I caught up with my university friends in Washington, DC, for the wedding of one of our best friends, and then showed them around New York City. I partied with my former study abroad hall mates in Philadelphia; explored the Finger Lakes with my blogging buddies, Erin and Marie; and ate way too much food in Chicago with my husband, his brother, and sister-in-law.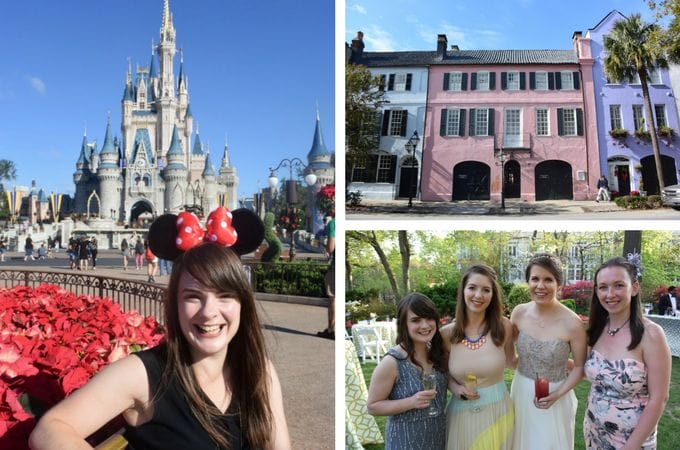 On top of all that, I also visited San Diego, Seattle, Savannah, Charleston, Jekyll Island, and Disney World Florida with Mr. Stories My Suitcase Could Tell.
Since it was such a busy year, I don't think I could choose a favourite travel experience from 2017, but my husband assures me he's never seen me as excited as I was while fulfilling my childhood dream of visiting Disney World…!
2017 in… Writing

2017 has been a bit of a balancing act between writing for my blog and writing for other publications.
At times I've felt guilty for "abandoning" Stories My Suitcase Could Tell for a week or two while I worked on projects for editors. In the end, though, I published 33 blog posts here and wrote 41 articles elsewhere – so it all worked out okay in the end!
Here, in no particular order, are a few of my favourite non-blog stories from 2017:
Finding Love at a Food Stall, for Edible Queens.
From life in Carloway to the US world of whisky, for HEB Magazine.
Harris Tweed: from island cloth to cutting-edge fashion, for BBC Travel.
This Is What It's Actually Like To Grow Up A Scottish Island, for Buzzfeed.
These islands may hold the secret to happiness, for BBC Britain.
There are still a lot of stories from my 2017 travels to come on the blog – like those from Ottawa, Disney World, Spain, and Savannah – but of the tales written in 2017, the top five most popular posts on Stories My Suitcase Could Tell were these:
What Can You Do on Sunday in Lewis and Harris?
Discovering the Charms of Chestnut Hill
Why Outlander Fans Need to Visit the Outer Hebrides
A Week in Lewis and Harris – On Video
My Weekend in the North of Scotland: Caithness, Sutherland, and the NC500
2017 in… Books

If you're signed up to my monthly newsletter, or if you follow my Instagram Stories, you probably already know that I love books.
This year my goal was to read 52 books, one for each week; I passed that goal in November, with Lyrebird by Cecelia Ahern. So far I've read 56 books (and might finish another one or two before December 31st!). I love a good list, so setting myself a goal and watching the numbers creep up on GoodReads has been quite satisfying.
It hasn't simply been about the numbers, though. Setting myself a target of reading 52 books in a year wasn't about whether I reached that goal or not; it was about reminding myself to read more, a nudge to pick up a book instead of scrolling through Instagram or Facebook, because I never regret choosing to curl up on the couch with a good book.
Some of my favourite reads this year were The Old Ways by Robert Macfarlane; Everything I Know About Love by Dolly Alderton; Little Fires Everywhere by Celeste Ng; The Nightingale by Kristin Hannah; The Growing Season by Helen Sedgwick; and the Shetland series by Ann Cleeves.
2017… By the Numbers 
Countries visited: Three – the UK (Scotland and England), Canada, and Spain.
Cities visited: 14
US states visited: Eight
Blog posts published: 33
Books read: 56
And on that note, here's to 2018!
If 2017 has taught me anything, it's that you never what's waiting around the corner. I saw more friends and family members, visited more destinations, and wrote more stories than I even dared to imagine at the start of the year.
There are of course too many happy memories, travel and otherwise, from the past 12 months to fit into one blog post. All that's left to say is thank you for your support this year, and Happy New Year when it comes – see you in 2018!
____________________
What have been your highlights of 2017? Let me know in the comments – I'd leave to hear what made this year special for you!
____________________ 
To keep up with my travels as they happen, why not join hundreds of others and sign up to my monthly newsletter?