Christmas is over, and New Year (or Hogmanay, if you're in Scotland) is fast approaching.  It's that time of year when seemingly everyone is exclaiming about the swift passage of time, and looking back fondly and thankfully over the past twelve months.
I'm no different – I really can't believe that 2015 is just around the corner! – and for Stories My Suitcase Could Tell, 2014 has been a whirlwind of travel adventures, both local and international.
January
The year began in January with one simple New Year's resolution: to see more of Scotland.  Taking my cue from the national tourism campaign of experiencing Scotland's "brilliant moments", I resolved to see as much of my home country as possible, making the most of the beauty right on my doorstep.  While I didn't see everywhere on my to-do list, I really did have some truly 'brilliant moments' in bonnie Scotland as the year wore on…
February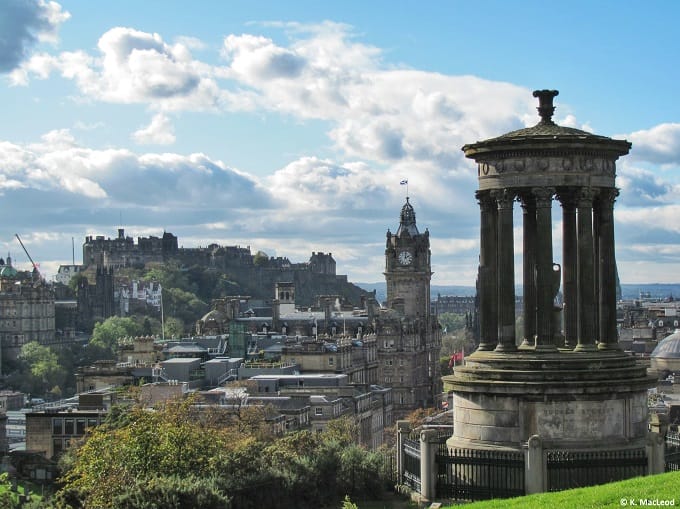 February saw me start my Scottish travel challenge in Edinburgh, a city I thought I already knew relatively well.  Of course, there is always something new to be discovered, as I found out when I unexpectedly stumbled into St Giles' Cathedral to escape the rain, and again when I indulged in a coffee-and-cocktail tour of the Scottish capital.  This month also saw one of the highlights of my entire year: an evening admiring the Aurora Borealis in my garden on the Isle of Lewis.  It's an experience you can't plan, and one that made me truly appreciate the phrase 'awe-inspiring.'
March
In March, I enjoyed a 'holiday at home' on the Isle of Harris, staying in the gorgeous self-catering Broch at Borve Lodge, and relaxing with long, languid walks on the beautiful beaches of Harris.  It was appropriate timing, as Trip Advisor voted Lewis and Harris 'Europe's best island' later that month, inspiring me to compile a list of some of the best reasons to visit the Outer Hebrides.
April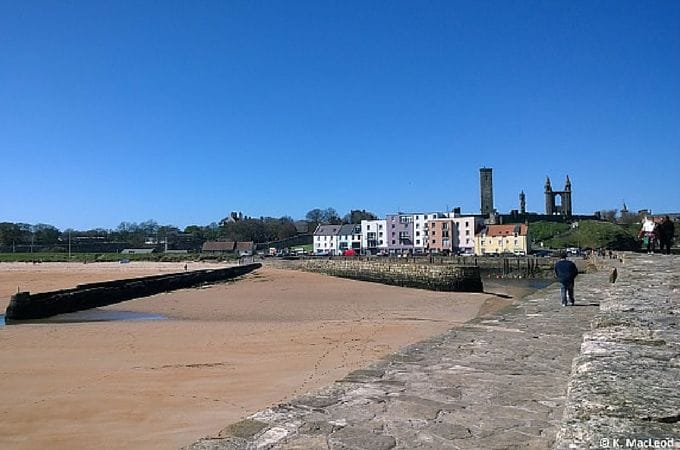 April saw a return to St Andrews, an emotional but hugely enjoyable long weekend with friends in our old university home.  We visited the world-famous golf course, did the traditional pier walk, and feasted at Forgan's, one of the seaside town's best restaurants.  I also 'read my way around the world', and celebrated when National Geographic listed the Outer Hebrides as one of their tours of a lifetime.
May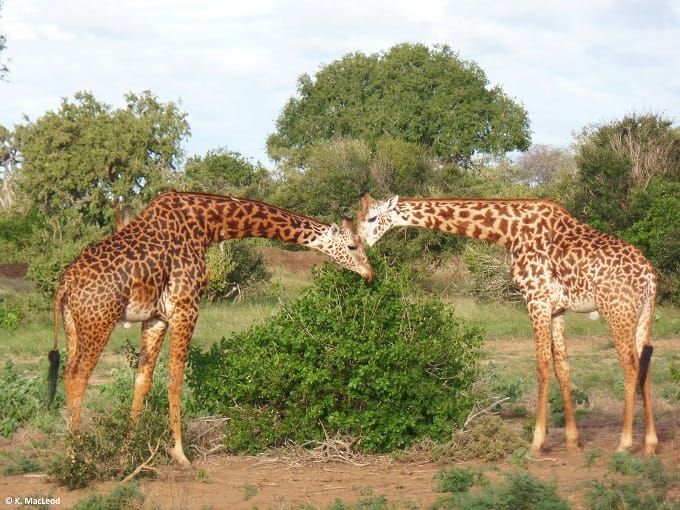 In terms of travel, May was the biggest month for me, marking my first trip to Africa with two glorious weeks on the Kenyan coast, as well as a quick day trip to the pretty British city of Brighton.
Overall, Kenya was the friendliest place I have ever visited.  My Mum and I went on safari, in Tsavo East and Tsavo West, spotting lions, zebras, and elephants, and drinking in the spectacular Kenyan landscape.  We relaxed in our all-inclusive hotel, Diani Sea Resort, with Thomson Holidays; spent an afternoon exploring Mombasa; and were incredibly moved to see the care, love, and support being shown to children at Footprints Children's Home.
Our holiday was also cut short: we were hurriedly evacuated when the Foreign Office changed its travel advice to Mombasa and the surrounding area without warning.  British citizens are still advised against travelling to the area, something I hope changes soon.  I'm a self-confessed news junkie, a journalist, and former student of International Relations, so being in the middle of a news story, living it live as the TV cameras filmed us lining up at the airport to leave, was more than a little surreal.
June
On returning from Kenya, I spent the summer making the most of Scotland, as I'd resolved to do six months previously.  June saw me eat for the first time at the quirky Temple Cafe in Harris, and get stuck into traditional croft life at Air an Lot in Lewis. I also spent some time day-dreaming about possible future destinations, and wrote about how childhood adventures can be an inspiring starting point for travel plans.
July
In July, I sailed with Sea Harris to St Kilda, the 'islands at the edge of the world', which I had always dreamed of visiting.  I also enjoyed the party atmosphere on the streets of Stornoway at the HebCelt Festival, and made many, many trips to 40 North Foods, which is hands down my favourite place to eat in the islands (and quite possible the world).  A fellow blogger also invited me to take part in a 'blog hop', where I offered a little look behind the scenes of Stories My Suitcase Could Tell.
August
A long-awaited return to London was on the cards for August, a three-day fling that was full of fun with friends.  There was food at Borough Market, street art in Shoreditch, sky-high cocktails at The Shard, and munching on late-night street food at Dalston Yard.
September
As summer slipped away (it tends to do that early in the islands), I made good use of an unexpected day off in September and drove to Great Bernera, where I spent a sunny afternoon on the beautiful beach of Bostadh, and visited the home of the Lewis Chessmen in nearby Ardroil.
October
In October I was back in London, staying at the incredibly cool Hoxton Holborn, flying over the River Thames, and strolling through flower markets in London's East End.
November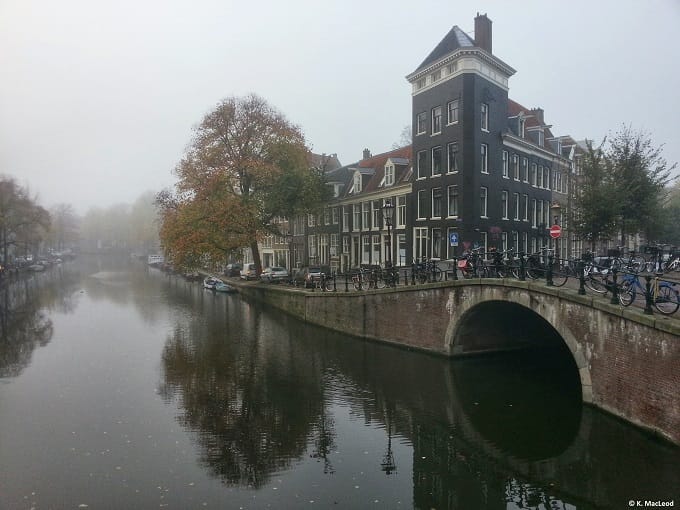 November took me to Amsterdam for the first time.  It was a city I unexpectedly fell for – quite literally, when a cyclist knocked me down right after I arrived!  From the all-round luxurious experience at The Dylan Hotel, to an emotional visit to the Anne Frank House, and the best apple pie I've ever eaten, my 36 hours in Amsterdam combined to create the perfect city break, and a wonderful introduction to a new country.
December
As 2014 came to a close, I checked out some literary locations in Lewis, courtesy of the Peter May Lewis Trilogy, and then it was time for a very emotional move, one I outlined in what is now my most-read post ever, 'On Leaving Home, and Loving the Hebrides.'  I've since spent Christmas in New York City, taking part in all the stereotypical tourist attractions with enthusiasm, and adjusting to different customs.
Four countries, three continents, nine cities, and lots of fun along the way with family and friends – what a year!  Not only was 2014 a busy year of travelling for me, but it was the best year yet for Stories My Suitcase Could Tell.  At the end of January, my story 'Ness: Notes from the North' was voted the top travel blog in a competition run by Holiday Hypermarket.  It was a huge surprise for me, and made me think about what might be possible with this little corner of the internet.
I was in for another shock in July, when I discovered Stories My Suitcase Could Tell had been shortlisted for Best Travel Blog in the Cosmopolitan Blog Awards 2014, and nothing could quite prepare me for ultimately winning that award in October, at a glitzy party in London's Southbank.  December saw some more recognition for these suitcase stories, when 'An Afternoon Exploring Mombasa' was featured in the UK edition of National Geographic Traveller.
I'm excited to see what's in store for Stories My Suitcase Could Tell in 2015, as the blog rings in the New Year in a new country and with more readers than ever before.  The last 12 months wouldn't have been what they were without you, the readers of these suitcase stories, so thank you, and Happy Hogmanay (or Bliadhna Mhath Ùr) to you all!
____________________
How did 2014 treat you? Do you have any favourite memories, travel-related or otherwise, from the year?