"Year in review" posts and "Best of 2018" lists are already popping up all over the internet, and I have to admit, I love them all.
Maybe it's a combination of nosiness and nostalgia, but I love seeing what other people have been up to over the past 12 months, and always enjoy taking my own trip down memory lane. (Plus, as a chronic list-maker and lifelong journal writer, it's probably not surprising that I look forward to putting together a wee round-up of my year.)
These round-ups always surprise me. Seeing everywhere I've been laid out in black and white makes me realise just how lucky I am to be able to see the world; going through the books I've read reminds me of all the moving stories I've been immersed in; and reflecting on my career over the course of 12 months helps me prepare for the new year ahead.
So here it is: my 2018 in review!
2018… in Travel
The surprise trip that never was… to Edinburgh and Dublin.
I turned 30 in March, and a week before the big day, Mr. Stories My Suitcase Could Tell told me I'd need to pack a bag for the day before, as we were going on a surprise trip. I was beyond excited, and kept speculating with friends and family about where we might be going – completely unaware that they knew all about it already!
The day we were meant to be leaving, our flights were cancelled because of the "Beast from the East" snow storm that brought the UK to a standstill, and my husband and family shared what would have been happening. We were going to spend a weekend in Edinburgh with family and friends from around the UK, have a big birthday dinner, go to a ceilidh (a ceilidh!), and then Mr. Stories My Suitcase Could Tell and I were going to spend three days in Dublin, a city I've somehow still not managed to visit.
When you live on the other side of the world from family and friends, the chance to see them all together, all at once, is incredibly rare – we didn't even have that at our wedding – so to say I was disappointed is a huge understatement. (There were a lot of tears, and thinking of all the effort everyone went to for it still makes me quite emotional!).
The unexpected adventure… in Mexico City.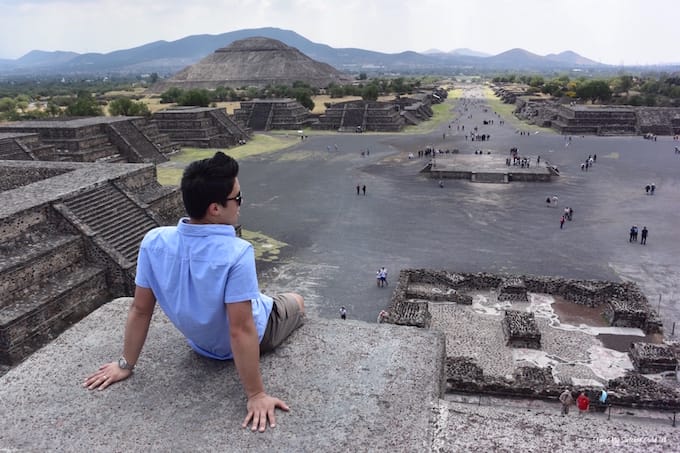 When the Edinburgh flights were cancelled, Mr. Stories My Suitcase Could Tell sprang into action. He knew that moping about in the flat thinking of what we should have been doing on my 30th would be a bad idea, so he checked the "Everywhere" box on Skyscanner, and found affordable flights to Mexico City leaving the next day – and we booked them with our refund.
I don't think I've ever been on such a last-minute trip in my life, and despite the wobbly start, our time in Mexico City turned out to be absolutely brilliant. We both fell head over heels for the place: for the food, the architecture, the history, and the art. There's something about this city, the largest city in North America, that just gets under your skin, and I think arriving with zero expectations helped us enjoy our time there even more.
The staycation… in New York City.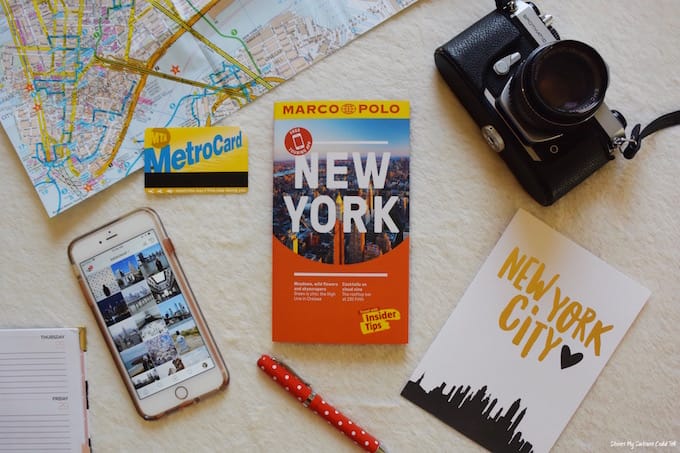 While I didn't get to see my family in March, I was lucky that my Mum was coming over for a visit with her friends in April. Although she's been to New York City multiple times, it was her friends' first time, and I got to tag along and play tourist with the three of them.
We all had such a good laugh, and I loved getting to experience the city as a tourist again. It's easy to take the city for granted when you live here, but doing all the "touristy" things, like going to the top of the Empire State Building, strolling through Central Park, sailing to the Statue of Liberty, and cheering at Broadway Shows, makes you remember how magical this city really is.
(We actually had another cancelled holiday this month too: my Mum and I were meant to be going to New Orleans to celebrate her birthday, but spent the day at JFK waiting for delayed flight after delayed flight, only for them all to be cancelled at the last minute. At this point, I was wondering if I'd even make it home later in the year!)
The girls weekend… in Cape May, New Jersey.
For another 30th celebration, this time for my friend Stephanie, in April I headed down to Cape May, a charming seaside town in southern New Jersey filled with Victorian-era homes. It was the perfect type of relaxing girls weekend: we stayed up late chatting and listening to 90s music, went for brunch, walked along the beach, and relaxed at a winery as the sun set.
The long-awaited return… to the Outer Hebrides.
As if returning home to the Outer Hebrides in May wasn't already the travel highlight of my year (and any year), this year my visit coincided with the best weather the islands have seen in years – quite possibly in decades.
The sun shone the entire time! It was hot enough to go swimming in the sea! It was glorious, and I was relieved that after eight years together, Mr. Stories My Suitcase Could Tell finally got to see my home in good weather. (Every other time he's visited, it's rained constantly. I think he was at the point where he thought I was lying about the islands ever getting sunshine!)
As always, I had a wonderful time. I got to attend an Essence of Harris party in Tarbert; stayed the night in Lews Castle in Stornoway; took my husband up to the district of Ness to visit Air an Lot; ate a giant lunch at 40 North; hiked out to the Eagle Observatory in Harris; and just generally hung out with family and friends, eating all the Stag bread and Stornoway Black Pudding I could manage. Bliss!
The reunions… in Glasgow, the Lake District, and Dunfermline.
What 2018 reminded me of is that wherever I am in the world, nothing beats spending time with friends and family, and in May I got to do that time and time again. First, in Glasgow, where I caught up with an old childhood friend and her wee girl, and where my teenage bestie and I enjoyed a night out in Scotland's largest city with curry and cocktails, my first evening in the city in a very long time.
Then there were more reunions in the Lake District, where my group of best friends from university reunited to celebrate a beautiful wedding (there was a lot of prosecco consumed, a lot of dancing, and a lot of catching up to do!). And finally in Dunfermline, my brother and I had a quick catch up over a long weekend, pottering about the Royal Burgh and checking out the Outlander film sites in Fife.
(Note to self in 2019: always make time for friends!)
The foodie quest… in Portland, Maine.
This year, my brother-in-law and his wife (who you might remember from this post in Italy, or this one in Chicago), moved to Portland, Maine, for six months, so of course we had to pay them a visit!
I loved being by the sea – and we even went kayaking in the sea marshes! – but the main focus of our August weekend was definitely food. From fresh lobster rolls to croissants from one of the country's best bakeries, diner breakfasts to Iraqi flatbread feats, we ate, and we ate a lot. Not long after we returned home, Bon Appétit named Portland the country's 'Restaurant City of the Year,' and given our experience, I can easily see why.
The cross-country weekend… in California.
Most of Mr. Stories My Suitcase Could Tell's family live on the West Coast, and so we popped over to California for a long weekend at the start of September. Mostly we relaxed and caught up with my in-laws and his grandparents, and it was wonderful to get some cool summer weather after the stifling humidity of New York City.
(On a side note, I'm always surprised at just how different the West Coast of the USA is to the North East; in some ways it really does feel like another country altogether. The palm trees lining the six-lane highways might have something to do with it…!)
The rainy end-of-summer break… on the Jersey Shore.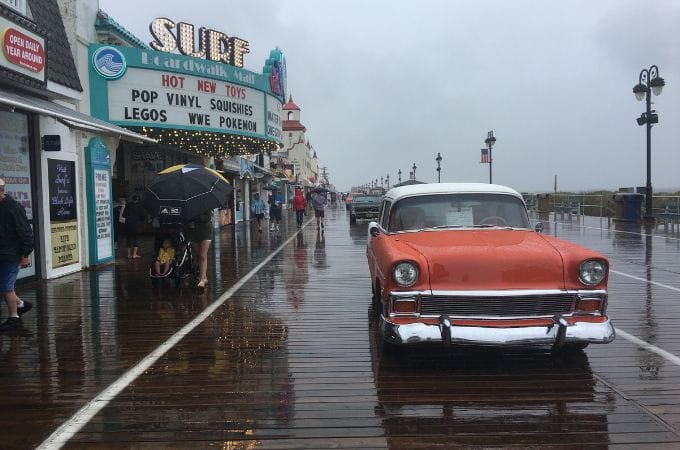 In mid-September we headed south to just outside Ocean City in New Jersey, with our friend Erin of 10 Miles Behind Me, expecting a last weekend on the beach before autumn hit. Well, it rained the entire time, so our plans had to change quickly – but I think they actually changed for the better!
We ended up having a hilarious (and competitive!) evening playing board games with Erin's family, and still managed to see some of the nearby area, visiting a local brewery and going for a walk on the (very wet) boardwalk. It was a nice reminder that sometimes even a quick weekend away somewhere nearby is all you need to relax.
The relaxing autumn escape… to the Bahamas.
Last year, Mr. Stories My Suitcase Could Tell's company organized a work trip to Disney World in Florida, and this year they headed to the Bahamas. While nothing could beat Disney for me, we did have fun staying at the Atlantis resort in the Bahamas in November.
All-inclusive resort holidays are not usually my kind of thing, but after a busy few months, I have to say that spending my days lying by a sleek pool with a good book and a tropical-tasting cocktail was absolutely heavenly!
The quick European weekend… in Paris.
You may remember that at the start of the year, I mentioned that Mr. Stories My Suitcase Could Tell and I were planning on spending a weekend in the Catskills, an hour or two north of New York City. Well, when we looked into it, we realised that for the cost of a nice hotel upstate, we could fly to France – and so we did!
Our late November weekend here marked my fourth time in Paris, and I loved it just as much as ever. I think I may have actually skipped down the street with glee the day we arrived! Paris has always been one of my favourite cities, and it was truly wonderful getting to explore it with my husband for the first time. There'll be more to come on the blog soon, but safe to say my return to Paris was definitely a highlight of 2018.
2018… in Writing
There's been a lot of writing for me in 2018, in a lot of different forms.
On the blog, I've written 24 posts, on everything from staying in a castle to exploring Ottawa, from the feeling of going home again as an expat, to discovering secret histories in Spain. (This was the also the year that one of my 2017 blog posts, a story about sailing to the Shiant Isles in the Outer Hebrides, was awarded second place in AITO's Travel Blog of the Year awards – I couldn't believe it!)
Elsewhere, I've written 42 articles, with some of my favourites being a profile on one of the Outer Hebrides' up-and-coming musicians, Colin Macleod; an interview with the absolutely lovely Kathryn Mannix, a former doctor and now-bestselling author; and a feature on the brilliant Sgoil Lionacleit Pipe Band, who performed at Tartan Week 2018 in New York City after a very difficult year.
There have also been 12 newsletters; copywriting for an author's website; marketing plans in my publishing course; marketing copy for books during my internship; and lots of micro-stories as the social media manager for another organisation in the Outer Hebrides.
It's been busy, but it's been fun – to me, nothing beats working with words, no matter the form they take.
2018… in Books
So far – and there is still over a week to go before the clock strikes midnight on the 31st – I've read 70 books. It's been one of my best reading years in a while, not just in volume, but in variety and quality.
As for my favourite books of 2018? That's always a tough question to answer – and my answer might change tomorrow! – but if you were to force my hand, I'd say some of my favourite books of 2018 have included The Rules Do Not Apply by Ariel Levy; Sing, Unburied, Sing by Jesmyn Ward; The Man Who Didn't Call by Rosie Walsh; An American Marriage by Tayari Jones; The Light We Lost by Jill Santopolo; Home Fire by Kamila Shamsie; and Feel Free by Zadie Smith, whose essays I've been dipping in and out of throughout the year.
And of course, 2018 was also the year that my beloved books moved from my personal life into my professional life, first at the Columbia Publishing Course, and then at Penguin Random House, where I worked as an intern. It's been absolutely fascinating going behind the scenes of the book publishing world, and while I'd initially worried it might dull the magic of books for me, it's only made me love them even more.
And on that note, here's to 2019!
There are, of course, too many great memories, travel and otherwise, to fit into one blog post. Although they don't make it online, the little moments – sitting on the couch watching Paddington with my husband, going on a drive with my brother, laughing with my parents, and catching up with friends and their babies – are even more memorable than the big adventures.
Thanks to my friends, family, and all of you who read these suitcase stories, 2018 has been a brilliant one. Merry Christmas, Happy Holidays, and all the best for the New Year when it comes – I'll see you back here in 2019!
____________________
What have been your highlights of 2018?
Let me know about your year in review – I'd love to hear about what made 2018 memorable for you!
To get all of the behind-the-scenes blog news before anyone else next year, don't forget to sign up to my monthly newsletter!